BAMYAN, Afghanistan—On a note tacked to the wall of a health clinic in December 2021, in the now Taliban-controlled district of Kahmard, there was a new directive: "From now on," it read, "no women can come to health centers without a mahram."
A mahram is a male chaperone.
Restrictions like these are showing up all over the country. In the southern province of Ghazni, a 42-year-old midwife said the Taliban have been preventing doctors from examining women without a mahram present since November 2021. (We are not identifying Afghans who spoke to us by name to protect their safety.)
"When the Taliban understood the two women were not accompanied by men, they forced them out of the clinic and beat them with the butts of their rifles," she said, citing a recent example. They had brought a sick infant in for a checkup.
The new requirements—officially announced by the Taliban's ministry of virtue and vice in late December—are preventing many Afghan women from seeking the health care they need at a time when COVID-19's omicron variant is spiking across the country. At the end of January, Afghan health officials reported a 70 percent increase in positive COVID-19 cases, with positivity rates reaching upward of 47 percent. (The World Health Organization said any positivity rate above 5 percent is dangerous.)
Accessing COVID-19 vaccines, testing, and treatment was already difficult in Afghanistan. The country's health care system depended almost entirely on foreign aid for almost two decades. But when the United States abruptly withdrew in August and the Taliban reclaimed power, that aid dried up. As a result, almost all of the programs designed to fight the coronavirus in Afghanistan have been forced to shut down.
On top of that, the United States froze Afghanistan's central bank assets, plunging the country into a severe economic crisis. Around 90 percent of Afghans are now living below the poverty line, and many families are unable to afford food—compounding the health care crisis.
Despite hundreds of millions of dollars spent on developing Afghanistan's health care system over the last 20 years, access to quality health care remains far below international standards. Those standards are particularly low for women, according to a report by Human Rights Watch.
"Women and girls struggle to access even the most basic information about health and family planning," the report said. "There is an unmet need for modern forms of contraception; prenatal and postnatal care is often unavailable; specialty care, such as modern cancer and fertility treatment, is largely nonexistent; routine preventative care such as pap smears and mammograms are almost unheard of; and a large proportion of births are still unattended by a professional."
None of this, however, has distracted Taliban leaders from pursuing the kinds of gender apartheid policies that made them famous when they first ruled Afghanistan between 1996 and 2001. During that period, the Taliban issued edicts and decrees that banned women from work and education, denied them access to health care, and severely restricted their social mobility.
On Aug. 17, 2021, in the group's first press conference after the Taliban retook power, Taliban spokesperson Zabihullah Mujahid reassured the world that the group would respect women's rights within "the framework of Islam" this time.
But the promise of a changed Taliban faded quickly. A week later, the same spokesperson urged women to "stay home" because fighters hadn't been trained to respect them. Since then, the Taliban have tightened their restrictions on women with every passing day.
"Measures like requiring a mahram to escort women to health appointments or banning them from seeing male health care providers have a major impact on women's ability to access care," said Heather Barr, associate women's rights director at Human Rights Watch. "Access to health care is one area where the Taliban have always claimed that they are committed to protecting women's rights. But we see that their policies are still cutting many women off from urgent and sometimes life-saving care."
In early February, at a health clinic in Afghanistan's southeastern Ghazni province—the first province to ban women's access to health care without a male chaperone—a local doctor said a pregnant woman in labor arrived on her own. After giving birth, fearing she'd be punished for not being married, she fled without her child.
Three days later, after local Taliban officials found out, they detained the midwife who delivered the baby, along with her husband, and are now moving to prosecute all 18 employees of the clinic, according to several health care workers connected to the clinic. The charge? Violating the order not to provide health care to women without a male chaperone.
Taliban officials in Kabul, for their part, deny these stories are true. "I don't confirm it. Such a thing has not happened," a spokesperson for the Taliban's ministry of virtue and vice said.
The evidence, however, is overwhelming. Five months into the Taliban's new rule, a group of United Nations human rights experts warned that the "Taliban leaders in Afghanistan are institutionalizing large-scale and systematic, gender-based discrimination and violence against women and girls."
A health care professional who works in the city of Ghazni, southwest of Kabul, said Taliban leadership lacks coordination between departments and regions and each jurisdiction seems to be operating its own set of restrictions.
In one way, however, the professional said the Taliban were consistent everywhere: "All their animosity is with women. Almost all their restrictions target women," the professional said in a phone interview.
Shakiba Hakimi and Laila Yousufy contributed reporting from Afghanistan for Rukhshana Media.
Editor's note: This story was produced in partnership with Rukhshana Media and is part of The Fuller Project's ongoing series, "Ending America's Forever War: What is next for Afghan women?", documenting what the end of America's longest war on foreign soil means for the women who have lived through it. Follow The Fuller Project's continuing coverage here.
Prior to the Taliban's takeover of Kabul, besides being a mother and wife, I was coaching the women's team at the Karate Federation and working as a teacher at a public school in Kabul. At school, I taught karate to female students and religious subjects to male students.
I had come to the realization that in order to improve the situation of women, they need to be provided with a job and income. Therefore, three years ago, with my personal savings from my role as a teacher, I opened a sewing workshop. With that, I provided jobs for 17 women who had lost their husbands in the war. Before the Taliban came, my days started at four in the morning, when I would prepare breakfast for my husband and children and then I would go to school to teach.
At the school, there was a sports club where female students and some of my colleagues came to practice. We practiced at the karate club until 7:30 in the morning, and at 8 a.m. I would go to class. Around noon, I would go to my sewing business, as soon as I left the school. On Wednesdays and Thursdays, instead of the sewing shop, I went to the Karate Federation.
My mother, who has always supported me, took care of my children. Every morning she took them to kindergarten and brought them home every afternoon. My husband also had a freelance job. I was satisfied with my life, I had a decent income, and I worked in the areas that I was passionate about. But since the Taliban took over the country, I have lost almost everything. Since then, I have not earned even 10 Afghanis.
Related coverage: Once the breadwinner for eight people, an Afghan woman says she now feels "in prison" since the Taliban takeover
When the Taliban announced that male students and male teachers could return to schools, but did not say anything about female students and teachers, one of my colleagues called me and said, "We can no longer go to school. How are we supposed to feed our children?"
Although I tried to give some hope to my colleague, saying "God is great. We will somehow find bread," her question stuck in my mind. I thought about the fact that we could hardly make it to next month. Now that we won't have any income, what are we going to do?
This problem wasn't only my problem. All women who were their families' breadwinners until August 15th faced the same issue. In less than 24 hours, we all lost not only our professional and social status, but practically our only way of livelihood.
With a number of friends and colleagues, we talked and decided that waiting and doing nothing is not the answer. We decided to take to the streets to demand our rights.
'We decided to protest'
One day we purchased placards to write our slogans on. Consulting with others, we also drafted a resolution, emphasizing on our rights to study and work. We decided to hold the protest on Friday, September 3rd, at 9 a.m.
I ate my breakfast in such a hurry that day and asked my husband to take me to Faware Aab square. (The women had decided to go to the venue individually so no one could stop us.) When I reached the venue, other women were slowly gathering. When we reached 22 people, we marched from Faware Aab towards the presidential palace. As we approached the palace, the Taliban came and began beating the journalists and some of the protesters.
One of our colleagues was reporting live on Facebook when a Taliban soldier attacked. I went to help, but the same Taliban soldier hit me on the shoulder with his Kalashnikov and tore the placard in my hand that said, "The elimination of women is the elimination of humanity."
When our demonstration turned violent, we decided to go home. My husband took me home. My shoulder was hurting a lot, but I did not dare to see a doctor for fear of the Taliban.
The next day, someone knocked on our gate. My husband wasn't home, so I asked from behind the gate, "Who is it?" Someone on the other side asked for bread, saying he was a traveler. I was scared so I didn't open the gate, but I slid 50 Afs underneath and told him to buy bread for himself from the bakery across the street.
I went inside and looked out from the second-floor window and saw that the person behind the gate was a Taliban soldier, hiding his Kalashnikov behind his scarf.
'We were stopped at the checkpoint'
I was terrified, and when my husband returned home, I told him the whole story. We decided that we should leave Afghanistan. My husband obtained a road ticket to Kandahar, so we could enter Pakistan by land via the Spin Boldak border. I did not own any long dresses, so I had to get one.
We arrived in Kandahar around 2 a.m., and from there we moved towards the Spin Boldak border. On the way we reached a Taliban checkpoint. I had covered my face, but they realized that we are Hazaras* from my husband's appearance. "They are Hazaras. Hazaras are not permitted to go this way," one of the Taliban gunmen who stopped the car said in Pashto. He then ordered us out of the car.
We went back and found another driver who with more money was supposed to ensure our safe passage from the Taliban's checkpoint. The driver handed a face mask and a scarf to my husband and asked him to cover his head and face as much as possible.
This time, when the Taliban soldiers couldn't see my husband's face properly, they asked him a question in Pashto. Since my husband did not know enough Pashto to answer them, they ordered us away again. The driver said that we were in the wrong place and that he would turn back around, but he sped up and never turned back.
Near the border, we encountered another Taliban checkpoint. There, they pulled us out of the car, saying "Hazaras are not permitted to pass."
We waited for long hours in the car because we knew if we went back home, there would be no way to reach the border again. My daughter had to use the toilet, but the Taliban wouldn't allow that. I requested the driver to ask the Taliban to allow us to use the toilet, but the Taliban members said we had to relieve ourselves on the ground next to the car.
We got in another car, but, again we were stopped at the Taliban checkpoint, where my husband was taken inside. My six-year-old daughter began sobbing softly. When I asked why she was crying, she said, "My father was taken away by bad people."
Fortunately, after 15 minutes, my husband returned, and they finally let us cross the border. Currently, we are living in Pakistan, but I do not have any source of income, and I do not know what the future will hold.
*The Hazaras are an ethnic minority in Afghanistan that has been subjected to violence, oppression and discrimination, including massacres by the Taliban in the 1990s.
Fatima Etemadi, 30, is a karate instructor, teacher and trainer. Translation by Sahar Fetrat.
Editor's note: This story was produced in partnership with Rukhshana Media and is part of The Fuller Project's ongoing series, "Ending America's Forever War: What is next for Afghan women?", documenting what the end of America's longest war on foreign soil means for the women who have lived through it. Follow The Fuller Project's continuing coverage here.
I am a 16-year-old high school student in one of the northern provinces of Afghanistan. When our city fell to the Taliban, I did not leave my house for two months. The schools were shut on us. Fortunately, it has been three weeks since our school reopened, and I was one of the first students to return to class.
But I no longer have the same hope for my life and the future as I did in the past.
These days, wearing a school uniform no longer cheers me up. Walking my way to school is no longer pleasant, it's a path full of fear and horror.
The first day that I left home, when I took my first steps towards school, I had a strange feeling. Because of fear, I changed my clothing style. Every time I heard the sound of a car or motorcycle, I imagined the Taliban, and felt that they would shoot at me. With enormous fear and anxiety, I finally made it to school.
Inside the classroom, in the eyes of my classmates, I saw the same fear that I had come to school with. The number of students and teachers who had come to school were few. I had never seen our school so overwhelmed with fear and silence.
When I asked my classmates about the absent ones, I heard that some of them had moved from the city, others had migrated, and some others had gotten married during that time—rather, I should say, they were forced to get married. I also heard that some of my classmates were still in the city, but their families no longer allowed them to attend school.
It pains me to believe that some of my classmates will never see the school again. We were hoping to shape the future, but they took that future away from us.
Related coverage: A school teacher in central Afghanistan laments the loss of educational opportunities for girls and women since the Taliban took control.
One of our teachers, who teaches religious subjects, asked our opinion on Islamic Emirates' treatment of women. A classmate replied, "The Taliban do not understand anything about the human rights of women at all. If they did, our situation would not be like this."
"The Taliban understand. It is the world that does not understand. Women's respect is met in staying at home," our teacher responded in a threatening tone.
I wanted to criticize our teacher's opinion, but he angrily motioned for me to not move from my seat. He then began to tell the story of his friendship with Mullah Omar, the first Taliban leader. When the teacher left our classroom, my classmates were terrified. We decided not to say anything because he was obviously a member of the Taliban.
I couldn't believe that these were the same classmates who, until two months ago, would not even allow any teacher to interrupt them. My classmates are no longer the same. They are worried, anxious, scared and look pale. They have no hope for the future.
"Coming to this school can also be temporary," one said.
"Even if the Taliban allow us to study, they will only allow us to become teachers and doctors, they won't allow us to become presidents, ministers, lawyers, businesswomen, and socio-political activists," said another.
All the conversations on our first day of returning to school revolved around despair and how the future seemed dark and vague. It is not clear what will happen to us.
Just a few days ago, a Taliban delegation came to our school. All the students were terrified and ran to their classrooms. The delegation went to meet with the school administration, and we thought they might have come to close our school. They did not shut our school, but the next day, the number of students was reduced to half. I learned that many students decided to leave school for the fear of the Taliban.
We are going through hard times, days full of despair, fear, tears and horror. The fact that I cannot include the name of my school, my city and my province in this article today is a sign of the fear and terror dominating our daily lives. I am afraid that if I mention the name of my school and city, my school will not be open tomorrow.
But I haven't kept silent. I wrote this so that the world will know what's happening to us girls in Afghanistan.
Razia Mohseni, 16, is a high school student. Translation by Sahar Fetrat.
Editor's note: This story was produced in partnership with Rukhshana Media and is part of The Fuller Project's ongoing series, "Ending America's Forever War: What is next for Afghan women?", documenting what the end of America's longest war on foreign soil means for the women who have lived through it. Follow The Fuller Project's continuing coverage here.
Kabul is not safe for girls these days, although the city seems to be calm. But I am afraid of the current silence and calm ruling the city. I do not feel good about it at all. It is like the calm before the storm.
After 12 years of studying, I graduated from high school last year. I passed the Kankor [university entry] exam and succeeded to study pharmacy. This year was supposed to be the first year of my university, which I had thought about many times, the year that I had planned to achieve a lot. However, I am not supposed to go to university anymore because the Taliban have banned women from attending universities and schools. The Taliban know that they cannot control women who are educated, as they will not submit to darkness and ignorance.
For more than a month now, I have been busy following the news online, and when I get tired of the news that has nothing but sadness for me, I stand by the window of my room and, like a captive bird, with a thousand regrets, I look outside.
Related coverage: 'I Went Out and Shouted for Freedom'
There have been many days when happy and smiling women and girls are no longer passing through our street. I am heartbroken to look at our secluded road where the sounds of women's footsteps are no longer breaking its silence. Unlike in the past, when half of the people passing by were happy and proud girls, these days, rarely does a girl walk by. It seems that all the girls in our neighborhood have been locked up in their homes, and it is not clear when they will be released.
Even the handful of women and girls who still pass by are different. Changes can be seen in the clothing and even their behavior. They hide behind the shadow of their mandatory hijab for fear that a Taliban member might see them outside the house. Several other women have taken refuge in the holes of their burqas just to survive.
It pains me to see young girls no longer walk with pride and confidence like they did before. The Taliban have taken everything away from women and girls. These days Kabul girls walk slowly, cautiously, and look around with fear after a few steps so that a Taliban member will not hit them with a cable or metal rod.
One can see the lack of spirit and courage in the behavior of Kabul girls. One can see that they have lost their peace of mind. Although the city seems safe, fear and chaos have penetrated the minds of all women and girls.
Brave women and girls of the motherland! We must stay strong and not lose our spirits. We should not allow the history of ignorance and darkness to be imposed on us. We must stay strong!
Sakina Rezvani, 19, is an aspiring student. Translation by Sahar Fetrat.
Editor's note: This story was produced in partnership with Rukhshana Media and is part of The Fuller Project's ongoing series, "Ending America's Forever War: What is next for Afghan women?", documenting what the end of America's longest war on foreign soil means for the women who have lived through it. Follow The Fuller Project's continuing coverage here.
I will never forget 15 August 2021, the ominous day that took away almost everything from me. Now, like all women in Afghanistan, I can no longer achieve my goals and dreams because the day the Taliban entered Kabul, it was as though they burned our dreams and aspirations.
I am a female journalist working for a radio station. The day the Taliban entered Kabul, I went to a hotel to cover a press conference on women's rights.
When I left the office for the conference, the city looked different than usual. There were few cars and people on the streets. It was as if everyone was waiting for something to happen. However, until 9 a.m. there was no news of the Taliban entering Kabul.
The press conference was still going on when one of my colleagues called saying Kabul had fallen, the Taliban had entered the city, and I should return home as soon as possible. When I heard this, it was as if I fell from the sky because I was afraid of the Taliban, especially given what I knew about their treatment of women. I checked my clothes to see if they seemed Islamic enough and if I could return home safely. In my view, my clothes were appropriate enough.
Being a journalist, every time I read about the Taliban going home to home after journalists, I would tremble with fear.
When I left the hotel, I was feeling exiled, and can you imagine how difficult it is to feel exiled in your own city? Not knowing what you should do and where to take refuge?
Unlike in the morning, when I was heading home, the city was very crowded. Everyone was fleeing as if the world was falling on us, and everyone was trying to save themselves. With great difficulty, I found a car that drove me home.
I forced myself to stay home for several days. Being a journalist, every time I read about the Taliban going home to home after journalists, I would tremble with fear. I had to hide every document that confirmed my identity as a journalist. I put my press card and educational records in a bag and buried them in the basement of our house.
Read more: Afghan journalist recounts harrowing escape from Afghanistan
After a week at home, I went back to my office, but I will never forget how scared I was leaving home. On my way to the office, I came across Taliban checkpoints. The Taliban's armed fighters looked at the women angrily, and I understood the meaning of those looks: they were angry because women were leaving their homes.
My life has changed since that Sunday when the Taliban took Afghanistan. I no longer even have the right to choose my clothes, and I have to wear a hijab, a long black dress. I feel there's nothing in my life but darkness. I have lost all my hopes, and I do not know what kind of days are awaiting us.
Two weeks after the Taliban arrived in Kabul, I went to cover a press conference organized by the Taliban. The Taliban security department told me that women were not allowed to take part in the meeting. When I introduced myself as a journalist, they reluctantly let me in. Although the press conference concerned government employees in a department where many women worked previously, no women were present in the meeting.
When I entered the hall, all the eyes turned to me, the only woman there. "This is not your place; why did you come here?" a senior Taliban member asked me. I repeated that I am a journalist and came to cover the conference. He looked at me in a humiliating way and said nothing more. According to the Taliban, women only benefit from housekeeping and childcare; women working outside is not acceptable to them.
The future seems dark, and I don't know what fate awaits me, but I will continue to work until I am allowed to work outside the home.
Hadis (a pseudonym), 25, is a journalist. Translation by Sahar Fetrat.
Editor's note: This story was produced in partnership with Rukhshana Media and is part of The Fuller Project's ongoing series, "Ending America's Forever War: What is next for Afghan women?", documenting what the end of America's longest war on foreign soil means for the women who have lived through it. Follow The Fuller Project's continuing coverage here.
One day before the fall of Kabul, I attended a university preparation course, and I couldn't have imagined that the circumstances would change so quickly. The day Kabul fell, I was in total shock for two days and followed the news on social media in complete disbelief. I was so stressed that I couldn't sleep. I was sad and just cried.
Our course remained off for two weeks after the fall of Kabul. In the third week, when it resumed, I was one of the first students to return to class. Many of my friends didn't return because their parents would not allow them to continue. The parents of one of my friends had warned her that it was dangerous.
I was born two years after the fall of the Taliban in 2001. However, I have always felt the Taliban's evil shadow in my life. In recent years, every time I left home, I always feared being killed in a suicide bombing. I have experienced this horror up close, twice.
'You are our hope for a better tomorrow'
The first time was in April 2018, when ISIS targeted the Population Registration Department in Dasht-e-Barchi. More than 50 people were killed, and more than 100 people were injured. Our school was located in the street behind this office, and I was in class that day. Our class was on the second floor, so when the explosion happened, our classroom shook severely. We all thought that the bomb had exploded inside the school.
We all screamed, and two of my classmates fainted. Another one was in shock and stared at a specific point. She did not respond when we called her name. A classmate slapped her in the face. When she regained consciousness, we all ran downstairs. All the students assembled in the schoolyard. When we managed to get out, the street was full of ambulances, police cars and mothers who had cried their eyes out waiting for their children. My younger sister, who was in the ninth grade, was shocked, and one of her eyes had been hurt, which took six months to recover.
The second time, three months later, there was an attack on Maw'ood Education Center, where I was taking university entrance preparation courses. The attack killed at least 50 people and injured more than 70 others. That day, I arrived late to class because my sister was late in preparing lunch. As soon as I got out of the car, I heard the sound of an explosion. For a moment, I could not understand what had happened — until I saw a young boy running out of the education center with an injured leg. Next, I saw two men carrying a wounded girl. I felt panic in my body, and my phone started ringing. The first call was my mother's. In a trembling voice, she asked, "Are you okay?"
When I came out of those attacks alive, my father said, "It is more meaningful to die in pursuit of education than to remain illiterate. Continue studying, my daughter, go on. You are our hope for a better tomorrow. If one day a woman becomes president of Afghanistan, that day our country will prosper."
Related coverage: 'I Went Out and Shouted for Freedom'
My father wanted me to get an education and become a politician one day. He does not have a solid job, so he cannot support our family alone. My mother was working at a pharmaceutical packaging company. One month before the Taliban took over our country, I found a job with a garment company that provided work uniforms for the presidential palace employees. However, since the Taliban took over, our lives have been turned upside down. Currently, no one in our family of eight works outside the home. I sew at home for a sewing company, making about six wedding dresses per month.
But I want to continue my education. For this reason, I have persuaded my family to allow me to retake a university entrance preparation course. However, it's pointless to prepare for the exam when we (girls) are not allowed to go to university. These days, when I go to the education center to attend my class, all the men passing by threaten me with the Taliban, asking, "Where is your burqa?"
A few days ago, I learned that the Taliban had killed a woman in our neighboring area. I am afraid of being killed. I grew up in Kabul and flourished in its streets, and I would have never imagined that I would be afraid of exploring my own city one day.
Nafiza (a pseudonym), 19, is a tailor. Translation by Sahar Fetrat.
Editor's note: This story was produced in partnership with Rukhshana Media and is part of The Fuller Project's ongoing series, "Ending America's Forever War: What is next for Afghan women?", documenting what the end of America's longest war on foreign soil means for the women who have lived through it. Follow The Fuller Project's continuing coverage here.
It was 9 am. All members of my family were around for breakfast. Suddenly, my father's phone rang. The person on the line told my father, "We're visiting you this afternoon for the proposal ceremony."
My father, his throat dry, responded: "The guest is always beloved by God. You are welcome."
The person calling my father was a relative who had joined the Taliban. He's ten years older than me, with a wife and two children. Now, he wants to force me to marry him as his second wife. My hands are tied; I am helpless. He is a Talib and I am a woman. Apparently, there is no way to say no. If I can't escape, I have to accept this marriage.
I am a woman who worked hard and managed to provide a decent life for herself and her family, a decent life based on Afghan standards. But with the Taliban returning, just like 25 years ago, we lost everything. My relatives were against girls' education. But my father was different from them. My father, who is a hero in my life, supported me in receiving an education.
Related coverage: As the Taliban Resurges in Afghanistan, Girls Are Already Losing Schools
I was the happiest when I was going to school. I wanted to get educated and become someone so that I could build my Afghanistan. After high school graduation, I took the Kankor exam (university entrance exam) and was accepted to my favorite field, agriculture. I loved studying agriculture.
However, this was not acceptable to my relatives. According to them, if a woman is to study, it should only be in a religious field and in a female-only environment, away from the eyes of men. Living as a woman in such a misogynist atmosphere was torture. However, I did not give up and insisted on my decision to continue my studies in agriculture.
Despite getting annoyed by the continuous mocking and sarcasm of people around me, I was not willing to give up my goals and dream for the sake of others because I was the one who had struggled a lot to get to university. I would often say to myself, "I shouldn't give in like a weak person. I should believe in myself."
I vowed to study and work in the same field at all costs. I wanted to prove to my relatives that a woman can do far more significant things than housekeeping and childcare. On the other hand, I would soften the path for other girls in my relatives and neighbors to study in fields other than religious studies.
During my studies, I was banned from going to school several times due to the pressure and intervention of my relatives. However, my father stood behind me and supported me in continuing my education. Although I studied in the field of my choice, my family was still quite conservative and discriminative towards women working outside. But I was sick of compromising and accepting other people's decisions about my life and desires. It was time for me to flourish.
Related: What Afghanistan's Women Stand to Lose
I was in the third year of university when I learned of a job opportunity near my house. Without consulting anyone, I applied for the job and took the required entry exam. As usual, I got a high score and got selected for the job. When I discussed the matter with my father, he objected. However, with the mediation of my teachers, he finally agreed to let me work.
From the day I got my permission to work outside, I was determined to help fellow women achieve their dreams. One of the first things I did to help women was to write several letters to local media managers. I volunteered to run a program for them that reflected the problems of women. Through this program, I was able to solve several women's issues and put a smile on their faces.
About a year ago, I started working as an agricultural engineer with an NGO in one of the western provinces of Afghanistan. As a part of my job requirements, I traveled to the districts and villages to teach women how to process and distribute their new agricultural products to the market. For instance, I trained village women to make pastes from tomatoes and sell them in the market.
I worked so enthusiastically that I wouldn't feel exhausted even after hours of traveling and training women in the villages.
My daily routine started like this: I would wake up at 5 am and after the morning prayer, I would study for an hour, have breakfast and head to the office afterward. Based on my work schedule, I would travel to a different village every day. After conducting the training, I would sit down with women, hear their stories, and note the problems women faced in that village. At the end of working day, I would go to the media and discuss the problems I had noted. I focused on the problems that were solvable. For example, in one case, I managed to help a woman who was a victim of forced child marriage to find a job and divorce her husband who was beating her.
Every night, before going to bed, I used to review my points of strengths and weaknesses. I must admit that pen and paper have been the means of relieving my pain during these years.
After a few months, my relatives found out about my activities. They tried to dissuade me from working, first with a softer tone and later with threats. They pressured my father to get me married like other girls in our community and keep me busy with housekeeping and raising children. But my father resisted their pressure. Our relatives were firmly against my work outside the home. Because I had refuted all their absurd beliefs, and apparently, I had hurt their religious and traditional values/feelings. I had become a successful woman who pursued her goals steadily and did not pay attention to their misogynist demands.
However, before I could achieve my goals, Afghanistan fell to the Taliban, and my relatives joined the Taliban and their ideology. For other Afghan women and me, this fall was not just the fall of a country, it was the fall of our aspirations and achievements, for which we worked for 20 years.
The night our province fell to the Taliban, I was numb.
I couldn't believe we were, overnight, 20 years behind. If we were supposed to live 20 years ago, I would say to myself, then why did I suffer so much? To reach where I was, I had run so hard, and I had injured my feet metaphorically. Was it even worth it? But all the achievements, aspirations, and dreams are multiplied by zero. Yes, I was so numb that I had nothing to say and no voice to shout.
Now, getting forced to marry a Talib, becoming a second wife, and being imprisoned at home is what awaits me.
I wish someone could take my hands and save me from this mire.
Remember, this is not only my fate; this is the fate of all Afghan girls and women who have been deprived of their most basic rights with the return of the Taliban.
Nargis Omar (pseudonym), 24, is an agricultural engineer. Translation by Sahar Fetrat.
Editor's note: This story was produced in partnership with Rukhshana Media and is part of The Fuller Project's ongoing series, "Ending America's Forever War: What is next for Afghan women?", documenting what the end of America's longest war on foreign soil means for the women who have lived through it. Follow The Fuller Project's continuing coverage here.
Four years ago, on one of the hottest summer days, while I was sick and an IV was attached to my hand, I answered my ringing phone with my left hand.
"You've been admitted to the Fine Arts Faculty of Kabul University," my sister shouted happily over the phone.
This year, once again, while my blood pressure was low and while I was waiting in a queue to withdraw cash from the bank, my phone rang.
"Go home because the Taliban have taken over Kabul, and they have released their prisoners," my sister said in a trembling voice.
I held my younger sister's hand and tried to take a route with no traffic.
We couldn't get a car to take us home.
My sisters and I joined two other women who were also waiting for transportation. Finally, one vehicle picked up the four of us. On the way, the driver had an argument with the two women. "The Taliban are here after you," he said in a happy tone.
When we reached home, our parents were anxiously waiting for us at the gate. I took refuge in an empty room so that my parents would not witness my hopelessness and tears. The only thing that occupied my mind at that time was the story of women who burned themselves in the previous regime of the Taliban. I was thinking about all the stories I had heard and read, the stories of girls who preferred death over life under the Taliban.
I asked myself if the Taliban's regime is repeated, will I survive?
I was only two months away from my graduation. When there was still hope for the republic government, I tried to study for those two remaining months with motivation and thinking about a bright future.
But everything fell apart in one week, and my hope for a bright future was buried under layers of despair. I am domesticated now.
Staying home is like a prison with minutes and hours moving very slowly.
Your days feel longer and then days pass and repeat after each other to the point that weekdays lose their meaning. It no longer matters whether it is a Monday or Wednesday because I spend both days at home.
A young and cheerful woman who would go to university every day and worked hard for a better future is now weeping at home every morning. I know that these days, many Afghan women are mourning their identities, just like I do. After 20 years of struggle, our worst nightmare as women has turned into reality. I am imprisoned at home for fear of the Taliban.
I have only participated in one demonstration since the Taliban took over Kabul.
I went out and shouted for freedom while my voice was trembling. I was there while the Taliban's sound of bullets and whips was much louder than our women's trembling voices. When I got home after the demonstration, I tremble thinking that the Taliban had arrived with every doorbell ringing.
All I do these days is follow the news.
I check Afghan media, searching for verified and reliable news but it seems as though the news has nothing to offer us except for misery and pain.
Nil (pseudonym) 23, is a senior student at the School of Fine Arts in Afghanistan. Translation by Sahar Fetrat.
Editor's note: This story was produced in partnership with Rukhshana Media and is part of The Fuller Project's ongoing series, "Ending America's Forever War: What is next for Afghan women?", documenting what the end of America's longest war on foreign soil means for the women who have lived through it. Follow The Fuller Project's continuing coverage here.
I had no experience living under the Taliban.
All that I knew of their regime came from the historical narratives of women who shared their bitter experience of living under the regime of the Taliban.
When I was listening to those women's stories, I never imagined becoming a part of such narratives and writing about them one day.
On Sunday, 15 August, I left home for the office. I opened my laptop as soon as I reached my office. At that moment, a colleague in a hurried and stressed tone told me, "The Taliban have entered Kabul; go back home!"
I was suddenly out of breath. My hands and legs were shaking. I pushed myself not to cry and hurried out of the office. For as far as one's eyes could see, there was a traffic jam on the roads, and people were impatiently rushing. The sky was gray on that day, and the sun was warmer than the days before. I was shocked.
Some people were just staring at each other, talking about the closure of banks, the arrival of the Taliban, the shootings, death, fleeing, and looting. It felt as if someone was hanging hope at the city's gates, and we all were watching its death with regret, sadness, and tears while our voice and tears were dried in our throats and eyes.
With all its difficulties, I managed to get home. A mixed feeling of tears and despair was stuck in my throat. As I couldn't stop thinking about the dark days ahead of us, I felt a pain in my heart. I didn't know what to do and who to call first. I was looking at my home, desk, books, and deep down in my bones, I could feel the end of my life.
It was as if an earthquake had struck in me and my achievements had collapsed and were ruined within my skin and veins.
Today, 15 September, one month has passed since the Taliban took over Kabul. One month felt like a year for us. The weekdays were no longer there, and I was forced to live on Fridays (weekends) forever.
I have only left my house four times since the fall of Kabul. I am worried, and I am terrified of the whippings. I am afraid of the lash that will hit my feet and the bullets that might end my life. I have reached point zero, and I am in complete despair.
On Thursday, I arranged to go out with a friend. We felt fear deep in our bones, but we didn't stop and continued on our way nonetheless. We went near our office and saw the Taliban fighters with long hair and beards, old men with guns on their shoulders, and the hope of returning to work faded in our hearts.
That day, silence and oppression reigned in the city. On the other hand, depression and despair rain down on people. However, some men were still shouting from behind, asking: "Why don't you wear a burqa?"
We said nothing and continued with silence.
I, who was the breadwinner for eight people and the support for my mother and sisters, now feel in prison at home. The only thing that keeps my fingers moving these days is writing and checking emails. The uncertainty is torturing me. My heart is full of pain, full of sorrow, but it seems as if the world has turned its back to us, and no one is eager to listen to us.
The only happy moments of these days are when I think of the past, something that is no more. I think of Saturdays and going to the library; on Thursday evenings, I read poetry with my friends, Friday morning when we go hiking, and Tuesday evening when I used to watch the trees in our neighborhood. Those days are gone, and I am thinking of death.
For several weeks now, sleep had gone from my eyes, but the nightmares wouldn't leave me alone. I have no hope for the situation to improve. I went to school and university, studied for 16 years, and worked for four years, but everything perished and faded away.
Now, my biggest dreams are going shopping, going to the library, leaving the house without a Mahram (male companion) and without Burqa, and returning to work. Are these big dreams?
Laila, 25, is former government employee. Translation by Sahar Fetrat.
Editor's note: This story was produced in partnership with Rukhshana Media and is part of The Fuller Project's ongoing series, "Ending America's Forever War: What is next for Afghan women?", documenting what the end of America's longest war on foreign soil means for the women who have lived through it. Follow The Fuller Project's continuing coverage here.
I have lost count of the number of days and weeks since that Sunday when Kabul fell to the Taliban. Everything seems to have faded away and I feel like I'm drowning in a wave of despair. I know that I am not alone in feeling this. Anyone with any kind of connection to this land is full of despair.
I lived under the Taliban's Islamic Emirate of Afghanistan in Kabul for two weeks, and this is a summary of my personal experience. Throughout this time, people's lives were disrupted, especially those who worked for the government and international organizations. During these two weeks I struggled with many problems, but the thing that pained me the most was seeing my father worry and get anxious. He was so sleep deprived, and I worried he might get sick again.
For several days in a row, I stayed in my room. I'm a journalist, so I needed to keep working. I kept calling different sources to get news updates so we could share them with the readers of Rukhshana Media. This was a collective effort by Rukhshana Media staff. During these two weeks of living under the Taliban, we were overtaken by an overwhelming fear. It was so intense that none of us dared report on what was actually happening. I felt suffocated. Not only had I lost my right to work and walk around the city freely, but I had to make sure we were not publishing anything in Rukhshana that would catch the attention of the Taliban.
During those two weeks, I only took a taxi twice. Each time I needed to leave home, it was difficult finding clothes that fit the Taliban's standard of "Islamic Sharia". For the first time ever, my parents and siblings were thinking about my clothes, asking, "What is suitable for Zahra now?"
'My fate was no different from the fate of a woman who lived in Kabul in 1996'
In the 28 years of my life, I never once thought of buying those long black robes, that's why I didn't have one at home. So I left my house in my normal clothes, but I promised my parents that I wouldn't walk anywhere, not be on the streets. When I first left the house, in a car, I noticed despair and frustration everywhere, overshadowing the Kabul population. The Taliban's white flags were flying in the wind in various parts of the city — a constant reminder that they had seized power.
The presence of women in public places and on the streets was almost nonexistent. Until the morning of Sunday, the 15th of August (the day Kabul fell to the Taliban), the city was full of women in colorful dresses. They added so much life to the city, but suddenly they were nowhere, the city had been emptied out. I saw a few women outside with a mahram (male relative escort). It was as though I had traveled back in time, to the 1990s when the Taliban last ruled, banning women from public events.
It was as if history had lost its meaning: 1996 could not be distinguished from 2021. Suddenly, it didn't matter if I was a young woman in 2021. My fate was no different from the fate of a woman who lived in Kabul in 1996. According to Taliban law, women have only two choices: you either have to accept their oppressive laws and live by them, totally changing your identity, or you live as you did and get killed. For me, as a person who struggled and worked so hard in a patriarchal society to get where I am, both options are unacceptable. For many years, my eyes freely looked at the hills of Kabul, taking in its mud houses and wildflowers. I will not accept having to see the world through the prison bars of a burqa.
During the days that I lived under the dark shadow of the Taliban, I felt like a bird in a cage. Like a bird with wings, but no permission to fly. I used to work outside the home, in my office, from morning until evening all week. Friday was the only day you'd find me at home. But since the Taliban took over, I was forced to stay at home. When I realized there was nothing I could do to fix the situation, I walked around our yard. My mother tried to comfort me and told me to hope that normal days would return. But she, too, knew that life would not be normal for women any time soon. Late into the first week of living in Taliban-controlled Kabul, I heard they were going house to house looking for journalists and activists. My family insisted that I change home for a bit.
One of the days the following week, I received a call from the British Embassy. They asked me to head towards Camp Baron as soon as I received a confirmation email from them. My sisters and I left our home for the airport within three hours of receiving the email. When I said goodbye to my father outside the airport in the crowd, I didn't get to hug him. I held and kissed my mother, who was determined to come with us to the airport.
'Like a bird with wings, but no permission to fly'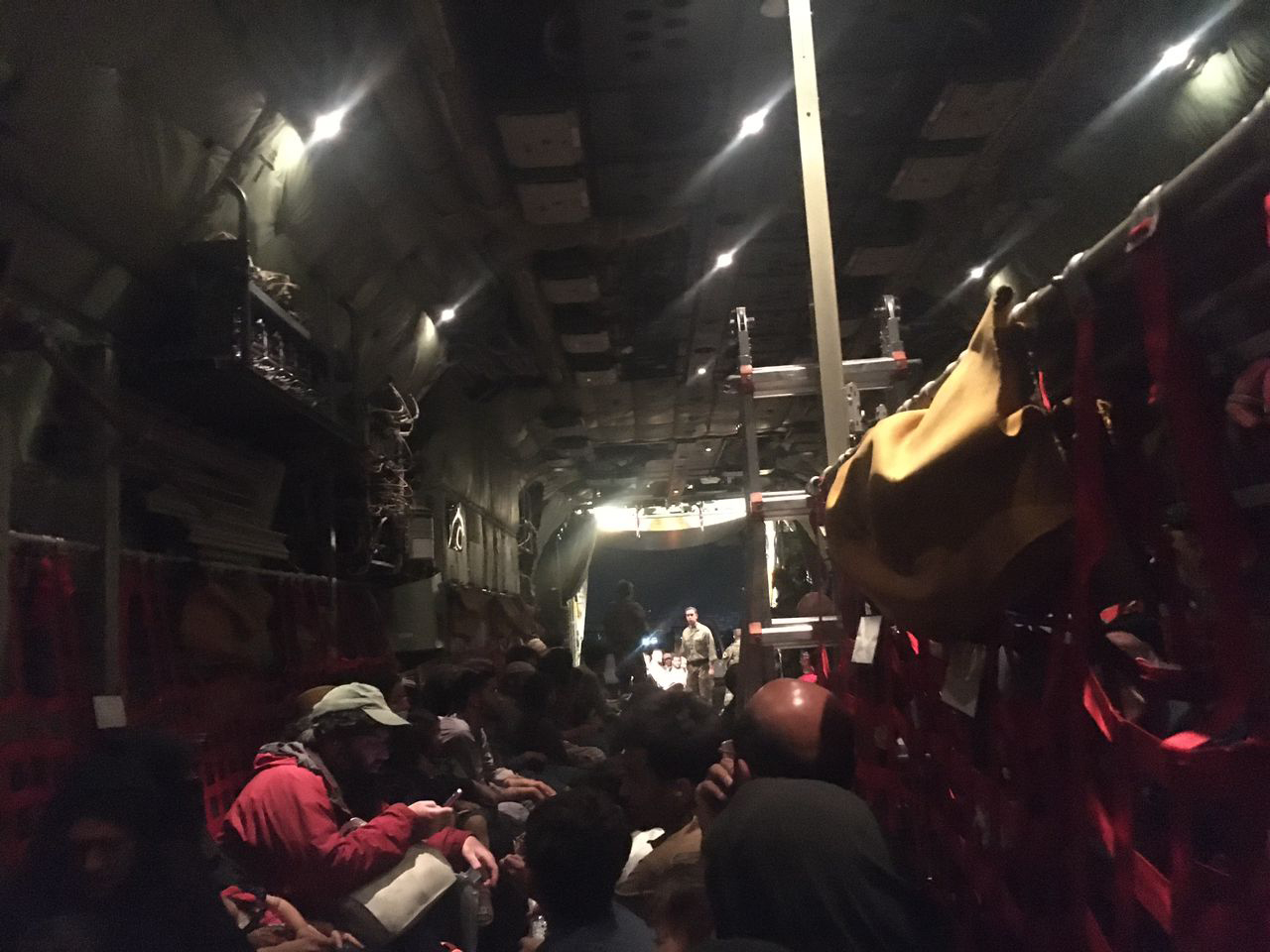 When we reached the southern gate of Hamid Karzai International Airport, we encountered a huge crowd. The airport was surrounded by thousands of Afghans, tired of war and hoping to escape and get a chance to survive. Everyone was anxiously waiting to enter the airport. Taliban fighters sporting long hair and loose clothes beat people with sticks and water pipes to try and establish order.
When we realized that we couldn't enter Camp Baron, we changed route. This time we tried getting in through a narrow and dodgy alley called Zuhak. We made it to the gate of Camp Baron, but the crowd was huge. There didn't seem to be space to throw a needle, let alone humans. Women, men, the elderly, the youths, and children were all trying to enter the camp. Under the burning sun, my sisters and I waited for more than two hours in the crowd. Even though I was sweating nonstop, something in me became frozen. I started to shiver as the moments passed, as if I were cold. The Taliban continued hitting people. Every once in a while, a few lucky privileged people would drive up and were escorted through by members of the Taliban. When the gates opened, chaos would ensue amongst the crowd. The Taliban opened fire to scatter and separate the crowd. It got closer and closer to us.
As night fell, and it got dark, the crowd didn't diminish. It actually got bigger. We spoke to another woman going to Camp Baron who suggested it was better to enter via Abbey Gate. Getting to Abbey Gate meant going through dirty sewage. It was intolerable. Out of desperation, many people had actually thrown themselves into the middle of the sewage, trying to get the attention of the foreign soldiers who stood by the side. "Go die in the sewage!" some of the foreign soldiers would shout back to them. Seeing that level of helplessness and humiliation, I burst into tears. I began screaming in pain. The men around me tried to comfort me. "My dear sister, don't cry," one told me. "Your sorrow isn't greater than mine. And if I start crying, there will be no one to comfort me."
After four hours of hassle, we finally managed to get near a British soldier. When we showed him the email and our documents, he let us in. We spent 24 hours waiting in Camp Baron. The next night, at 3 am, we left Kabul on a military plane. On board there were 300 people with broken and painful hearts. Before we took off, as the plane stood still in Kabul, my chest was so heavy and I felt I couldn't breathe. Then, once in the sky, I slowly cried for the duration of the three-hour flight. There were no windows, so I didn't get to see my beautiful Kabul for the last time, to say farewell. From where I was sitting, I could only see the sleepy and sad, exhausted faces of my fellow evacuees. What a tragic and mournful sight!
Zahra Joya, 29, is the founder and editor of Rukhshana Media.
This series was published in partnership with Rukhshana Media and The Fuller Project.
Editor's note: This story was produced in partnership with Rukhshana Media and is part of The Fuller Project's ongoing series, "Ending America's Forever War: What is next for Afghan women?", documenting what the end of America's longest war on foreign soil means for the women who have lived through it. Follow The Fuller Project's continuing coverage here.
As told to Zahra Nader by Elhan Husseini*, a 26-year-old NGO worker
I am a 26-year-old woman. I have been working for a German organization in one of the northern provinces of Afghanistan for more than three years. When the Taliban took over the city where I lived, my family, some friends and I decided to move to Kabul for our safety until we could seek refuge abroad with the help of the organization we worked with. Below, I have written a description of this humiliating journey so that you can understand how much we have suffered and how much humiliation we went through so we wouldn't have to live under the Taliban.
It was exactly 2:30 pm when we reached Kabul to go to Hamid Karzai International Airport in Kabul. Knowing it could have taken us a few days to get into the airport and wait for the flight, we took with us some bread, dates, and a few water bottles.
To enter the airport, we first went to Camp Baron. Many people were going through the camp. These were people who in the course of one day had packed their entire lives and memories into a box, just to survive. I witnessed old men and women who couldn't walk. They rented carts to carry them along.
I trembled with fear, and my heart was beating so fast with the Taliban's every move.
Everyone seemed worried and in a rush, and everyone was pushing to get inside the camp. The Taliban were there, and they whipped anyone who passed by them. They even fired their Kalashnikovs near people's feet, to scare them.
I trembled with fear, and my heart was beating so fast with the Taliban's every move. My hands and feet were shaking, and my heart felt so heavy for our fate. I would say to myself "What is our sin? Why should we be miserably displaced like this in our own country?"
After failed attempts to get inside the airport through Camp Baron, my friends and I decided to try Camp Gumruk. It was half an hour's walk from where we were. But the journey seemed very long and tiring as I was frantically hurrying. When we reached the camp, my legs hurt.
At Camp Gumruk, there was so much dust around us. It was so intense that we could not even keep our eyes open. I felt deeply humiliated, something I had never before experienced.
Related coverage: 'They Left Us to the Taliban'
The number of people coming to Camp Gumruk were even more than Camp Baron. We even met people who had been waiting three to four nights to enter the camp. You could read fatigue, sleeplessness, and feeling of humiliation in their eyes.
Again, after many attempts, we didn't manage to enter the camp and talk to the foreigners. So we decided to try our luck at another camp. This time, we went to Camp Qasaba, carrying our exhausted selves on a journey along the dark, dusty, and stressful path that was full of torture.
Unfortunately, Qasaba Camp was worse than the previous ones. The people stood in front of the barbed wire, designed to keep people from entering the airport while their documents and eligibility were checked. Most of the visitors in this camp were men. Since we did not feel safe being around so many men, we returned to Camp Gumruk, where there were more women.
At Camp Gumruk, I managed to talk to a foreigner who guided us to Abbey Gate. Once again, with all the stress, hope, and despair, we took ourselves to Abbey Gate. I asked a few people which country they were going to. One responded that they had no documents, so they'd go anywhere they would be taken to. Another said, "I have never worked with foreigners, I am a construction worker, and I have come here with the hope that I could leave Afghanistan."
When we reached Abbey gate, I saw many people who had come there hoping to escape the Taliban. The crowd was so large it felt as if I wasn't getting enough oxygen.
'There I understood that our life is worth nothing'
It was 11 pm when we entered Abbey gate. We waited there for four hours. We heard the gate would open at 5 am. We had to pass through a three-meter deep area full of filthy water, before reaching the foreigners and showing our documents. We only had two options: either pass through the crowd of thousands, and get trampled under people's feet and suffocate, or throw ourselves inside the dirty sewage.
Even if we had chosen the first option, eventually, in the end, we would have to pass through the sewage. When we threw ourselves into the rut, the smell of dirt and muck was intolerable. It was cold, and our lips were trembling.
There was barbed wire inside the sewage. We had to tread carefully to not hurt our feet. On the one hand I was afraid that the barbed wire would hurt my feet, but on the other hand, I was worried something would bite me. But more than anything the feeling of sheer helplessness and misery pained me the most.
We were standing in the dirty sewage, where we had to wait for the foreigners to check our documents. Many people had thrown themselves into the sewage. There I understood that our life is worth nothing. I had never thought we could become so worthless. We were not even worth that of a dog.
'I wish we had died rather than live through that day'
With my own eyes, I saw a woman who had worked with NATO show all her documents and shout "NATO! NATO!" from the filthy water, but nobody listened to her. She went closer to the foreign soldiers, so they could hear her.
When the foreign soldiers noticed her, they spoke to her in a very ugly tone. That was when I saw our dignity get crushed as we were humiliated.
A foreign soldier tried to push her back towards the sewage, but she resisted. Another soldier came, and this time the two of them wanted to force her to the rut. When the woman cried, they let go of her, but this time, one of the soldiers took her documents from her bag and threatened to throw them away if she didn't return to the sewage.
Watching what happened with that woman, I cried, "No, please!" from inside the rut.
I wish we had died rather than live through that day. Why are we so miserable? How long should we live like this?
Is this really what we deserve from life, humanity, and human rights?
After that painful experience, I decided to leave Afghanistan only if there was a dignified way to do it. I cannot tolerate this level of humiliation.
I will try to get out of Afghanistan as soon as possible because with every moment and each painful experience, my hope in life decreases.
I wish I had never experienced such a day. I wish I had never been born Afghan. Is this really what we deserve from life, humanity, and human rights?
I have written this experience to show the world that we, the people of Afghanistan, are already oppressed. Please do not crush us more. We need empathy, humility, and kindness. In Afghanistan, our children have not experienced childhood for the last half century. Our girls have not enjoyed their youth, our fathers have died in wars, and our mothers have been widowed at home.
*Due to security concerns and fear of retribution from the Taliban, the writer has supplied this pseudonym. Translation by Sahar Fetrat.
Editor's note: This story was produced in partnership with Rukhshana Media and is part of The Fuller Project's ongoing series, "Ending America's Forever War: What is next for Afghan women?", documenting what the end of America's longest war on foreign soil means for the women who have lived through it. Follow The Fuller Project's continuing coverage here.
It was Saturday, August 14, when I saw a friend who owns a store selling hijabs. Since the Taliban started seizing control of the country, he has been selling around twenty hijabs a day, and he asked me jokingly, "Won't you buy one?". But I will never wear a hijab (full Islamic dress), and I replied to him in a serious tone, "I will never accept the Taliban's demand that we do so."
But I didn't know that the next day, the world would turn upside down for many Afghan women in a way we could never imagine.
Like any other typical day in Kabul, I went to my office on the morning of Sunday, August 15.
On the way to the office, I noticed long queues of people in front of several banks, which was quite strange. I had never seen so many people lining up like that in front of banks in Kabul before.
The moment I entered our office, I was confronted with my colleague's confused and anxious face. He started asking me for personal information, such as the details of my passport and those of my family. "The situation is worrying," he said. "We need this information to be able to help you."
'We try to be happy even in the gloomiest moments of our lives'
As soon as I checked my Facebook and Twitter accounts, I came across unconfirmed reports that the Taliban had reached parts of Kabul. Like many rumors circulating on social media, I ignored them.
After speaking to a number of colleagues, we decided to go to the nearest ATM to get some cash out. We were afraid that in this chaotic situation, our money would be stuck in the banks.
When we reached the ATM machines, there was again a long queue. After waiting for a while we were told that the machine was broken due to excessive overuse.
We walked back to the office empty-handed. On the way, my two colleagues and I bought ice creams, joking that we should "enjoy the last ice cream before the Taliban arrive." And then, one of my colleagues said sadly, "We try to be happy even in the gloomiest moments of our lives."
All of a sudden, it felt as though people's behavior had changed, differing from all the other days and years I had spent in Kabul. A 12-year-old boy pointed at me and my colleagues, and said to his friend, "These are their last days walking around the city, sightseeing".
Another young man checking out my clothes warned me as he shouted, "When the Taliban come, they'll come to you first!"
Related coverage: What Afghanistan's Women Stand to Lose
When we reached the office, our boss and other colleagues confirmed that all the banks were shut and no one could withdraw money. We weren't even finished talking when the security alarm turned on. We all rushed to the basement where the safe rooms were located.
We didn't know what had happened. All we knew was that the situation was not good. We didn't even know what we should do in such circumstances because we had not experienced a situation like that before. Among all the talk and rumors, one thing was clear: the Taliban had captured Kabul.
With my hands shaking and my throat dry, I called my family. "The Taliban are said to have taken parts of Dashte Barchi (west Kabul)," my husband said to me. Dashte Barchi is where we — and a number of my colleagues — live. It is one of the most deprived areas of Kabul, with more than one million Hazaras residing there.
"Let us go home," I said, as I was getting overwhelmed with fear and anxiety.
After an hour of hiding in the basement of our office, we were allowed to go home. Following the security instructions, we left the office in groups of three to five.
'Something had died in me, something like hope'
With some colleagues, I went towards Dashte Barchi. All the streets of (central Kabul neighborhood) Shahr-e-Naw were full of traffic. It was as if all of Kabul was conducting a raid.
In the 12 years of living in Kabul, I had never seen the city so chaotic. Of the hundreds of shops, only a handful were open. The streets were full of cars, but no one would take passengers. Even if they would, there was no way out of traffic. The cars seemed glued to each other; it would take hours for them to become untangled.
My colleagues and I started walking home. It felt like the entire city was doing what we were: fleeing. My clothes and my bag would get stuck with the cars. I almost fell over several times.
I could hardly breathe from thirst, but I didn't dare stop at a shop and buy water. My legs were getting tired and heavy. I could not walk. It felt as though my shoulders couldn't carry that amount of fear and despair.
On the way, I saw a woman running in such a hurry she left one of her shoes behind. She didn't even stop to get it. Getting to her destination as quickly as possible was more important to her than losing her shoe, than the wounds on her feet.
I was happy to be alive and to be able to hold my baby.
I did not exactly know how many kilometers we had walked, but we had walked for more than an hour. As we approached Kabul University, the situation seemed a bit more normal. We took a car to Dashte Barchi. When we arrived in Barchi, it seemed as if the entire population of one million people who lived in that small area had flown away. Barchi's streets were totally silent.
Finally, after all the anxiety and fear, I reached home. I immediately grabbed my son and held him in my arms. I was happy to be alive and to be able to hold my baby.
Just some hours before, I was still a happy woman, leaving home for the office with so much hope. But the woman who returned home was no longer the one who had left that morning. Something had died in me, something like hope.
The day that the Taliban arrived, Kabul turned into a ghost city. A city in which all my dreams and aspirations for a brighter future died. I wore a black hijab to mourn my dreams.
Maryam Nabavi, 28, is an Afghan journalist. Translation by Sahar Fetrat.
Editor's note: This story was produced in partnership with Rukhshana Media and is part of The Fuller Project's ongoing series, "Ending America's Forever War: What is next for Afghan women?", documenting what the end of America's longest war on foreign soil means for the women who have lived through it. Follow The Fuller Project's continuing coverage here.
Four days before the Taliban captured Kabul, I was with a pregnant friend who had fled to Kabul from the Taliban. We went to the women's ward of Istiqlal Hospital for a check-up. That night, at five months pregnant, she lost her baby due to the tremendous psychological pressure she felt after the Taliban's seizure of her city.
I was sitting next to her in the hospital, and I was closely following the news on social media when I suddenly read the news of the fall of Mazar-e-Sharif. I had lived in Mazar until two years ago; my family was still there. I frantically called my mother. "Mazar has fallen," my mother said anxiously. My 16-year-old sister took the phone from my mother and asked me, "What will the Taliban do to me?" Hearing her shaking voice, I lost it. The sound of my cry echoed through the entire ward.
Related: What Afghanistan's Women Stand to Lose
"The Taliban won't do anything. They will not kill your sister," the hospital staff said to me, trying to comfort me. But I cried for the death of my sister's dreams. She had chosen to study medicine, and she was preparing for a prestigious scholarship to study in the U.K. That night, my friend and I cried in each other's arms until dawn.
On Sunday, August 15, one hour before our president fled and the Taliban arrived in Kabul, my friend and I left the hospital. When we reached home, I saw my husband sitting in a corner. His eyes showed that he, too, had spent all night crying. The whole of that ominous Sunday was spent desperately following the news on social media.
'This is not what our people deserve'
I wanted to go outside, but my husband was worried. He said going out would only make me suffer more. But I could not tolerate staying at home. At around 7 pm we went to Pole Sorkh with my friends and my husband. Pole Sorkh was one of the areas in western Kabul where we would always go and have fun and to meet friends. But Pole Sorkh was not the same place as it had been just a few hours before. It had changed. The way men dressed and behaved had also changed. I saw a handful of women outside, with male family members, like us.
A man passing by me said, "Sister, go home before the Taliban see you." We continued our way and returned home after buying some groceries. I cooked that night but none of us ate.
We all went to bed early. My husband lit his cigarette by the window, and we both cried, staring at the silence that had taken over Kabul. We both said, "This is not what our people deserve."
I had lived in Kabul for two years, but I had never seen Kabul that heavy, quiet, and full of sorrow. Like the night before, we could not sleep because of our tears and the intense feeling of despair. In the silence, I reflected on the past 20 years of life experiences: going to cafes and hanging out with friends, Friday nights spent hiking, the fun trips we had to Bamiyan, Parwan, Panjshir, Kapisa … and all the rest that will now not be possible under the Taliban.
Related: 'They Left Us to The Taliban'
Twelve days after the Taliban came to Kabul, my husband and I, like thousands of others, were forced to flee Afghanistan. We left behind our home, families, friends, and a small library. Of everything we owned, we only took our laptops, hard drives, Kindle, a notebook, pen, and a set of clothes for myself and my husband. Around 9 pm, we left our house for Camp Baron (military airport entrance) and cried all the way. We faced so many people — about 5,000 — at Camp Baron and waited until about 9 am. I will not forget what I saw that night for the rest of my life. Men and women stood, overnight, in the middle of sewage water. Some had even fallen asleep there, they were so exhausted.
We lived under Taliban control for almost two weeks, and all that time, I tried not to give up. I would go out to take pictures and send them to my friends. By doing so, I was trying to tell my friends to not give up, and to carry on with their lives as before.
But after I witnessed the Taliban's harsh treatment, and how they beat people in the streets, carried out random body searches, I had to decide to leave. The people of my city no longer smiled or wore colorful and brightly colored clothing. You could no longer smell food and hear music from the restaurants. It was as if hope in our city had died.
We left Afghanistan with broken hearts and souls. We were evacuated with women who were the heads of organizations, who were the breadwinners of their families until a few weeks ago. Since the Taliban returned, they are now displaced and scattered across different corners of the world, all with tears in their eyes. All these women are broken from within. During my seven years of working for women's rights, I met and even made friends with women and girls from different parts of Afghanistan. Some of these girls call me "mother." One of these girls told me that the Taliban had beaten her and her brother because of their clothes. They are disheartened by the situation and are living in despair. Some are even thinking of committing suicide. This is not what our people deserve.
Hosnia Mohseni, 30, is a youth activist and works at an NGO. Translation by Sahar Fetrat.
Editor's note: This story was produced in partnership with Rukhshana Media and is part of The Fuller Project's ongoing series, "Ending America's Forever War: What is next for Afghan women?", documenting what the end of America's longest war on foreign soil means for the women who have lived through it. Follow The Fuller Project's continuing coverage here.
As told to Zahra Nader by Shadab*, a 22-year-old teacher in central Afghanistan
I've been experiencing strange feelings since recent events. I feel my entire being hurts, as if my hands and feet have been tied together. My ability to move has been taken away from me. My heart feels as heavy as lead. Fear has taken over my village, my house, and the air I breathe. It feels as though my spirit is dead within me. It's as if I have reached the end of the world, where everything is closed shut, and there's no hope for a better future.
I am the girl who cried and begged to go to school and university. As the first girl in my village to go to university, the journey was not easy. My village is where people's understanding of girls' education was limited to a few religious books for worship and prayer. A village where people viewed girls' education as a gate with a locked door.
Related: As the Taliban Resurges in Afghanistan, Girls Are Already Losing Schools
I always stood up to men who saw a woman's only place as being at home. I withstood their looks so that I could get an education. I endured a thousand ugly things that educated girls must, but I ignored them all. However, my education is not yet complete, but my good days have already ended. How I wish you could understand the pain I feel in my bones when the women and girls in my neighborhood ask me in a mocking tone, "So what happened? You're staying at home now?"
Some of these girls have never had an opportunity to study, so they don't understand me. They were never allowed to walk on the rough path I treaded. So now, not only do they read the sorrow on my face, but they also repeatedly set me on fire by saying, "a woman's place is in the home."
Some of the villagers are happy that since the Taliban have returned, women can no longer go out and work. They even believe the Taliban's victory was made possible because there are women who don't wear the Islamic hijab. As a person who always went to university and to work in full hijab, hearing those words is painful.
'These days, I cry for all that is gone'
After they seized the northern provinces, the Taliban made an announcement in our mosque that women could work and study only if they are properly veiled and have a mahram (male relative escort). But they have only allowed female school teachers back to work — not the women working in other sectors. Our university is shut, and I have not left for more than three weeks now.
Only God knows what I am going through these days. I go crazy thinking that things will stay the same, that my parents will force me to marry, and that my only duty will be a housewife and a mother. I keep asking myself, Did I study for 16 years to become this? Did I study and work just to become someone's wife, someone's mother? These days my identity and my aspirations are vanishing before my very eyes.
Over the last days and weeks, I keep thinking about my dreams, of how hard I worked and how much I suffered to get to where I am today. I went to school with a hungry stomach and wearing torn sandals. I did that to change my society and prove that women can work just like men if given the chance. But, before I could change my society as I had imagined, the Taliban took over, emptying my province, city and village of women. Now there are only male faces outside.
I wish someone could wake me up and say the last few weeks have just been a bad nightmare. I wish someone would take me far away, where I can scream all my sorrows and mourn my dead dreams.
These days I feel like even my own family cannot understand me. They don't understand how much pain I've endured to reach this point, to work outside the home, to go to university. They don't know how overwhelming it is to come to terms with the fact that all my suffering, all my struggle, have been destroyed overnight. These days, I cry for all that is gone, in vain, with the wind: all my dreams that flew far away, slipping like the string of a kite out of my hands.
Do you understand me?
*Due to security concerns and fear of retribution from the Taliban, the writer has supplied this pseudonym. Translation by Sahar Fetrat.
Editor's note: This story is the second in The Fuller Project's ongoing series, "Ending America's Forever War: What is next for Afghan women?", documenting what the end of America's longest war on foreign soil means for the women who have lived through it.
When Taliban fighters encroached on the Afghan capital Sunday, Zainab, a reporter in her mid-20s, made a decision to leave the country. She had never been abroad, but it did not deter her. If anything, it propelled her forward.
She threw some clothes into a bag, along with her passport, two mobile phones and a wad of cash before climbing into a taxi with her brother and father. They set off for the airport. Cars full of people gridlocked Kabul's streets as thousands attempted to flee an Afghanistan soon to be under Taliban control. Afghans had watched in disbelief as major provincial capitals fell swiftly to the Taliban over a matter of days, and Kabul soon swelled with people seeking shelter.
Only the capital — and a small patch in neighboring Panjshir province — was left.
Zainab, who does not want her last name published for security reasons and her family's safety, has reported for American, British and German media – and was working on a months-long assignment for The Fuller Project and TIME when the Taliban seized control that day. She worried her work with foreign media would make her an easy target for the insurgents and she feared for her life.
On the way to the airport, several men on motorcycles snaked their way through the traffic before stopping at their car. They pointed their automatic rifles at the occupants, ordering everyone out. The men then robbed Zainab of the bag, the one she had packed hours before with a few essentials to leave the country. "They took everything. I was so scared, but I thought, 'Now what if the Taliban comes for me?'" she said.
So she kept going.
They made it to the airport. Zainab said goodbye to her family and stepped inside, where she waited, without any identification or proof of who she was, for hours. As dusk arrived, the Taliban did, too, and soon shot at the large crowds that had gathered.
"People were running in all directions. I got on a plane, not even knowing where it was going." It was cavernous and crammed with Afghan families, standing up and jostling for room. Zainab had boarded the now-famous U.S. Air Force plane that has become symbolic of the desperate end of the American war. Photos from the flight show a mass exodus as the Taliban took the capital, sealing their victory after twenty years of battling NATO and Afghan troops.
Two decades of progress, brought to a halt
With the Taliban back in power, women across Afghanistan brace for an uncertain future, awaiting, as the days creep by, to discover what they stand to lose. Over the past 20 years, bookended by Taliban control of the country, women have filled university hallways, lined offices, traveled freely across the country and further afield and joined nearly every aspect of public life. They have joined the military, judiciary systems and government. The list of their achievements is anything but exhaustive: Afghan women and girls have formed a national cricket team, competed in the Olympics and won international science competitions.
All would have been unthinkable under the group's previous rule, from 1996 to 2001, when women were subjected to draconian treatment, forced to wear a head-to-toe burqa if stepping outside, required to travel with a mahram, a male relative escort, and denied rights to education and work.
Since the Taliban's takeover, the international community, from the British and New Zealand prime ministers to the U.S. Ambassador to the United Nations, has implored the group to uphold human rights, especially those of women. Improving the plight of Afghan women and girls was a central message of the 20 year American-led war. Washington has spent at least $787 million on attempting to better their lives since 2002.
The extremist group has positioned itself as a transformed force, and said it will not pursue reprisals against the Afghan government and its supporters. "Everyone is forgiven," said the Taliban spokesman Zabihullah Mujahid two days after the group took control. But millions of Afghans fear the group will return to its brutal and oppressive past.
The spokesperson also said the Taliban will respect women's rights "within Islam", though this leaves much to interpretation, and evidence is mounting of diminished freedoms. As the Taliban swept back to power in recent weeks, its fighters have turned women away from their workplaces and barred them from entering universities.
Related coverage: As the Taliban Resurges in Afghanistan, Girls Are Already Losing Schools
Many women fear reprisals. In Kabul, several Afghan female journalists said Talibs were in their neighborhoods, going door to door, making lists of women who worked in the media and government. One sent a video she captured from her balcony, showing armed Taliban members atop of her neighbors' house, where they took selfies against the Kabul skyline. "I feel like I will die a gradual death here," she wrote in a message.
On Friday, German state-owned broadcaster Deutsche Welle said the Taliban had targeted and killed a relative of one of its reporters. Salima Mazari, a female district governor who took up arms against the Taliban in recent months, was reportedly captured by the insurgents shortly after they took power, and her current whereabouts are unknown. Many previously outspoken and prominent Afghan women, including former politicians, rights advocates and famous authors, both in and outside of the country, declined to speak even anonymously in recent days.
'We feel we have lost everything.'
The women in Afghanistan who did agree to speak described feeling abandoned and betrayed by the world, and especially by the U.S. Sportswomen are burning their kits, journalists are scrubbing away their social media presence and Kabul's streets are increasingly devoid of women.
"The U.S. is taking back what it gave us," said Hosni, 30, who has worked for a Western-funded NGO for the past five years in Kabul and asked to be identified only by her first name. "What happens to women? We feel we have lost everything," she said.
Before Kabul fell, a usual day for Hosni would include a visit to the gym after a day at the office, or meeting friends for a coffee inside one of Kabul's trendy cafes, pockets of calm and sanctuary where young women could freely socialize.
Today, her office is shut and she sits at home, directionless and without a routine to shape her week. "I cannot even watch a movie, I've hidden my books, I can't dance or listen to music. I haven't done any of this in the past days," she said.
Practically overnight, Lida, 32, has gone from being part of a small cadre of women at the Afghan Attorney General's Office to mourning her career. "With the Taliban back in power, everything will die for women," said Lida, who asked to be identified by a pseudonym due to security concerns.
The anti-corruption prosecutor completed her Master's degree last year, with a specialism in criminology. She has long been a dedicated high achiever: when she was studying for her undergraduate degree, she attended classes while pregnant with the first of her two sons, who is now nine years old. "All that I have worked for, all of my dreams, have become zero, multiplied by more zeroes."
As the Taliban inched closer towards Kabul last weekend, Lida headed to the market in search of "clothes that will keep me safe from the Taliban's lashes." When they ruled in the 1990s, Taliban police would whip women for not being properly covered up. In recent days, Afghan social media has swirled with photos of men and women, showing fresh welts from being beaten by Taliban mobs for not dressing according to Islamic custom.
The women preparing to resist
The Taliban is now seeking legitimacy on a global scale, and there are signs they are getting closer. After Kabul fell, Russia and China, two of the five permanent members of the United Nations Security Council, hinted they are open to the idea of recognition. The United States and its Western allies have said such recognition would be condition-based, dependent on the group's treatment of human rights.
But it is still unclear just how much political leverage and heft the rest of the world will have. "The most important question is whether women are going to be fighting this alone, or whether the international community has their back. That is the very least they deserve," said Heather Barr, interim co-director of the Women's Rights Division at Human Rights Watch.
There is a green shoot of hope in today's dreary landscape, offering a challenge to the Taliban's leadership : Afghan youth. The country has one of the youngest populations on earth, with 63% of its people under the age of 25, meaning most Afghans don't remember what life under the Taliban was like. "This younger generation is saying, 'I'm not going to go back'. They're very determined, a force to be reckoned with," Barr said.
Some of that translates into fierce defiance. In the days following the Taliban takeover, Afghan female journalists interviewed members of the Taliban on live television and in the open air. Women also led protests in Kabul, draping themselves in the black, red and green colors of the Afghan national flag, which the Taliban wants to replace with its own, a white banner with a black Islamic inscription. They have confronted armed members of the Taliban and demanded their hard-won gains be preserved, holding up hand-written messages scrawled on sheets of paper and chanting, "Work, education and political participation is our right!"
Many young Afghan women, especially those who are educated, grew up listening with horror as their mothers and grandmothers relayed stories from the times of the Taliban. The daughters' lives were testament to change, and progress. "My family was a role model in our village," says 22-year-old economics student Mozhgan, also a pseudonym. "People look and say, 'their daughter studied and she can now help her family," she said from her home in Samangan in central Afghanistan.
But that life is quickly unravelling. Since the Taliban seized control of her province earlier this month, Mozhgan has attended a wedding with no music and stopped her numeracy lessons for adult women. She now doesn't know if she will be able to graduate, let alone work.
The hollow freedom of the exiled
Many Afghans felt they had no option but to try to leave, rather than wait to see if the Taliban's promises would spare their lives, and those of their families.
When Zainab's massive cargo plane landed and slid along the tarmac, the doors opened and a gush of hot air rushed over the evacuees. Some thought they were in Egypt but soon learned it was Qatar. They erupted into jubilation. "People started laughing and crying. Some were singing. They couldn't believe it," Zainab said days later from the sprawling U.S. military base where she is staying. "I didn't, though. I had no one to cry or laugh with."
Zainab now waits, alone, eating U.S. military-issued cookies and sleeping in the clothes in which she fled – a pewter blouse, dark pants and a yellow scarf. She hopes to claim asylum in a western European country. "I now have freedom. Freedom is the only thing that matters," she says between muffled sobs, as she moves between elation to fear for her brothers, but especially her sisters, whom she left behind in Kabul.
"They say more refugees are coming here," she says from her cot bed on the base. "I hope they manage, because the Taliban will never change."
This story was published in partnership with Rukhshana Media, TIME and The Fuller Project.
Editor's note: This story is the first in The Fuller Project's ongoing series, "Ending America's Forever War: What is next for Afghan women?", documenting what the end of America's longest war on foreign soil means for the women who have lived through it.
Before the Taliban started to dominate her district in western Afghanistan two years ago, Nadia was busy. When she was not teaching grown women how to read and write, traversing a patchwork of seventeen villages armed with little more than a few books, she was holding workshops for their husbands on women's rights.
But once the Taliban killed the local governor in 2019 and got wind of Nadia's program, they began sending death threats via religious officials and members of the local government. Once, insurgents shot at her car, narrowly missing her and injuring her husband. Another time, she and her children ran for their lives when armed men opened fire on them not far from her home. She moved her literacy courses underground, and started teaching a handful of women in her home.
But not long after President Joe Biden's mid-April promise this year to withdraw all U.S. troops by Sept. 11, a senior local official reached out and told her to be extra careful, forcing Nadia to make a choice. She decided the risks to her life, and to her family, were no longer worth taking.
Now the 42-year-old woman teaches no one.
"We are threatened, we are banned from our activities, we are not authorized to work," says the teacher by telephone, asking that her real name not be used out of fear that the Taliban would kill her. In late April, Nadia fled her native Zendeh Jan district in western Afghanistan near the border with Iran, banking on anonymity in the bustling provincial capital city of Herat, where she now rents a house.
As the United States and its NATO allies withdraw their final troops and contractors, ending America's longest-ever war, fears are growing about what happens to the country after. Many Afghans say they expect that the Taliban will return to power, either via a power-sharing deal with the Afghan government or through sheer force. The group already controls around half the country, ruling by its own definition of Islamic law. And there is widespread fear that if they do, the Taliban will reintroduce its notorious system of gender segregation from when the group ruled in the late 1990s, which barred girls and women from almost all work, the right to vote and access to education.
Messages of reassurance from Washington have been in short supply. The U.S. last week quietly vacated its Bagram air base, once the epicenter of the American war, without notifying the Afghan soldiers on guard, Afghan military officials said. Speaking to reporters ahead of the Fourth of July weekend, Biden said: "The Afghans are gonna have to do it themselves."
The plight of Afghan women and girls occupied much of the Western rhetoric around the 2001 invasion of Afghanistan, accompanying the stated aim of eradicating al-Qaeda for its role in staging the 9/11 attacks. Educating Afghan girls, a rallying cry of former first lady Laura Bush, in particular, became a U.S. focal point in Afghanistan. Soon after the U.S. invasion, tens of thousands of schoolgirls garbed in black uniforms and flowing white headscarves began attending schools across the country, symbols of tangible progress that are still touted by the international community today.
Almost twenty years on, teachers like Nadia, and their students, are grappling with what could be the end of education for generations of women and girls in Afghanistan. In interviews with TIME, The Fuller Project and Rukhshana Media, female teachers, students and local officials in Taliban-controlled parts of western Afghanistan say that the powerful insurgent group has over the last year already cut access to school for thousands of girls, especially teenagers.
If the scant gains won by women and girls in education disappear, it could have wide-reaching ramifications, from the role women play in shaping their country's future to donor support that keeps Kabul's hospitals open and government workers paid.
Experts see the treatment of women and girls by the Taliban as a barometer of the group's future actions as they take over large swaths of the country. The restrictions on education could only be the beginning of a large-scale rollback of women's rights in Afghanistan.
"After the foreign forces leave, I think schools and universities will close their doors to women," Nadia says, describing how her classes reached impoverished adult women for whom education had been unobtainable, and women who lived too far from the nearest school. "[The extremists] spread the propaganda that if your daughters go to school, you will become infidels."
The warnings pile up
Girls' education was once a pinnacle of success of foreign intervention, a signature achievement heralded by Washington as key to winning ordinary Afghans over. When U.S.-backed forces ousted the Taliban from power, in 2001, there were almost no girls in school across the country. Today, there are millions, and tens of thousands of women attending university, studying everything from medicine to miniature painting.
According to World Bank data, the number of Afghan girls attending first grade peaked in 2011 — the second year of former President Barack Obama's troop surge — at 65%. While statistics on the number of Afghan children in school are difficult to obtain and often contested, all indicators show girls' education is in decline. By 2015, female first graders had fallen to 57%, the most recent data available. Current literacy rates reflect the disparity between the genders: only 37% of teenage girls can read and write, compared to 66% of adolescent boys, according to Human Rights Watch. Today, UNICEF says of the 3.7 million Afghan children out of school, 60% of them are girls.
Melina, a recent high school graduate in Herat's Obe district, a far-flung, mountainous area captured by the Taliban from the Afghan government in June, says she barely managed to complete her own education this past year. As Taliban forces gained control of her area over the last two years, the warnings piled up.
"One day, we found burial shrouds that the Taliban had sent to our school, saying 'any girl continuing school will wear these,'" said Melina, who asked that only her first name be published. She still plans to go to university in Herat.
In the middle of May, after the Muslim Eid-al-Fitr holiday, her 13-year-old sister's school shut down after receiving written threats from the Taliban. They ordered all classes for girls her age to cease. An official at Afghanistan's Ministry of Education, who spoke on condition of anonymity, confirmed that a local Taliban commander had ordered schools teaching girls above grade seven in the district to close, the age a girl tends to enter puberty.
Another 18-year-old schoolgirl, who did not wish to be named, fearing for her life, says her high school in Injil district bordering Herat city received "pamphlets and letters" at night in April, ordering them to stop teaching girls. They carried the seals, signatures and stamps of the "Islamic Emirate," the name the Taliban uses for itself.
In the central Pashtun Zarghun district, a teacher who only gave her last name, Karimi, says insurgents have shut down girls' schools with male teachers — a common occurrence across the country.
"No man has the right to enter female educational centers," she says.
The Taliban have made quick territorial gains throughout the country since U.S. troops began leaving Afghanistan, including seizing at least 80 districts of the country's approximately 400 since May 1, according to a tally by the Foundation for Defense and Democracies' Long War Journal. More than one thousand Afghan security forces fled north into Tajikistan since last week.
Soon, beleaguered Afghan security forces will be left to fend off the Taliban and other extremist groups without any NATO firepower. In recent months, nonstate actors from the Taliban and groups aligned with Islamic State have targeted and killed a slew of women in the public eye, from journalists to health workers.
In early May, insurgents targeted students leaving school in Kabul, killing at least 90 people, most of them schoolgirls from the Shi'ite Hazara minority, an ethnic group long persecuted by the Taliban. Bloodstained backpacks and charred notebooks lay strewn among their dead bodies. The Taliban denied responsibility for the attack and condemned it, but stopped short of heeding calls by the Afghan government and Washington for a permanent cease-fire. The Afghan president, Ashraf Ghani, blamed the Taliban, which pointed the finger at Islamic State.
In almost all places where the Taliban rule, school is, at most, restricted to girls before seventh grade, when they are around 12 years of age. Official school uniforms are out. For girls, they are replaced with full-body burqas and niqabs, a veil that covers the face except for the eye area; for boys, the shalwar kameez, a long tunic and baggy pants. More hours are dedicated to the teaching of the Quran than before.
For now, the Taliban use state-provided textbooks, but shadow education officials call the shots with supplemented religious materials and separate committees for schools. "Local people and elders talked [in March] with Taliban members, trying to convince them to let girls continue their education higher than seventh grade," said Tor Mohammad Zarifi, a former member of Herat's provincial council. "But, unfortunately, they were rejected."
For the teacher Nadia, the repression has been gradual as her region's security situation deteriorated over the last two years. As more Afghans sided with or surrendered to the Taliban — many out of a need to survive — her activities have come under sharper scrutiny.
Where they are not threatened, girls are dissuaded from attending school, the buildings heavily damaged or used as bastions in fighting between Taliban insurgents and Afghan government forces.
The number of girls registered to take the kankor, the annual university entrance exam in May, dropped in parts of Herat compared to the past, warn local officials from the province. At Herat University, there are several hundred fewer teenage girls compared to last year, according to its vice chancellor for student affairs, Mohammad Dawood Munir. "The more a district is insecure and in conflict, the more deprived the girls are," he said.
In recent months at Taliban-controlled checkpoints across the country, human rights groups have observed insurgents blocking women, including supervisors of education facilities, from traveling without a mahram, largely understood to be a male relative over the age of 16.
"Just a few months ago, many of our female colleagues were able to travel with their mother as a mahram," said Terje Watterdal, country director of the Norwegian Afghanistan Committee, a nonprofit focusing on health and education that has worked in Afghanistan since the 1980s. "That is no longer possible."
This week, local journalists in Firoz Koh, the capital of the central Ghor province, circulated a photograph of a leaflet reading "Dear sisters, observe the hijab and do not walk around the city without a mahram." Beneath the text are two headshots of a woman. One depicts a burqa, and has a green tick beneath it. The other shows a woman's face framed by a black headscarf, and is covered by a large red cross. The top of the leaflet bears the insignia of the Taliban.
Taliban spokesman Zabihullah Mujahid, in a phone call, denied the Taliban was behind it. "Women in areas we control are already observing the hijab, so there is no need for this," he said.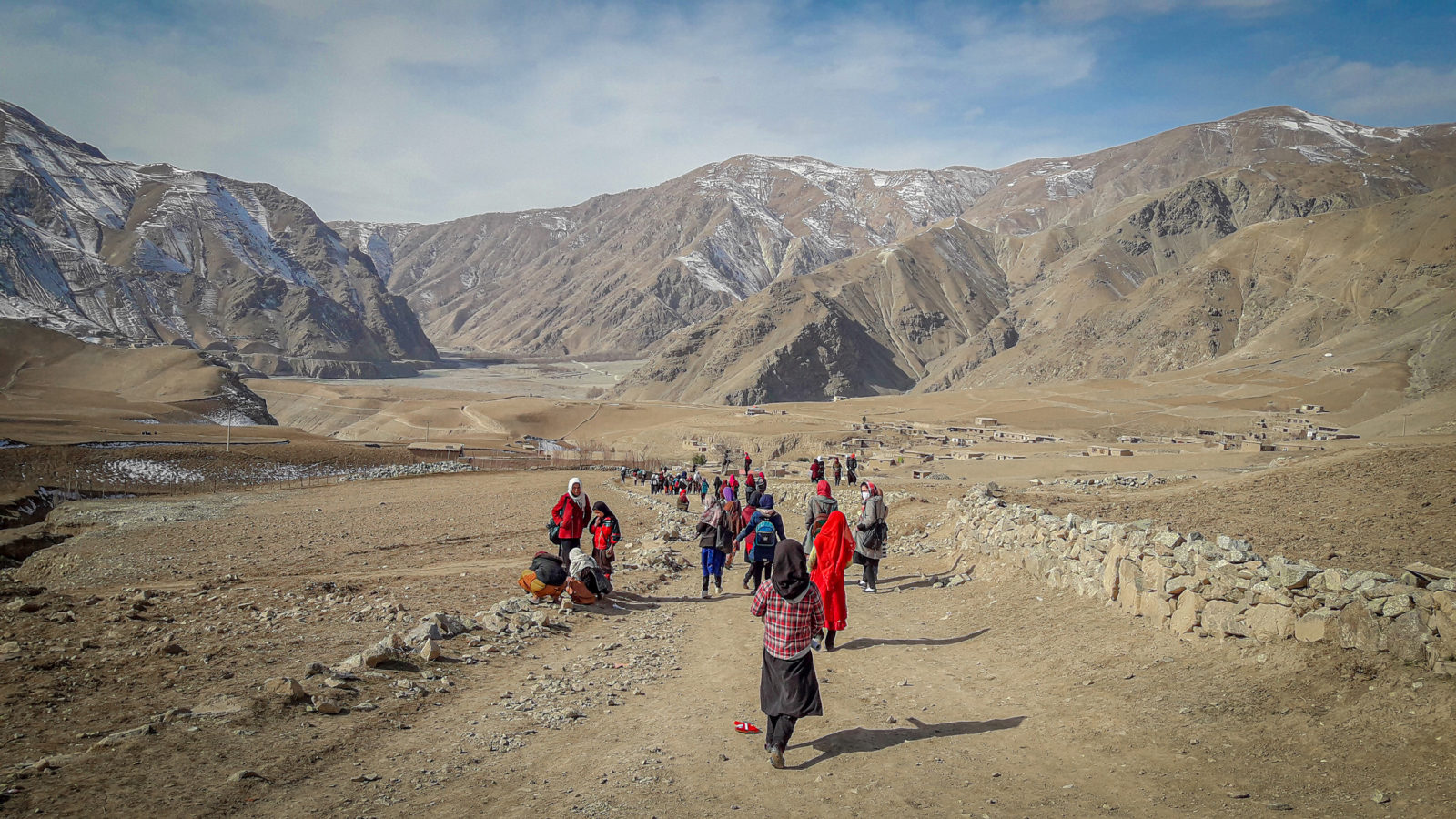 Education 'is the first thing to be sacrificed' by the Taliban
The United States has warned that any future international recognition or U.S. aid, on which the Taliban will be partially dependent, is conditional on their treatment of women and girls. "We will use our full diplomatic, economic, and humanitarian toolkit to support the future the Afghan people want, including the gains made by Afghan women and girls," a State Department spokesperson said in emailed comments.
In November, the European Union along with the United States and most other major donors, co-authored an advisory paper containing 10 conditions for aid, including women's rights and access to education, designed for both the Afghan government and the Taliban.
Yet donor support, which currently makes up 75% of the Afghan government's budget, is rapidly declining. Commitments from the United States, the European Union, Germany and the United Kingdom are, at best, in flux, and at worst, dropping steadily. The coronavirus pandemic is further squeezing budgets. At a conference in Geneva last year, donor pledges for Afghanistan for 2021-2024 were between $12-13 billion, at least $2 billion less, or a drop of around 20%, than the four-year period before. The U.S. has earmarked $600 million in humanitarian aid for the country this year.
The hundreds of billions of dollars spent fighting the war in Afghanistan has resulted in huge advancements for Afghans, and allowed women especially to thrive in media, government, education and civil society. But many gains have been incremental, and insufficient. Most Afghans live in poverty, the country has one of the highest maternal mortality rates in the world and there are millions of girls who never went to school, even for a day. "There is no political will to make sure we don't stop basic services from ending," said Ashley Jackson, Co-Director for the Centre of Armed Groups at the Overseas Development Institute (ODI), a global affairs think tank. "I think a lot of donors have checked out. First you had the pandemic, and a lot of embassies evacuated and never returned."
In April, the United States said it was withdrawing "nonessential" personnel from its Kabul embassy. A month later, Australia abruptly announced it was closing its embassy over fears of violence, and others in the heavily fortified diplomatic area are scaling back.
"The U.S. has emboldened [the Taliban] to tighten the noose," Jackson continued. "And there are some areas where the Taliban doesn't care less, and that's women's rights and girls' education. It is the first thing to be sacrificed."

When Taliban leaders were negotiating a peace treaty with the U.S.-backed Afghan government last year in Qatar, they sought to reassure key international players that they had reformed their brutal ways of the past. Gone were the elusive figures of twenty years ago. Now the Taliban was internationally savvy with a sophisticated press and public relations team. In recent years senior Taliban members have been feted by government officials for peace talks in Doha and Moscow, driven in chauffeured cars with blackened windows and visited high-end hotels — much that befits a regular diplomat.
But despite the outward transformation, the Taliban has, perhaps intentionally, offered scant details on how they would actually rule the country of some 40 million people if and once they regain control. They have said girls are allowed to attend school, women can work and be in public life, but this must all abide by "Islamic injunctions", murky phrasing which gives leeway to individual interpretation by local commanders. "Unfortunately I'm not very optimistic that the Taliban will change," said Sima Samar, the former chair of Afghanistan's independent human rights commission. "The areas under their control do not reflect the claims of a change in the Taliban's mindset on women's rights."
A major report by the ODI's Centre of Armed Groups in February examined the Taliban's policy — as it stands — on education and found very little guidance for female education. Of the 101 articles in the extremist group's education manual, only two are dedicated to women and girls.
In short, the articles say education for prepubescent girls is important and must be mandated; for teenagers the situation is less clear, with several vaguely-described, "favorable" conditions needing to be first met in the areas of security and Islamic education.
Mujahid, the Taliban spokesman, declined to comment on the insurgents' education policies. In an interview with Foreign Policy in June, Mujahid said the Taliban wanted "separation between girls and boys, women and men, in universities, schools or madrassas."
But as the Taliban grows in clout and territory, the group is also realizing that it must curry favor with the local population in order to succeed at statesmanship, its desired goal. Millions of Afghans have grown used to being educated, alongwith their daughters and sisters, and evidence is emerging of a Taliban willing to adjust.
At the end of last year, the Taliban and UNICEF came to an agreement in which the insurgent group would open thousands of informal schools in parts of the country it controls, namely elementary schooling for boys and girls. The deal opened a new chapter for the Taliban in its quest for international recognition and legitimacy.
Watterdal holds weekly WhatsApp calls with Taliban officials, who, he says, have understood that in order for their communities to have midwives, women must be educated through twelfth grade. Most of the young women studying in his group's education programs for health care workers come from Taliban-controlled communities, and have received the blessing of their community elders to attend. Two-thirds of all Afghan births take place at home.
"They are seeing the practical impact of some of their restrictive policies, that it actually hurts the health of their wives, their daughters, their sisters. So there is a realization that this has to change. And this is new," Watterdal said.
Even still, Nadia, the teacher, says she has yet to see a changed Taliban.
"I have not left the house in almost 10 days," she says. Gone is the time when she would hop about her province educating women, she says. Instead, she's a teacher with no pupils, piecing together a life in hiding.
Atefa Alizada is a reporter with Rukhshana Media, an independent Afghan news agency reporting on women. Another reporter with Rukhshana Media, who cannot disclose her name due to security reasons, contributed reporting from Kabul.