Editor's Note: This interview with Lottie Joiner, former editor of the NAACP's flagship publication, The Crisis, was conducted by Fuller Project CEO and co-founder Dr. Xanthe Scharff and originally appeared in The Fuller Project's newsletter on Monday, Jan. 17, 2022. This Q&A is the product of both a live interview and written responses, and has been edited for length.
Q: Lottie, Coretta Scott King played an important role in the civil rights movement both during Dr. Martin Luther King Jr.'s life and after. What are some of the challenges she faced that should be better understood?
A: Coretta Scott King was a devoted spouse who marched beside Dr. King. Her husband traveled often and she joined him when she could, but she was also raising four children. The family received death threats, many times when Coretta was home alone with the children. Once, when Dr. King was speaking at a local church, the family's home was bombed while Coretta was inside with their 7-month old baby, Yolanda. She was constantly in danger and she had to keep her family safe. But as Jeanne Theoharis noted in a 2018 Atlantic article, Coretta was "never just a wife or a widow." She was always "more than a label."
After Dr. King died in Memphis, where he had been protesting on behalf of Black sanitation workers, Coretta took up his mantle in the fight for civil rights and social justice. Her husband had been working to protect the rights of garbage men and trash collectors so they would have safe working conditions and better pay to take care of their families. Days after his murder, Coretta led more than 40,000 people in a silent march with the sanitation workers.
"I didn't just emerge after Martin died," she said. "I was always there and involved."
But it was after Dr. King's death that the world really got to see Coretta's activism. Not only did she lead the sanitation march in Memphis, but she also worked to carry out the Poor People's Campaign that Dr. King was organizing before his death. Theoharis' piece also notes how Coretta fought for "global peace and racial injustice," and also for economic justice when she lobbied Congress for a guaranteed annual income. She stood against apartheid in South Africa and in her later years fought for gay rights and same-sex marriage.
So there were women who were spouses, like Myrlie Evers-Williams, who was the widow of Medgar Evers, the NAACP Mississippi field secretary who was shot in the driveway of his home after coming from a meeting about voting rights in 1963. Like Coretta, Myrlie was also raising children and also received death threats as her husband became more involved in the fight for civil rights. They both stood by their husbands when they marched, and when they were brutally murdered the women took up their causes.
Just as Coretta worked for more than 30 years to get a national holiday for her husband, Myrlie fought just as long — three decades — to get her husband's killer, White supremacist Byron De La Beckwith, prosecuted for his murder. Coretta and Myrlie were involved in the civil rights movement in a different way. But their work was often overshadowed by these big men with big legacies.
Q: Who are some of the other women you've written about who were overlooked?
A: In Theoharis' Atlantic piece, she points out that Coretta Scott King once told a magazine that "women have been the backbone of the whole civil rights movement. Women have been the ones who have made it possible for the movement to be a mass movement."
Many women of the civil rights movement are unsung. They were foot soldiers who did the important grunt work of organizing. They passed out fliers, conducted fundraisers, made phone calls and were the moral support of the movement.
For example, Diane Nash, who just recently got a courthouse named after her, helped coordinate the 1961 Freedom Rides in Nashville as a young college student. The Freedom Rides were organized by the Congress of Racial Equality (CORE). White and Black civil rights activists rode buses through the Deep South to protest segregated bus terminals and lunch counters. During their stops, they were often violently attacked by White protesters and police officers. One of the most popular images of the Freedom Rides was the May 14 attack in Alabama in which the late Congressman John Lewis and others are shown on the ground beaten and bloodied. When Attorney General Robert Kennedy asked Nash to call off the Freedom Rides because of the violence, she refused. Her role in organizing more Freedom Riders and keeping the campaign intact is often forgotten or marginalized.
Also, when people think of the 1955 Montgomery Bus Boycott, the first person that comes to mind is Rosa Parks, and rightly so. Parks refused to give up her seat on a segregated bus and was arrested, sparking a boycott that would last 381 days. But few people have heard of the name Jo Ann Robinson, head of the local Women's Political Council when Parks was arrested on Dec. 1, 1955. Robinson created a flyer asking Montgomery's Black community to boycott the buses starting on Dec. 5. She distributed 50,000 flyers overnight and eventually worked with Dr. Martin Luther King Jr. to manage the boycott. Robinson was arrested and targeted by police for her role in the Montgomery Bus Boycott. Unfortunately, very few people have ever heard of her.
I think most people are familiar with Fannie Lou Hamer, the Mississippi sharecropper famous for coining the phrase, "I'm sick and tired of being sick and tired." Hamer said the phrase during a passionate speech at the 1964 Democratic National Convention. She testified about how she was arrested, jailed and brutally beaten by Mississippi law enforcement for trying to register to vote. Hamer became a household name after the nationally televised testimony. Dr. King himself wrote that her "testimony educated a nation and brought the political powers to their knees in repentance, for the convention voted never again to seat a delegation that was racially segregated."
And of course, most are aware of the brutal lynching of Emmett Till, the 14-year-old Chicago native who was kidnapped and murdered in Mississippi in 1955 after allegedly whistling at a White woman. It was Till's mother, Mamie Till Mobley, who made the brave decision to have an open casket funeral. She wanted the world to see "what they had done to my boy." Jet magazine published the photo of Till's disfigured face and swollen body and thousands lined up outside the funeral home to view the body. Till's tragic death impacted a generation and inspired many, including Rosa Parks, to get more involved in the fight for civil rights. Mamie Till Mobley's story is now a six-part series titled Women in the Movement on the ABC network.
Q: Are women fighting for justice today getting more of the recognition they deserve, or is their leadership still overlooked?
A: Women have always been the ones leading the work on the ground.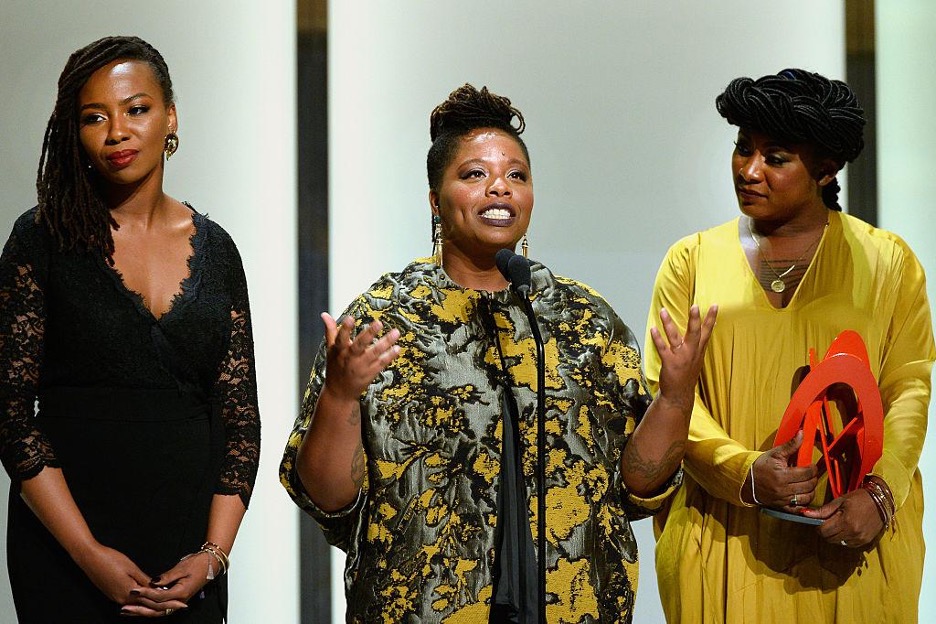 While people often see attorney Benjamin Crump on TV fighting on behalf of families harmed by police violence, many forget that it was three Black women — Patrisse Cullors, Alicia Garza and Opal Tometi — who started the Black Lives Matters movement after the murder of teen Trayvon Martin. Black women have been leading the charge on voting rights as well. For years, Melanie Campbell has led the National Coalition on Black Civic Participation and has recently worked to make sure people understand the power of and reach of Black women in civic engagement. Another leading voice in the fight for voting rights is LaTosha Brown, an outspoken grassroots community activist and co-founder of the group Black Voters Matter. Over the last few elections, Brown has traveled throughout the Deep South to get minorities registered to vote. She's a standout to me. And after Stacey Abrams narrowly lost the gubernatorial race in Georgia, she created several organizations, including Fair Fight, that focused on getting people of color to the polls. Abrams' grassroots organizing helped turn Georgia blue in the 2020 election and get Raphael Warnock and Jon Ossoff elected to historic posts in Congress.
Related coverage: 100 Years On, Black Women Are Still Fighting For Voting Rights
And in the near decade between the deaths of Trayvon Martin and George Floyd, Black women have led some of the nation's top social justice organizations: Sherrilyn Ifill is president and director-counsel of the NAACP Legal Defense and Educational Fund. Kristen Clarke headed up the Lawyers Committee for Civil Rights Under Law before President Biden tapped her to become the first Black woman Assistant Attorney General for the Civil Rights Division at the United States Department of Justice. Before becoming the United States associate attorney general last year, Vanita Gupta was president and CEO of the Leadership Conference on Civil and Human Rights. And Judith Browne Dianis has been executive director of the Advancement Project since 2016. The organization works to dismantle structural racism in education, voting, criminal justice and policing. Though the historic NAACP and National Urban League are still led by men, women have been the backbone of those organizations as well. I really don't think we should forget about that.
Dr. Xanthe Scharff is the CEO and co-founder of The Fuller Project.