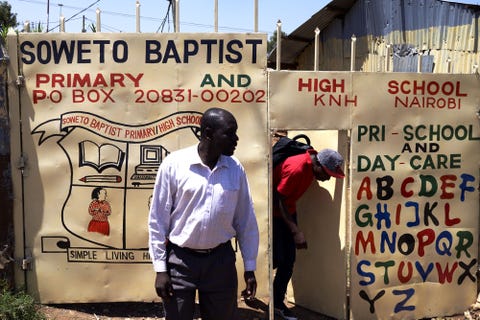 Joshua Omanya arrives at Soweto Baptist school in Kibera to hold a training session.
In 2005, Joshua Omanya was sentenced to death.
A self-confessed 'bad boy', he grew up in Kibera, the largest slum in Nairobi, Kenya, where mud huts and a maze of shacks line the narrow streets. He dreamed of being a footballer, but his mother was a single parent who sold fish for money. There was little spare cash to buy the football kit he so desperately wanted, so his friend offered up a solution: stealing from people at matches.
While Omanya initially escaped unscathed, his friend got caught and was stoned to death. After that, he bought a gun, but was also later caught and arrested.
Suddenly, aged 22, Omanya found himself with weeks to live. Things progressed slowly, however, and in 2012, after seven years in prison, he appealed and was acquitted due to lack of evidence. Despite spending the best part of his twenties behind bars, Omanya counts his blessings.
'All my friends were gunned down by the cops. Luckily I was sent to jail, which saved my life,' he explains. 'But I couldn't go back to that life because I was afraid of death. I had to do something different.'
No one – let alone Omanya – could never have predicted that 'something different' would involve spending his days teaching teenage boys about periods. Yet, nearly a decade later, he's doing exactly that. In slums across Nairobi, the 34-year-old works as a trainer with The Cup, a non-profit organisation that provides menstrual cups to underprivileged girls and teaches kids about safe sex, reproductive rights and pregnancy.
In Kenya, nearly one million girls skip school because they have no access to sanitary pads.
Information is sparse or inaccurate, and the secrecy swirling around periods can cause everything from isolation to reproductive health problems. They're also a huge taboo.
Yet one way to change cultural attitudes towards menstruation, say experts, is to bring men into the conversation – the fathers, brothers and husbands who see these women daily.
Omanya agrees. Despite the somewhat strange turn his life took, he now feels like he's got a job to do.
'African men don't want to hear anything about menstruation or blood,' he smiles, 'and we need to change that.'
Read the full article here.