How to Make Abortion Great Again
This article was originally published in Harper's Bazaar on November 4th, 2019, by Fuller Project Correspondent Anna Louie Sussman.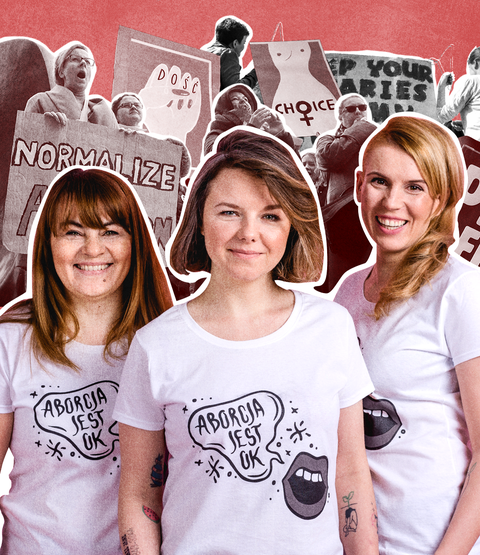 On a rainy day in May, in the Polish coastal city of Gdańsk, in a high-ceilinged room on the second floor of an unremarkable building, 16 women and five men sat in mismatched office chairs around a long table, waiting to learn how to administer a medical abortion. Before the workshop began in earnest, one of the speakers, Karolina Więckiewicz, turned to a bald, bearded man on her left, whose papers spread out in front of him suggested he might be from a prosecutor's office, and asked him to stop recording.
"I am not ashamed of anything; I have nothing to hide," she told him, her glare equal parts distrust and contempt. "But I don't want to cause discomfort for the people here who want to ask a question." After several minutes of tense debate, he agreed to stop, although Karolina believes she saw him hit record again before turning the phone face down.
The three women holding the workshop—Karolina, 38, Natalia Broniarczyk, 35, and Justyna Wydrzyńska, 45—had every reason to be concerned: They counsel Polish women on how to find and take abortion pills, and conduct public workshops explaining the process in detail, in a country where abortion is only legal in cases of rape or incest which have been reported to the police; incurable and severe fetal abnormality; or danger to the woman's life or health. It's a country where even legal abortions are increasingly hard to access, and where the ruling conservative party, Law and Justice, backed a 2016 effort to ban abortion outright (the government backtracked after millions of Polish women and men poured into the streets, in what became known as the "Black Protests.")
They, along with 39-year-old Kinga Jelińska, a Polish activist based in Amsterdam, are the Abortion Dream Team.
The Dream Team's approach—practical assistance and public provocation—is a bare-knuckled challenge to Poland's contradictory abortion regime, in which abortion is barely accessible, rarely discussed, yet regularly obtained. Although Karolina, a lawyer, believes their activities are completely legal ("Giving information is not a crime," she says), she was unhappy to see papers from a prosecutor's office in the folder of the man who attempted to record their workshop, because his presence could have stifled a free and open discussion, the precise thing the Dream Team hopes to create.
Read the full article here.