Careers
The Fuller Project is a leading global nonprofit newsroom dedicated to groundbreaking reporting on women. We partner with national and international news outlets to publish journalism that elevates women's contributions, confronts injustice, and spurs citizens to hold governments, corporations and other institutions accountable.
We are an equal opportunity employer and we value diversity of all forms in our newsroom.
Join our Team. Make an Impact.
Current Openings
Jobs
Internships
No openings currently available. Please check back later.
The Benefits of Working At The Fuller Project Include:
Competitive
salary
We regularly review our compensation against research for the nonprofit newsroom sector for equity and competitiveness.
Professional growth
Our team has access to organization-wide workshops, guest speakers, and support for training.
Flexible and inclusive holiday schedule
Our team takes their holidays based on their individual country-specific, cultural and religious beliefs.
Paid parental
leave
We support parents with new little ones on our team, along with a transition period for their first month back.
It's the shared mission in more fully representing women. You just don't have that commitment elsewhere.
Erica Hensley
Q. What is the mainstream press missing about women's health in the South? 
A. Women's health gets oversimplified across the board. That's happening whether you're in California or Mississippi. Reproductive health care, including abortion, gets sort of siloed off from general women's health care. But in reality if you're accessing any of this — whether it's an STI test, a breast cancer screening, trying to access an abortion — oftentimes these all happen in the same place. Yet for whatever reason, they get pulled apart and siloed into different areas. In particular in the South, where access is limited, especially now that Roe v. Wade is overturned and many states have outright banned abortion, it's even more important that we understand where those access points are, and where they're not.
Q.  Why is reporting on reproductive health and equity so important? What type of impact do you hope to have from the stories you cover?
A. The only way to report on reproductive health is with equity in mind. If two people in Jackson, Mississippi can't access the same services, especially because those services are so limited, equity is not there. Justice is not there. Access is not there. So it's like any piece of health care — if you're not looking at it through an equity lens, you're missing it.
The impact I want from these stories is to get people information they need to access care. And that's why I think my partnership with Reckon South and Alabama is so important, because they have that community trust. I want people's eyes on the stories that can learn something: either about how to access care themselves, or learning something about how their neighbor accesses care, or struggles to access care. And then secondly, the policy changes that can come when we have a groundswell of support from reporting. And when policymakers get involved — if I can write about, for example, the maternal mortality review committees not counting suicides and overdoses — the more we can draw attention to that. And (A), give patients the information they need to advocate for themselves in the exam room, but (B) more broadly draw that attention up to stakeholders and policymakers. I want that policy to change. I want maternal mortality to be more inclusive with its data so we can prevent more maternal mortality.
Q. What's the most important element you include in each of your stories?
A. A lot of it comes back to insurance access. I did not get into health reporting to talk about insurance policy, but it is 100% relevant in every single story. And whether that is about Medicaid and Medicaid expansion, or if it's about the barriers — ones even folks with good insurance that's provided through their job struggle with — it just goes back to how healthcare is delivered in this country. And insurance is a huge piece of it. As wonky and frustrating as it can be to talk about, I really try to find ways to make it simple and understandable, while still bringing the context and the nuance across that it's an integral part of healthcare.
Q. What can you do at The Fuller Project that you couldn't do elsewhere?
A.
What I can do here that I couldn't do at other organizations, which is really cool, is start to draw the comparisons and themes regionally, nationally and internationally.  I think every reporter is looking for patterns and trends, and that's really important in healthcare and in women's healthcare, particularly. But if you're not at an outlet that lets us zoom out a little bit, you're kind of missing those deeper connections. 
Q. How did you become interested in data reporting and how did you learn to do it?  What skills are required?
A. I am a proud self-taught data journalist. I flushed out the skill by realizing every story on the health beat was requiring data. So (A), I might as well not be scared of Excel. And (B), I need to visualize this for people. Finding those patterns and connecting the dots literally through data visualizations. I was in grad school at the time, and just started forcing myself to take some data and data analysis and even some spreadsheet courses. I realized I had a knack for it and I kept building on the skill, whether it was going to a conference and catching a very small intro to coding course, or helping other reporters do more with data, it honestly helped me get better at it by really refining the skills that were super important. The driving force for me is being able to visualize it in a way that helps readers connect.
Q. What's the best thing about working at The Fuller Project?
A.  It's the shared mission in more fully representing women. You just don't have that commitment elsewhere. Even in places that have gender beats and understand the importance of covering women well, it just goes unsaid that that's a part of what they do, because they have female reporters or female editors or a reproductive health beat. But that's not enough. It needs to be very explicit and intentional, and mission driven. We need more organizations like The Fuller Project because we can't do all of this on our own globally. Whenever I tell anyone that we focus on women, their eyes just light up, because they know that that's so important and missing elsewhere.
Q. You participate in a lot of speaking events. How do you prepare yourself to speak in front of crowds?
A. By preparing a lot in advance, and then knowing when to stop. Like most reporters, I can over-prepare and over-analyze, but when you talk to people, they just want to be able to relate to you and to connect to what you're talking about. And because our mission gives me so much fodder there, I can relax knowing that I'm going to have a captivated audience. As long as I'm in command of what I'm talking about, I really rely on how cool our organization is to get the ball rolling at that event, and people are always just so excited by it.
Q. What's your best interview technique when talking to people who have experienced a traumatic event?
A. Leading with mutual trust, curiosity and empathy, listening rather than extracting, and being completely open with that person about that experience to the extent that you can. We have to maintain journalistic standards. But when we're asking someone to relive their trauma so we can write a story about it, we have to be so intentional with that person and know that they don't have to be giving us this kind of access. And I take that job very seriously.
Q. You report on a lot of important but heavy topics. What are some of the things you do to decompress?
A. I really like to be outside, I have a really nice garden. And I make sure to exercise and take care of myself and spend a lot of time with my husband and my cat, whether it's watching TV, or my husband and I like to play chess. So just knowing when to step away and knowing that if I'm not taking care of myself, I'm not going to be taking care of anyone else, story or otherwise. And I think a lot of reporters really struggle to learn that, because our job is 24/7. The need is always there, but if we don't know when to walk away, we're not going to last. And my priority is first and foremost, myself and my family, and then my job, so I can do that job.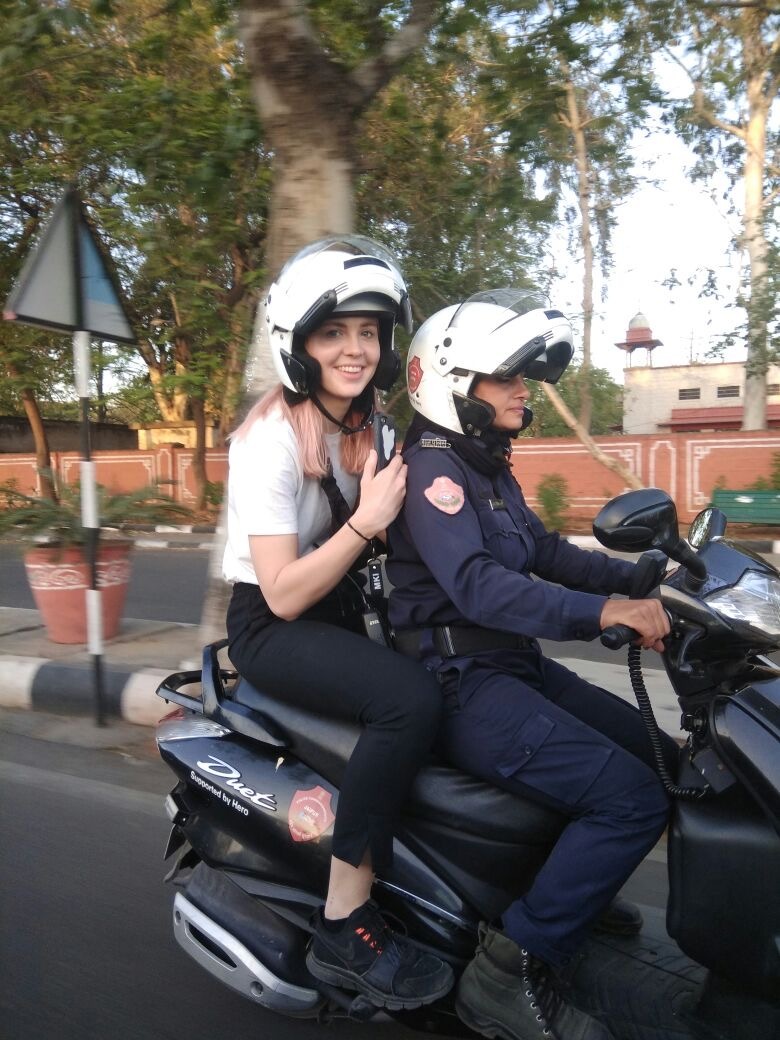 It's a meeting of minds: everyone really cares about great journalism and serious reporting about women.
Louise Donovan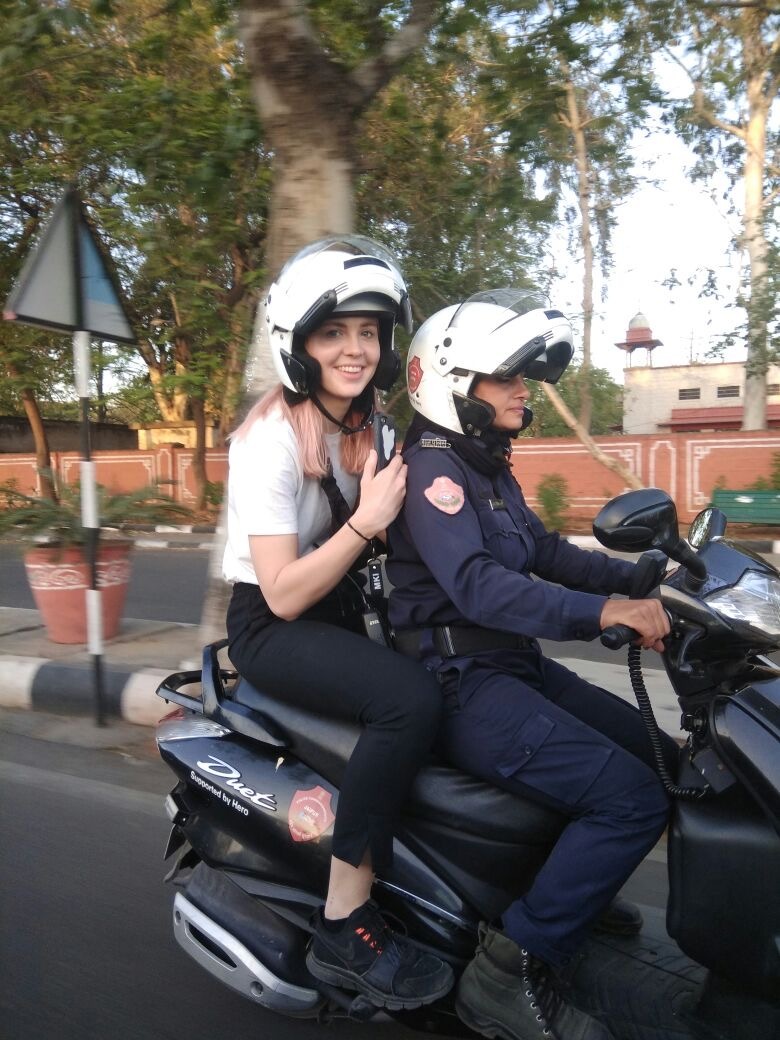 Q. Did you always want to be a journalist?
A. Weirdly, I did always want to be a journalist. I'm not really sure how I knew that because I didn't really grow up in a household around other journalists or writers. I always think I don't know how I knew that. But I did, I was always reading newspapers and magazines and that kind of thing.
Q. You've been interviewed for BBC Woman's Hour, NBC News Now and It's All Journalism, just to name a few. What quirky or fun things do you do to help prepare yourself for big interviews?
A. I find those things quite stressful. What has helped is practicing, just distilling my story down to four key points about what I want to get across. I'm just hammering them home in my own mind, so that no matter what question is thrown at me, I can make sure I'm getting the points that I want to get across. It's not really quirky or interesting. It's quite boring! It's just practicing. Just writing things down and going over it in my head and saying it out loud.
Q. What's the best lesson you've learned when traveling abroad to report on certain issues?
A. When I was reporting in India, something that I learned quite quickly was that you have to think about what you're wearing.I'll never forget, I had an Adidas t-shirt on one time to meet a senior women's rights lawyer and someone in the room commented on it. That was a very quick learning curve for me. I wasn't dressed inappropriately, but it was too casual. You want to make sure you're dressing so you don't stand out and that you're assimilating in every way you can.
Q. Some of your stories have had a major impact in which the lives of women were ultimately saved because of your reporting. Which of your stories has personally impacted you in a way you weren't expecting?
A. My recent story in partnership with TIME. I was humbled and amazed that these women risked their livelihoods. There's high unemployment in Lesotho, and they didn't know who I was — I was just some person who didn't even live in their country. They were so willing to try to improve things in the factory. They were patient and willing to keep helping us and talking to us, and then the floodgates opened: more and more women wanted to talk to us. It was very brave of them. It's very humbling and very touching.
Q. You have used some unconventional techniques for storytelling – like finding your central characters on Tik Tok. What inspired you to find sources on Tik Tok?
A. I was obsessed with it and on it all the time. I got bored of the other social media apps because TikTok seemed to be the most fun; I wanted to do stories about it and on it. It took me a little while to figure out how to go about it though. After endless scrolling, I fell down lots of rabbit holes looking for stories. It was my own boredom and the pandemic and slight obsession with TikTok. I was like, "I don't know why everyone else isn't on this app. This is a great resource for sources."
Q. What advice would you give to a reporter who wants to cover gender, but doesn't know where to start?
A. Start small and start within your area, city or country. You don't have to go abroad to do these huge, spectacular stories. Start small and make connections and contacts. You start building a bit of a foundation. That's how you end up eventually doing these kinds of insane stories. You've built the foundation, and then it makes sense for you to get there.
Q. What is the best thing about working for The Fuller Project?
A. It's a meeting of minds: everyone really cares about great journalism and serious reporting about women. Everyone's always up for discussing something and thinking about new ways of covering it. There's a lot of energy and enthusiasm to write these stories. And that's a nurturing place to be, especially given the current state of the industry, especially with cuts and things like that.
I don't have to think about if I'm being othered, as a woman. In other workplaces, there is a lot of that. Here I just have to think about, "Is the work good?
Tiffany Arnold
Q. Did you always want to be a social media producer? How did your journey start?
A. When I started in journalism, this world didn't even exist actually. I went into journalism school thinking that I wanted to be a reporter. But what I noticed, even early on in my career, I always kind of gravitated towards things that were very webby. At my very first job at a small local paper, they were experimenting with webcasts and broadcasting. I got involved with that and landed in social media, and I like it because I get to be involved with all our stories.
Q. How do you think about engaging The Fuller Project's followers? What is your mindset? Take me through the process.
A. I'm taking in consideration what we know about our audience, and what we know about what they expect from us. And then I'm seeing how we can best serve our readers with our content. When we have a story that happens to be very visual, naturally, I'm thinking about Instagram, but I'm also thinking about what we know about our audience's needs on Instagram. I'm thinking about how I can create content that serves our reader's needs and also pushes our mission forward.
Q. Biggest misconception about social media producers?
A. That it's easy because it's something that's accessible to everybody. Everybody has access to a Twitter account. Everybody has access to Facebook. The challenging part about social media is that you are often condensing and concentrating very complicated ideas. You're also trying to keep in mind what your organization's brand is, and trying to convey this in a way that will look really easy. In some cases, you're using social media as an alternative way to tell stories. So it has to seem approachable.
Q. How much time do you spend on social media outside of your role?
A. Oh, that's funny, like not at all. It's great. I don't spend a whole lot of time on social media, personally, but I think it's because I spend so much time on it for work. And then I do find that when I'm on social media, I'm getting so many ideas for different ways to present content, especially Instagram.
Q. You had the chance to help visually tell the story of domestic workers using TikTok. What was your creative thinking process to help bring this story to people on social media?
A. Again, this is an example of thinking about the content that we had, and thinking through the best way to convey it on social media. It was clear that we really needed a video for this: We're talking about TikTok. Since TikTok is relatively novel, we decided early on that Instagram TV was a natural place for the video.
Q. Social media is constantly changing how users can view and interact with their platforms. How do you stay up to date with current trends and do you implement any into the content you produce?
A. The hardest part about social media isn't necessarily staying on top of the latest and the greatest. It's trying to figure out whether you need to implement it or not. You have to be aware of what's out there, but you also have to assess your own media organization and what your audience's needs are to decide how or if it makes sense for you to implement right away.
Q. Who do you follow on social media? Is there a celebrity that you would love to follow Fuller?
A. On my Instagram it's mostly my sewing projects, so I follow a lot of people who would never follow me. Like Prada. They don't care about my terrible sewing. But someone who I would love to follow The Fuller Project? I would have to say Oprah!
Q. Is working with a majority female newsroom different from other places you've worked?
A. Yes. And in a good way. I feel like all I have to focus on is the work. I don't have to think about if I'm being othered, as a woman. In other workplaces, there is a lot of that. Here, I just have to think about, "Is the work good? Am I doing a good job? What's the deal with this project that's going up or if there's a story coming out? How would I want to handle social media for this?" I don't have to worry about being mansplained, or people talking over me or being told I'm too aggressive. It's refreshing. It's liberating, actually.
Q. How does The Fuller Project differ from other organizations you've worked for?
A. This is the first time I've worked for a nonprofit newsroom where not only is it your duty to disseminate the news and inform people, it's also mission-driven. So I think about not only disseminating the news, but how it relates to The Fuller Project, overall.
Q. How does The Fuller Project encourage creativity and growth within your role?
A. What I like about The Fuller Project is that there's a permissiveness. I'm encouraged to try things. I'm encouraged to experiment. I like that. Some places you go to work and it has to always be done a certain way. There's nothing like that here at The Fuller Project. Being innovative is encouraged.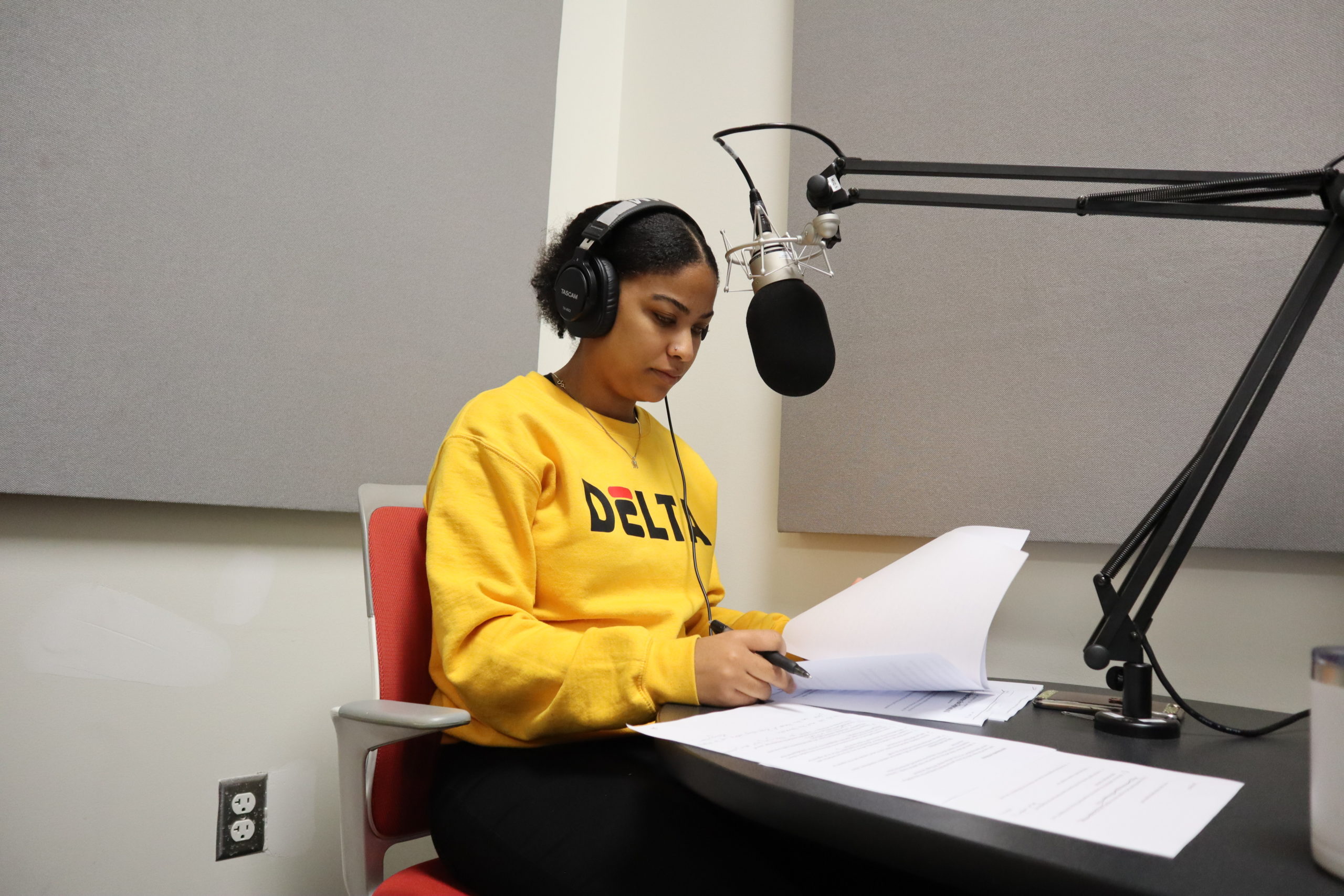 Not only do I get to help The Fuller Project reach new heights, but I'm constantly being pushed to expand my skill sets and try new tasks that are out of my comfort zone.
Mariyah Espinoza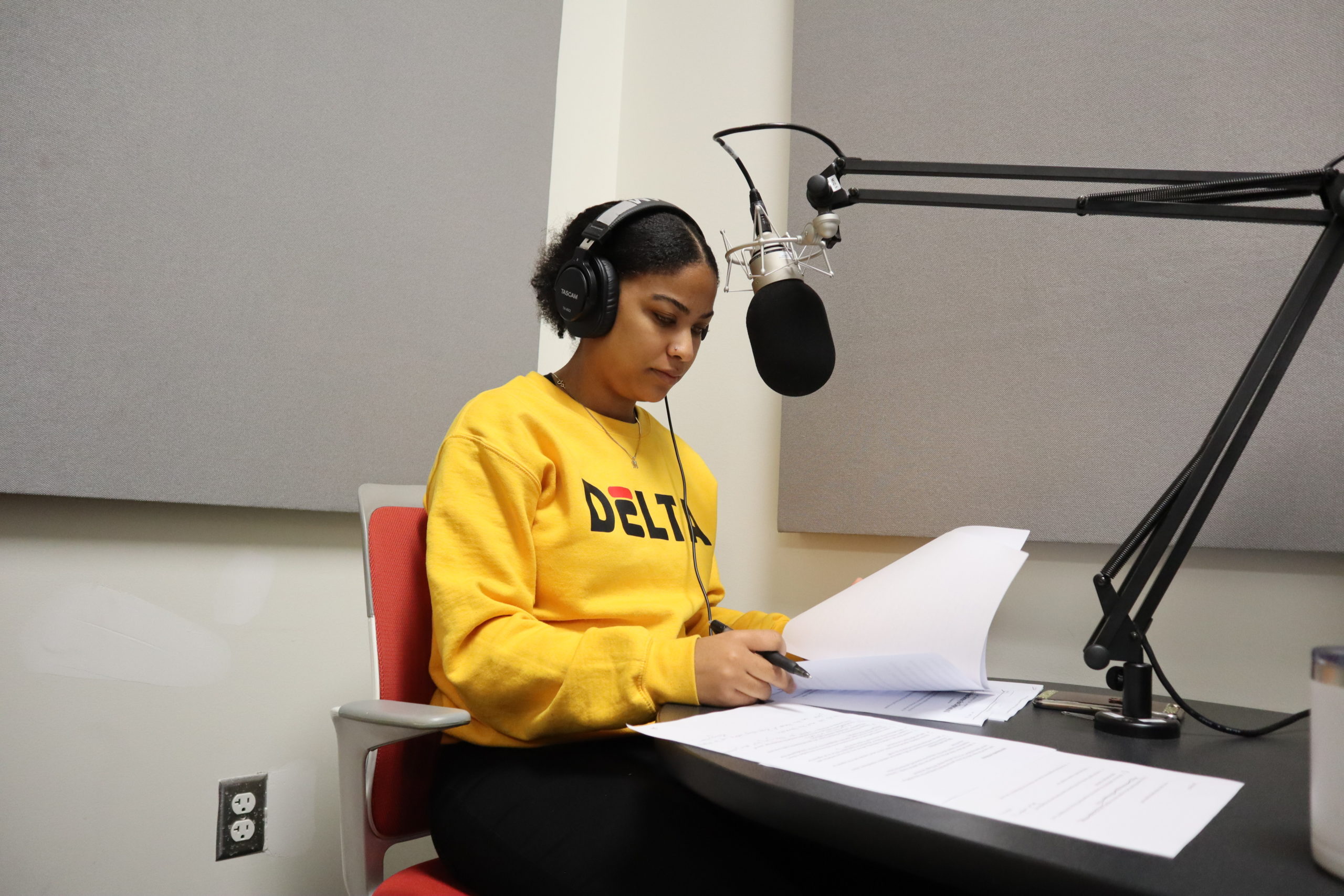 Q. What drew you to The Fuller Project?
A. I first found out about The Fuller Project while I was in grad school. I had read some of their reporting and was instantly impressed by the investigative stories that were being covered on women. By the time I finished grad school, the pandemic caused the nation-wide lockdown so most places were on hiring freezes. I had thought about The Fuller Project and sure enough, there was an opening to join the team.
Q. What part of your job do you find most enjoyable?
A. I find working on creative projects to host on our website and share with our audience to be the most enjoyable: it allows me the opportunity to be creative and think outside the box to showcase the amazing work that The Fuller Project does. I'm a people person, and with these projects I get to work collaboratively with colleagues in different departments. It's so cool and exciting to see the projects come to life after building them from the ground up.
Q. What motivates you at work?
A. My colleagues, along with our mission, motivate me at work. Part of our mission is to connect the stories of women everywhere, bringing those stories to people all over the world through our partnerships. Part of my role as a communications associate is to help foster those relationships and find new ways to grow our audience.
Q: What skills have you developed at The Fuller Project?
A. Some of the skills I've developed included proficiency with Content Management Systems like WordPress, learning how to utilize research to develop and execute marketing campaign strategies, and how to effectively establish and maintain outside media relationships.
Q. How does The Fuller Project contribute to making sure you maintain a healthy work-life balance?
A. The Fuller Project operates with a family-like dynamic where everyone is always checking in on one another, not only about the work that we're doing but also about our lives outside the office. My manager and the rest of the leadership team at the Fuller Project are always encouraging me to take breaks to recharge, get a fresh breath of air, and allow me to prioritize my mental health before anything else. They understand that life happens, and are always willing to let me do what I need to in order to maintain a healthy work-life balance.
Q: What's one word that describes what it's like to work at The Fuller Project?
A. Rewarding.
Q. Is your job what you thought it would be when you started?
A. Yes! My job is everything I thought it would be and more. Not only do I get to help The Fuller Project reach new heights, but I'm constantly being pushed to expand my skill sets and try new tasks that are out of my comfort zone. And the work environment in itself is a lot more enjoyable and fulfilling than what I could've imagined. Everyone truly wants to help me succeed within my position and with our team-bonding activities and fun Slack channels, there's never a dull moment!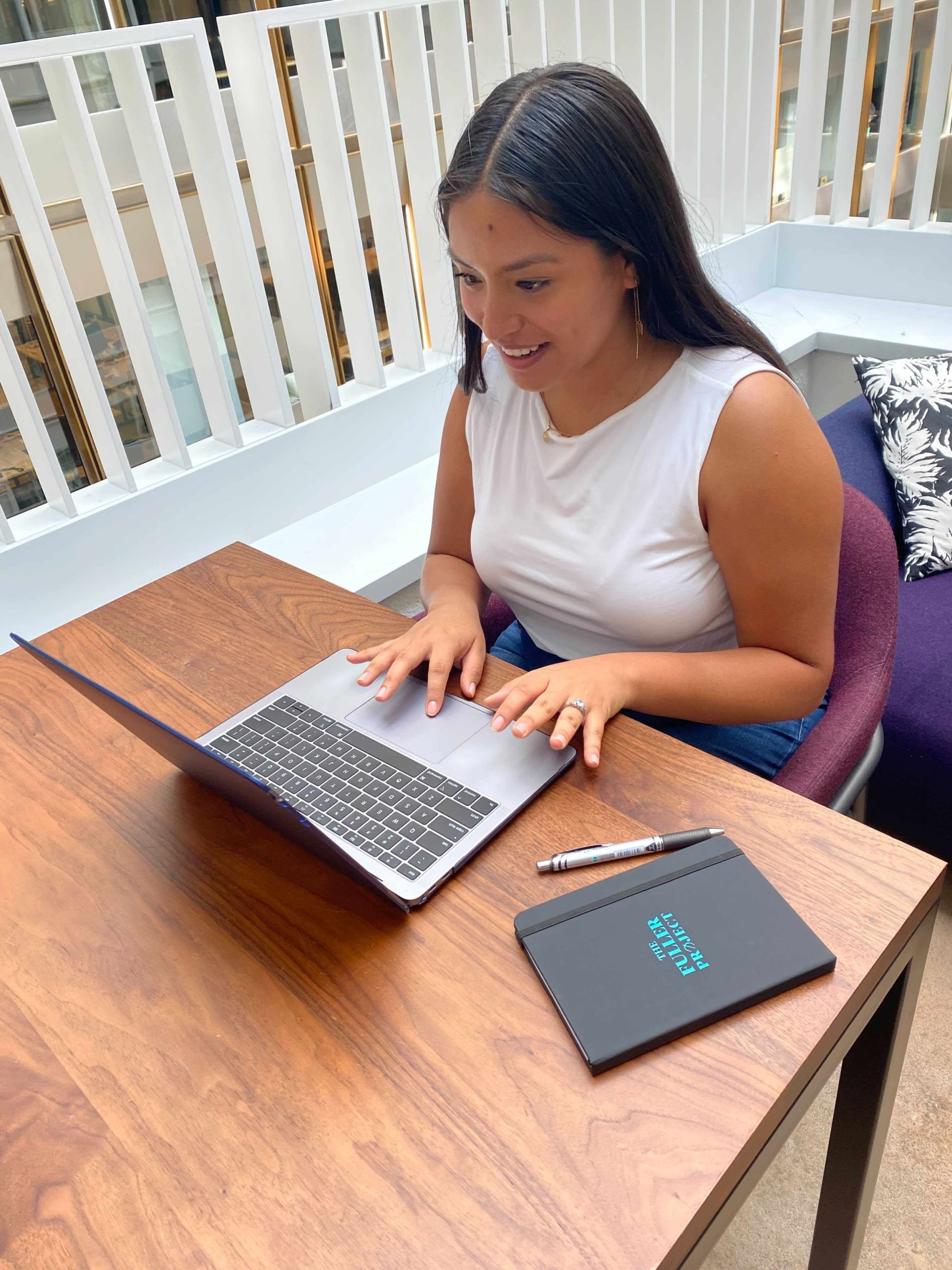 I always feel supported not just with work-life balance, but emotionally and as a human being.
Valeria Popolizio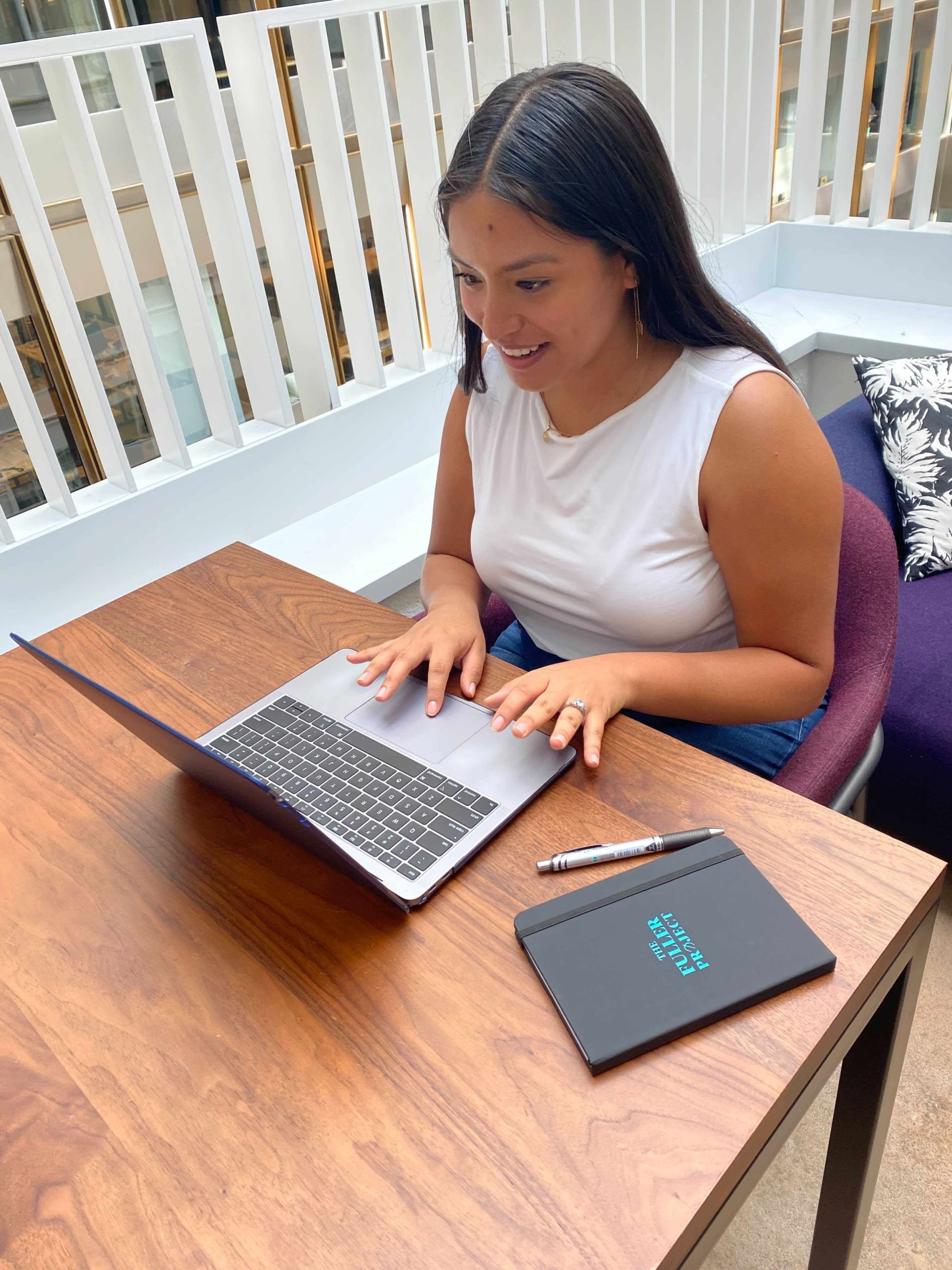 Q. What led you to apply for the business-development fellowship with The Fuller Project?
When I graduated college I was part of the Bold Women's Leadership Network, which has a fellowship with The Fuller Project. What really excited me was The Fuller Project's mission to amplify the voices of women around the world, and it felt so exciting to be there for the first stages of a growing organization. I wanted to be surrounded by other people who wanted to educate, to raise awareness about women and their communities around the world.
Q. What part of your job do you find most enjoyable?
For me, the most enjoyable part is when I can work with people from other parts of the organization. Whether it's the communications team or the newsroom, I'm always learning something from others. And what's so exciting, too, is listening to what reporters are working on, what they're learning, then using that to build on their work: to show it to foundations, to individual donors, and really spread the word of our amazing reporters.
Q. What's been one of your most challenging tasks to complete and how did you overcome it?
The first grant report I ever wrote. I didn't have much experience beforehand, but what I loved about learning through that process was that I always had my manager and our leadership to guide me. That's the great thing about The Fuller Project: everyone is so willing to help each other out and help each other through a new process. They gave me advice and kept a constant feedback loop. I knew that whenever I had any questions, I had support from the team to guide me.
Q. How does The Fuller Project contribute to making sure you maintain a healthy work-life balance?
In a lot of ways! Whenever something comes up in my own life or something happens that might affect me, the leadership team has reached out. They always tell me to prioritize my own mental health and well-being. The team is very open to talking about our personal struggles, and how we can create that work-life balance in a healthy way. I always feel encouraged to take a step back when needed, to ask for help, or to reprioritize tasks. I always feel supported not just with work-life balance, but emotionally and as a human being.
Q. How does The Fuller Project create a welcoming and collaborative environment when team members are located in different parts of the world?
Having joined in September 2020, I still have not met anyone other than my manager in person. You would think that it could get silent sometimes, but I love how we talk to each other on Slack. We have conversations or recommendations of what to listen to and books to read. My favorite thing is when we get to plan out all-team activities: I absolutely love getting to know our teammates more on a personal level, even if it's just learning about your favorite hobby or your favorite memory. Those small ways to really make human connections, even though for right now, we're seeing each other through the screen.
Q. You have really become a leader at The Fuller Project in terms of bringing the team together around fun events. Is this just part of who you are? What motivates you to do this?
Part of my job description is to help create a welcoming culture and getting to make those connections for the team. That's what makes me so excited to be here and what motivates me to do well in a job, making those personal connections. I truly believe that those connections create a sense of belonging and that creates the motivation to do well. I always strive to make fun activities for the team so we all feel connected, aligned in our vision and mission and motivated to keep going because we always have each other.
Q. If you could give one piece of advice to the next business-development fellow, what would it be?
It will really make the most out of your experience to always ask others for help and participate in other parts of The Fuller Project. Everyone on staff has different skills and backgrounds, and they're always so willing to help. Get their advice, share your own thoughts and always feel comfortable speaking up. What's great about this position is that you can really make it your own and pursue what you want to gain from the experience. There is so much room to learn. Along the way, you'll learn about your own strengths and weaknesses and keep growing.
Our whole focus is enterprise reporting: that's a different muscle than when you're dealing with breaking news or stories that develop over the course of a few days. We follow an issue over weeks and months and, in some cases, years. That's changed and strengthened how I report.
Jessica Washington
Q. How has The Fuller Project helped strengthen the way you report on women's issues?
My stories are more centered around the women themselves. They're less expert-driven and more people-centered, and that has a lot to do with having the time to report, and the structure of our journalism. Our whole focus is enterprise reporting: that's a different muscle than when you're dealing with breaking news or stories that develop over the course of a few days. We follow an issue over weeks and months and, in some cases, years. That's changed and strengthened how I report.
Q. What elements do you bring into every story?
There are ways to make a story beautiful, but imprecise. I try to bring precision to every story I report. Everyone's got a flair that they add, but in my stories there's always nuance. None of them say, "This is the one issue. If you fix this, there are no other issues." I try to be very straightforward about how complex everything is without letting it drag down the story. If I think that I'm missing something, I will go over it and over it. If a character brings up something that seems to contradict what I'm reporting, then I try and figure that out: where we are on the issue and what makes sense.
Q. What's your best interview technique when talking to people who have experienced a traumatic event?
Instead of walling yourself off, let yourself feel the emotion of having a conversation with someone who's gone through something. I think that makes people feel the most comfortable, treating them as a human being who told you about something deeply traumatic, not looking at them as a source first. And then go back and get the details that you need. I find that to be really helpful, letting someone tell their story in the way that's important for them to tell it and then going back. You're going to need a lot of detail, and a lot of questions are going to come up, but if you try and do that all at once, it's not going to work as well. I talk to people like I would talk to any human being going through something really difficult. Then I go back for the details.
Q. What kind of feedback have you received from the women you cover?
A lot of people struggle to feel seen, and they struggle to open up. Giving people the space to tell their story can be very helpful, and very cathartic once they see it in print, once they feel that other people are relating to them, not judging them. And I think often they see themselves as the hero of the story, and that's maybe not how they saw themselves before.
Q. What does it feel like when you know you have made a difference in the life of a woman or group of women?
It makes me feel great. Making a difference is hard to measure, so I don't know the extent to which I've ever felt a moment like, "Okay, everyone involved in this situation is so much better." I think that often takes time, because a lot of what I do is raising awareness of issues and getting them on people's radar. But it feels good to hear from people who feel better about themselves afterwards. You feel like you've done something. And when you hear feedback from people who hadn't heard of this issue, and now they care, and what can they do? That feels really good.
Q. What's one thing that would surprise people to know about you as a reporter?
I can't listen to music, I can't listen to podcasts, it has to be silent. I don't even really like seeing other people when I'm writing just because I'm very easily distracted and it requires a lot of focus for me. And I prefer to write the same day after talking to the main character in my story when I have fresh ideas. As I'm listening to people talk, I'm often thinking about the flow of their story, and writing from there means everything flows and works in a way that's very different.
Q: What's one word that describes what it's like to work at The Fuller Project?
A: Engrossing.
Representation and Inclusion
We believe that we are best equipped to pursue our vision of journalism that fully represents all women when our team, contributor network, freelance network, consultants, and vendors all reflect and represent the wide diversity of lived experiences and identities across society.
Our full-time team identifies 55% Black, Indigenous and people of color, 36% as parents, and 9% LGBTQIA+, as an example. Our wider newsroom team and contributors represent 14+ countries across Europe, South America, Africa, and Asia and 12+ languages. We recognize that this is a good start but always seek to improve. We are continuously assessing the perspectives on the team, missing voices, and how our team and wider network can contribute to our overall diversity.