Şeyma Çetin is bursting with color: bright blue and pink eye shadow, a green half-sleeved shirt with jeans, a tie, and an orange headscarf. Her clothes and makeup stand out among other Turkish women in headscarves, and that's Çetin's goal: to show that it's okay to be different. It's a statement of defiance.
The headscarf was for a long time a controversial symbol in Turkey, where it was seen as a threat to the modern republic's secular origins. For Çetin, though, it symbolizes freedom of choice.
"This is part of my political identity," she says softly with a smile. "Society says a lot about what a woman in a headscarf should do, but actually, we can do anything."
The 23-year-old student is among a growing number of women who call themselves Muslim feminists—and who aren't going to be boxed in by stereotypes. They belong to a new generation of religious women marked by their increasingly vocal opposition to Turkey's conservative government led by President Recep Tayyip Erdoğan.
Their mothers saw Erdoğan as an ally thanks to his lifting of a highly contentious ban on wearing the headscarf in government offices in 2013. Earlier that year, as the Gezi Park anti-government protests swept across Turkey, he had co-opted them as a constituency, describing them as "our sisters in headscarves." But in the decade that followed, many younger religious women like Çetin have shifted away from the President and his ruling Justice and Development Party (AKP). They accuse the government of trying to roll back the hard-won rights of Turkish women, including removing legal protections against gender-based violence and severely limiting access to abortion.
On Sunday, Erdogan will face the biggest test of his two decades in power in elections seen as too close to call. His popularity has been battered by rising living costs exacerbated by a refusal to raise interest rates to bring soaring inflation under control; a slow response to a devastating earthquake that left at least 50,000 dead in part due to unregulated shoddy construction, and rising authoritarianism that has led to a crackdown on the free press and a ban on nearly all anti-government protests. That includes the annual Women's Day March in Istanbul, which for years has included an increasing number of women in headscarves—a sign that the Muslim feminist movement is growing and becoming more vocal.
Some, like Çetin, belong to a Muslim feminist organization named Havle, which has around 200 members. This March, as in previous years, thousands of women gathered, even as riot police tried to disband them with tear gas.
"I grew up with Erdoğan's government, and at first, we were able to gather and protest without teargas," Çetin says. "Now our right to freedom of expression and protest is being met with violence. This government fears everything from everyone. We need a government that allows us to criticize it."
Erdoğan still has a large base of support among conservative women, but a poll by The Social Democracy Foundation, a Turkish NGO, found a third of the women who voted for him in the 2018 elections said they may not do so in this election.
---
During Erdoğan's first decade in power, women's rights activists had major wins, partly thanks to pressure from civil society and partly to meet requirements for European Union membership—a one-time ambition for Turkey. New laws introduced marriage equality, criminalized marital rape, and raised the legal age of marriage to 18. Employers were barred from firing pregnant women and the government offered more financial support for working mothers, enabling them to join the workforce. In 2011, Turkey became the first country to ratify the Istanbul Convention, which sets out laws and policies to combat gender-based violence.
But in recent years, many of those gains have been lost or come under threat as the government has cooled on E.U. membership and allied with right-wing Islamist parties. In 2021, Turkey withdrew from the Istanbul Convention, saying it "normalized" homosexuality and ran counter to family values—a move Human Rights Watch decried as a "major reversal for efforts to combat gender-based violence and promote women's rights." The AKP has proposed reducing the abortion limit from 10 weeks to six (when women often do not yet know they are pregnant), and changing the statutory rape law so that older men would not go to jail for marrying underage girls. They retreated on these proposals only after protests by women's rights campaigners. And in practice, abortion access has become more difficult. According to a 2020 report from Kadir Has University in Istanbul, only 185 out of 295 public hospitals licensed to give abortions provided the procedure. The rest reportedly turned women away, telling them doctors did not want to do it.
Meanwhile, Erdoğan's presidential rival Kemal Kılıçdaroğlu has promised to rejoin the Istanbul Convention and provide more support for victims of gender-based violence, which Havle members see as one of the major threats to women. They are seeking to raise awareness about women's legal rights in Turkey through social media and events and preserve remaining legal protections. The number of femicides and suspicious deaths of women in Turkey has steadily risen over the last decade to hit 579 in 2022, according to data compiled by the campaign group We Will Stop Femicide Platform. (Government data for the period is not available.)
Muslim feminists are using their understanding of Islamic scriptures to fight back, seeking to sway rural conservative communities that form the AKP's natural political heartland. They explain that the Quran gives women rights to divorce and to receive alimony, inheritance and protection from violence. "We share our experiences or use our views and comments on issues. We are not a religious institution but religious women who want freedom to be able to talk about our way of understanding religion," says Havle co-founder Rümeysa Çamdereli.
Çamdereli tells other women she is a divorced single mother who struggled to have a romantic life after her marriage ended. She says her family disapproved of her having a boyfriend and thought she should dedicate her life to motherhood. But she no longer feels that being a good Muslim should mean giving up on love.
---
For many, the battle begins at home.
"Feminism for me is a struggle in your own house. It's a daily part of your life," says Sıla Öztürk, 32, a Havle member who has a young son and is studying for a doctorate. Öztürk's mother Mualla Gülnaz Kavuncu wrote articles in defense of Islamic feminism in the 1980s, but she says her mother still talks about parenting as mostly a woman's responsibility. Öztürk has had to convince her husband to change diapers, even though he's generally a supportive partner. "I'm fighting all of them. I cry so much and feel so inadequate sometimes," she says.
Berfu Şeker, advocacy coordinator for Women for Women's Human Rights in Turkey, says the new generation of religious women are armed with more knowledge of their rights through the internet and higher education. They see women's roles in Islam very differently from their government.
"The ruling government, since it came to power in 2002, started implementing policies that define women as obedient units of the family," says Seker, adding that the government uses religious concepts to legitimize gender inequality. Under its view of Islam, biological sex dictates a division of labor and way of life—Erdoğan says women should get married and have three children. Muslim feminists believe Islam isn't so rigid.
Havle conducts research and surveys, in subjects like early marriage, and shares their findings with preachers and religious education teachers. The group holds workshops about the rights of motherhood, divorce, jobs outside the home, and domestic violence. They work with municipalities to reach marginalized women.
"We don't talk about feminism with them. We just show them how to defend themselves," says Zeynep, a 28-year-old LGBTQ+ member of the group who asked to be identified only by her first name, fearing persecution. Zeynep says many of the women they work with are unaware of their rights under Islam. She and other Havle members educate them about their rights to be protected against violence and to have property of their own. They also help them understand where they can access help if they suffer domestic violence. But they don't explicitly discuss feminism, which is seen by many in Turkey as a Western ideology that goes against family values.
Other Havle members have negotiated for more women's worship spaces in mosques, where men dominate. A blog called 'Reçel' which means 'Fruit Jam' founded by Havle co-founder Çamdereli gives religious women the space to write anonymously about their personal lives.
Despite being relatively cautious, the group has sparked some ire. After putting its name to a statement objecting to a legal amendment that would remove rights for LGBTQ+ people, posters were hung on Havle's office doors.
"We were accused of spying and subjected to insults online. We received death threats. A poster was hung on the door of our address registered with Google," says Çamdereli, who had previously had an anonymous online death threat made against her.
Other feminist organizations in Turkey also face threats. The We Will Stop Femicide Platform, a non-profit group that helps victims of domestic violence and their families, is being prosecuted and could be shut down if found guilty. Melek Arı, a member of the platform, says the indictment accuses them of insulting the president on Twitter and holds a board member in contempt of the law for attending banned protests, such as women's marches.
Zeynep says the principles of justice and equality are central to Islam. Her goals for Havle are to further inclusivity in a country that has seen Pride marches banned and prejudice harnessed as a political tool to co-opt conservative communities.
"What we are doing—women's rights and feminism—is a practice of Muslimhood," she says. "I want to be an example that we can be Muslim, queer, and wear a headscarf."
—With reporting by Leslie Dickstein and Julia Zorthian/New York
Oksana* recalls waking up in the middle of the night to find her husband's hands around her neck. Another time, he tried to stab her. Although they had been together for 16 years, he had episodes when he didn't recognize her, she says. "We were sitting in the kitchen and I was trying to explain to him that I am your wife, and he was just telling me how he will kill me in a lot of detail because I am an enemy."
Oksana's husband was one of the first to be called up to fight for Ukraine when Russia launched its full-scale invasion a year ago. The army needed experienced soldiers and he had fought in the 2014 war in the Donbas. In May, the company he commanded was ambushed by Russian soldiers in Donetsk and spent five days fighting for their lives. He was one of just a few survivors. After that, she says, "he lost his mind".
A short time later, he left his post and returned to the home in Kyiv they shared with their three children. That's when the abuse started.
"Before May he didn't even scream at me, he was the perfect husband, the perfect father," says the 40-year-old. "This current war made him a monster."
Perched on a bunk bed in her room at a women's shelter on the outskirts of Lviv, a city in western Ukraine, Oksana describes how she left in October, taking only her two younger children. She didn't tell anyone else where she was going—not even her eldest son, who remained at their home. Her 15-year-old and 10-year-old play outside in the communal living room, where a fire crackles on a TV screen, giving the illusion of warmth on a cold winter day.
In Ukraine, women are fleeing violence—but not just from the Russian armed forces. The war is driving up domestic violence as stress levels rise and traumatized men return to their families after long spells on the front lines. Police reports of domestic violence spiked in the immediate aftermath of Russia's invasion in February 2022, while a crisis helpline set up for the issue had a record number of calls in August.
As the war enters its second year, experts say the problem is only going to get worse. But shelters are already full and social services are stretched to their limits in a country where even before the outbreak of war, there was limited help for survivors of domestic violence, an offense that wasn't officially criminalized in Ukraine until 2019.
The Fuller Project spoke to two other women, Khrystyna* and Maria*, who fled to women's shelters after being abused by their partners within the last year. (All names have been changed in this story to protect the women's identities.) Maria, 32, opens the neck of her blouse to reveal a long scar from her abusive ex-boyfriend, she says. The war put "great psychological pressure" on her relationship, leading to three months of violent abuse that only ended when her boyfriend broke her collarbone, and she decided to leave. "I had very deep feelings for him. I believed that he could change," she says, as tears fill her eyes.
---
Studies have shown that domestic violence—which disproportionately affects women— increases during and after war as stress levels rise, families are displaced, and traumatized combatants return home. This can lead to physical, psychological and sexual violence erupting inside the home. It usually goes unreported. With soldiers seen as heroes defending the country, there is a reluctance to criticize those who are also abusers.
According to police records, calls reporting domestic violence across Ukraine steadily increased in the months after the invasion. There were significantly more calls in the first four months of the year. Records show there were almost 67,000 calls to police from January to April 2022, 40% more than for the same period in 2021, although data for the year as a whole shows a decrease in calls. The reason for this was not immediately clear and police did not respond to queries. Kateryna Cherepakha, who runs a hotline offering guidance to victims of domestic violence, believes cases may have gone unreported as millions of civilians fled the war. She also said an attitude that "domestic violence is not that serious compared to the war" may have affected reporting.
Cherepakha's organization, La Strada, saw calls increase over the spring and summer months, particularly in August 2022 when calls peaked at nearly 5,000, over 50% higher than the same month the year prior.
Vilena Kit, a psychologist who works with soldiers as well as survivors of domestic violence, says soldiers are at a high risk of developing post-traumatic stress disorder (PTSD), a mental condition triggered by a traumatic event. One of the biggest challenges she found when working with veterans from the 2014 conflict in the Donbas was alcoholism, which increases the risk of domestic violence. Vilena says there was a wave of domestic abuse after soldiers came back from fighting in the Donbas and predicts there will be another big wave once the current war is over. "The worst is still to come," she says.
Oksana's husband struggled with PTSD in 2015 when he returned from fighting in the Donbas, but had sought help and got better. This time, he refused to get treatment. When Oksana asked the army to take him back, they refused. "They told me, 'No, because we don't know what to do with him, he will damage our soldiers,'" she says.
"I tried really hard to find some help for him, anything—I asked every hospital and military organization," says Oksana. "They told me they will provide that sort of help only after the war has ended. I called the police several times and they said, 'There is nobody. Call us when something really bad happens to you. This is not a big deal, especially with the situation the country is in now. You should be patient, he's a hero.'" (The national police of Ukraine and ministries of interior affairs, defense, and veteran affairs have not yet responded to requests for comment.)
Oksana believes the prevailing view of all soldiers as heroes has prevented her from receiving help. It has also made her feel guilty for asking. She says that through the lens of the war, "I am a bad person, and he's a hero."
The lack of reporting and investigation of domestic violence committed by soldiers in Ukraine was identified in a 2019 report by Amnesty International, which looked at the impact of the 2014 conflict in the Donbas. In 11 of the 27 cases of domestic violence recorded by Amnesty International, perpetrators were active or former members of the military. Eight out of those 11 cases were reported to the police, and only in two of those eight did the women succeed in obtaining restraining orders from the courts.
Julia Dontsova, the operational coordinator at Amnesty International Ukraine who worked on the report, believes that the trends they found will persist and probably worsen. The report was conducted in what was a frontier territory in Ukraine at that time, she explains, but "now the entire territory is at war."
"With all due respect to our military, we may indeed find ourselves in a situation where a veteran returning from war will be respected and sympathized with to such an extent that such a minor offense as domestic violence may well be forgiven on all levels," she says.
Life for Oksana is finally starting to improve. She has made new friends in Lviv and is hoping to move to an apartment with her children. She says she wants a calm life now.
–
The shelter where Oksana and the other women are staying is run by the Centre for Women's Perspectives (CWP). Before the war, they only had one shelter for domestic abuse survivors—now they have seven dotted across Lviv, which quickly filled up with people fleeing from eastern and central regions in the first few months of the war, some of whom are still there.
The Fuller Project spoke to two of CWP's founders, lawyer Halyna Fedkovych and Marta Chumalo, a psychologist, inside their office in Lviv. It's an old building with thick walls which they assure is safe if there is a missile strike – "Just stay away from the windows," says Chumalo, when the air raid siren starts to wail.
"We faced a major problem at the beginning of the war with access to services and to justice and law enforcement for our clients, because nobody knew what was going on, how long [the war] would last—it was this uncertain situation," says Fedkovych.
Fedkovych and Chumalo are working closely with the police in Lviv to ensure they address domestic violence by soldiers.
Marta Vasylkevych, head of the Lviv police's domestic violence prevention unit, says her team has been developing new skills in preparation for an even greater increase in violence, such as additional physical education and courses on how to deal with weapons, as well as a special forces squad called "Thor," which the police can call on for extra help.
Chumalo says sexual violence committed by Russian soldiers has been made a "priority," with the General Prosecutor's Office opening a special unit last year to investigate conflict-related sexual violence, and the media heavily documenting such cases. She hopes this survivor-centered approach will positively influence how they deal with domestic violence cases too. "We will see," she says.
–
Many of the women helped by CWP left Ukraine in the early months of the war, after the invasion spurred a new policy that made it possible for people to take their children across the border without needing the other parent's permission.
After a particularly intense period of shelling, Khrystyna tried to take her 11-year-old son to Poland. Everyone else on the bus was fleeing Putin's bombs, but Khrystyna, 40, was fleeing her boyfriend and son's father—an alcoholic who had been abusive even before the war but became more so when the missile attacks started. Multiple failings of the justice system led to her current situation – from the police dismissing her initial call for help as "just family stuff" when she was badly beaten at nine months pregnant with her son 11 years ago, to social services officials who believe her ex-boyfriend's recent claims that she is the abusive one.
At the last moment, her boyfriend intervened to prevent them from leaving. The boy now lives with his father, and Khrystyna sees him only on Sundays.
In July, Ukraine ratified the Istanbul Convention, which is widely recognised as the most far-reaching international treaty addressing violence against women. Fedkovych is hopeful the move will improve protections for victims of domestic violence, but says the main challenge is ensuring existing legislation is implemented.
Even if the war does end in 2023, experts speaking with The Fuller Project said Ukraine will face an influx of domestic violence for years to come, as well as a growing number of weapons brought back from the frontlines. "The police can already see it, and we can already see it from our clients," says Fedkovych. "Many military men will not be very stable mentally, and it's not a good combination."
Oksana says action is needed now, particularly for those soldiers who have left the army or who are returning home on rotation. "I'm not sure I need justice, I would prefer that my husband has necessary treatment," she says. "I understand that I cannot go back [home] for any reason. Our family is dead now."
*Name changed to protect identity
It's a late July morning, high summer in southern Ukraine, and Nadiia Ivanova's farm blooms with waist-high sunflowers, golden stalks of flax and bushes of cilantro. The earthy smell of freshly harvested wheat lingers in the air.
Ivanova is doing her rounds of the sprawling farm, inspecting bags of mustard seeds, ensuring her dried peas are getting enough air and checking on the barley. The 42-year-old has known this land since she was a child, when her father was the manager, and she has a commanding presence when speaking with her workers.
Usually at this time of year, Ivanova is busy organizing transport of wheat—the farm's main export— to nearby ports on the Black Sea, where it will make its way to shops and bakeries around the world. But months into Russia's invasion of Ukraine, the war has brought Ukraine's ports to a near standstill, exacerbating an already growing global food crisis.
This year, Ivanova is surprised to have even made it this far at all. The regional capital of Mykolaiv, just 8 miles southwest, is shelled by Russians on a near-daily basis, turning hotels, schools and universities into dust and rubble. To her east is the Russian-occupied Kherson region, only 10 miles away.
"My nervous system is shot," Ivanova says, standing on the edge of her sun-kissed land. At almost 10,000 acres, the multi-generational "Golden Spike" farm is large—similar in size to the "big agriculture" areas of the American Midwest. For two months over spring, her apricot orchards and rose gardens, a half hour drive from the farm, were under Russian occupation. Several times a day, air raid sirens disrupt the daily rhythms of life on the farm. In the direction of Kherson, two plumes of gray smoke are visible in the distance. "Every day they do something new to us," she says.
Ukraine's farmers are not the only ones to suffer. Since Russia launched its full-scale invasion of Ukraine on Feb. 24, the effects have been felt far and wide. Even before the war, the price of basic foods for millions of people was rising due to the climate crisis and COVID 19-related supply chain issues. The pandemic caused the number of food-insecure people around the world to double, to 276 million, according to the World Food Programme. In June, the U.N. said Russia's invasion of Ukraine had plunged some 71 million more people into poverty, most of them in countries in sub-Saharan Africa and the Middle East, sparking fears of social unrest and outbreaks of new famines. Between the start of the war and May, the price of wheat across Africa went up by nearly half, according to the African Development Bank.
Women and girls are disproportionately affected, accounting for 70% of the world's hungry, according to Plan International. Especially among the global poor, this has compounding ramifications, from girls' access to education to the increased risk of early and forced marriage, gender-based violence and unwanted pregnancies. Girls in African countries like Ethiopia and Somalia that rely heavily on Ukrainian wheat have been particularly hard hit.
Some of Ukraine's farmers are distinctly aware of the responsibility they have in feeding mouths thousands of miles away. "As a mother, I know how it feels to worry for your children, to worry they're not eating enough," says Nadezhda Petrovskaya, who has worked on the farm she manages in the Odesa region for most of her 63 years. "Thanks to Russia, now more mothers are having to wonder, 'will the kids eat tonight?'"
Ukrainian women have long played a major role in agriculture. In the country's fertile south, which is often hailed as the breadbasket of Europe, they have been crucial in looking after livestock and working the land. But it is only in the three decades following the collapse of the Soviet Union that women have emerged as farm bosses. Ivanova and Petrovskaya both took over their fathers' farms, putting them among the 10,000 or so women in Ukraine who run a farming enterprise—about 20% of agricultural managers. "As women we have a lot more to offer than milking cows," Ivanova says.
These farmers are now fighting to ensure their communities are fed and get their crops out to the world. Together, Russia and Ukraine typically export almost a third of the world's cereal grain, and Ukraine provides half of the world's sunflower oil supply. Russia has shelled grain depositories and sunflower oil storage tanks in the Mykolaiv port, covering nearby homes and rose bushes in flaming pools of oil and leaving an enduring scent of fried food, even weeks later. The oil's absence on the global market is already being sorely felt, from the European supermarkets rationing sales to the Indian laborers paying extra for their lunches.
For Ivanova and her 24-year-old daughter, Anastasiia, who also trained as an agronomist and works for the family business, farming these days feels like a race against time. The war is constantly shifting shape, as the Russian invaders try to penetrate more land and Ukraine receives increasing numbers of powerful weapons from Europe and the United States. In mid-September, a massive counteroffensive in Ukraine's northeastern Kharkiv region liberated 3,000 square miles of land, in a rapid territorial advance that stunned the world. Russia responded by calling up hundreds of thousands of army reservists for the army.
The mother and daughter make a formidable pair. During the chaotic early weeks of the war, when the fighting was closer, droves of Ukrainian soldiers would show up on the farm, needing a place to recharge. Some arrived injured. The duo did what they knew best: they fed them. "We developed a sort of production line," says Anastasiia, describing how, over weeks, hundreds of soldiers slept in their barns, living off pickled tomatoes, boiled buckwheat and chicken soup. She and her mother made sure the soldiers' uniforms were washed. When fighting shuts down local shops and banks in the nearby villages, Ivanova sets up the long tables of food, and does it all over again.
Sometimes it can feel like Ivanova's world is collapsing around her, but she doesn't show it. With shoulder-length black hair and a radiant smile, she exudes a confident warmth and is quick to laugh. In May, she was due to defend her PhD in economics, a milestone that made her parents especially proud, but the university paused all activity due to the war. In July, her family was shaken when Ukrainian grain tycoon Oleksiy Vadaturksy and his wife were killed by a Russian missile while sleeping in their home in Mykolaiv.
When Ivanova feels low, she remembers the dictum stenciled on her pink acrylic nails: "Don't wait for a miracle, be the miracle."
In early March, her farm came under attack. Ivanova and her workers were asleep, exhausted from preparing the fields for the summer harvest. They were woken several hours later by the whistling of missiles and the explosions of cluster bombs.
"I have 45 fields, large and small, and I found a Russian missile in each one of them," Ivanova recalls. She throws a finger towards one of the missile casings, about a yard long and now gathering dust in the shade. Luckily, no one was hurt in the assault, but equipment worth tens of thousands of dollars was destroyed. The top of a deep blue grain sorter the height of a three-story building was blown apart.
We enter the hangar where her tractors are stored; some of their engines and windshields were ripped to pieces. Ivanova stands before a great hulking machine called a row crop tractor, and sucks her teeth. "I had just taken out a loan to get this," she says.
The attack left the corrugated iron roof of the building so destroyed that shards of light pierce through. "Welcome to my starry night sky," she says.
Facing violence on their doorsteps, as well as destroyed equipment, it's no surprise that many Ukrainian farmers haven't even been able to fully harvest their crops this year. Even if they manage to, they cannot get their goods out. Russia has occupied the ports belonging to the Mariupol and Kherson regions, and both sides have planted floating sea mines in the Black Sea waters. Instead of crowded beaches with holiday-makers, Ukraine's southern coast is eerily empty save for skull-and-crossbones warning signs. In mid-June, a Ukrainian man defied the ban and dipped into the sea, only to be decapitated by a mine.
All this means a sizable chunk of grain from last year's harvest has still not shifted: an estimated 22 million tons—around half of annual exports of wheat, corn and barley—are stuck in Ukrainian silos and warehouses at its ports. It needs to be sold and shipped to make space for this year's crop.
In late July, the United Nations brokered a deal with Turkey for grain shipments to leave Ukraine, but progress has been very slow. By late August, only 33 boats had departed from Ukraine's waters under the new agreement (by comparison, Ukraine's Odesa port, the country's largest, handles 3 vessels a day on average during peacetime, according to commercial shipping statistics). There are also questions about whether the stored wheat has spoiled without proper ventilation.
Before the war, Ivanova's farm used six ports in the Mykolaiv region. Now they are all closed. "I'm a realist. There is no way we're going to sell our grain on the international market this year," she says. It will be a squeeze for everyone: she is instead selling a tiny amount on the much cheaper, local market to keep her workers employed and keep the farm running. Other farms have exported small orders by road before piling them onto boats on the Danube River, and into Romania. But these are a drop in the bucket.
"It's a catastrophe," says Andriy Chicheta, the owner of VVI-Agro, a large farming business in the Mykolaiv region. Sitting in his wood-paneled office, he demonstrates the difficulty by pointing to the narrow neck of a bulbous glass bottle. "How are we going to move everything through that?" Chicheta has developed a system to keep his harvested grain and peas safe "until peaceful times return," and they now sit under hermetically sealed wraps that stretch across his plowed fields like gigantic white slugs.
Impromptu, hastily constructed storage units are popping up across villages and farms in southern Ukraine, becoming part of the landscape along with the fluttering blue-and-yellow flags, military checkpoints, and anti-tank barricades edging the fields of sunflowers.
Odesa farm owner Petrovskaya is in the process of building one for the huge mounds of sunflower and grain now gathering dust in her barn. The seeds were harvested last year, the pearled wheat a couple of weeks ago. It is soft to the touch and golden in color. "I could bathe in this," she says, gently running her hands through a shimmering heap.
Earlier that morning, she meandered through her sunflowers under the blazing sunshine of a cloudless sky, pausing every so often to check on the bees scraping out the pollen. "Get to work," she tells them playfully. Soon, she plans to move her pile of 200 tons of wheat—"about a hundred elephants' worth!" she jokes—into storage, where it will wait out the war.
Food is strength, and that means having power. These are the words that farm worker Valentyna Fedorenko lives by. Each morning, just after daybreak, she makes the short walk to the four greenhouses owned by her husband, Volodymyr. In the sweltering heat are shiny eggplants, radishes, garlic, spring onion, tomatoes. Her friend Natalia joins her to pick, sort and clean the vegetables, before bringing them to a local market. Their pet kittens lounge in the shade.
By mid-day, the women are exhausted. "These are our weapons," Fedorenko says, holding up a bucket of fresh green cucumbers. "By feeding the people, we are equipping them to fight." The vegetables are also delivered to local kindergartens and shelters for people fleeing nearby areas under Russian control. "There is a constant wave of them," says Natalia, who only gave her first name, fearing for the safety of her husband who is fighting. "We make sure they won't go hungry."
Volodymyr, a veteran of the conflict with Russia that first flared in eastern Ukraine in 2014, should usually be picking alongside the women. But when the greenhouse cooperative was set up two years ago by the Canadian government to help soldiers settle into life back home, no one could imagine that the same veterans would be called back to fight the same enemy in an all-out war. The couple's teenage son is studying filmmaking in Kyiv. "But it's alright," says Valentyna, wiping sweat from her brow. "I am holding the fort."
She doesn't know when her husband and the other men from the village will return. A long-awaited counteroffensive is expected soon in Kherson which experts say could ultimately determine the outcome of the war.
For Ivanova, it would also offer a chance to lift up her farm's spirits and keep them going, despite the constant fear of losing their livelihoods, or being attacked from the sky. "This land has fed people for hundreds of years," she says. "We don't have any plans to change that."
Afghan teacher Masuma is used to having her clothing scrutinized. The girls' school where she works—among a minority to have reopened after most girls' secondary schools were closed when the Taliban seized control of Afghanistan last year—has long required her to wear a uniform consisting of a dark, ankle-length dress, and a black headscarf.
But in recent weeks, the pressure has grown. On a hot late spring day in April, the school supervisor told Masuma her uniform did not comply with the Taliban's latest guidance, which advised that women cover their faces in public. Despite the heat, he said, she should be wearing gloves and a burqa, the flowing garment that covers the entire head and face. When she told him she had a respiratory condition that meant she could not cover her face, he said she should watch out for "Vice and Virtue"—the ministry notorious for its often violent enforcement of such restrictions. "Don't say I didn't warn you," she recalls him saying.
So when the Taliban issued a ruling on May 7 that all Afghan women should cover their faces in public, Masuma was defiant, but not surprised. Two of her colleagues had already been fired for failing to follow the dress code. Human Rights Watch (HRW) said in April that the Taliban had threatened to close girls' secondary schools in Balkh province—one of only a few provinces where they had been able to remain open—if female students and staff did not take heed.
Masuma, whose full name has been withheld for her protection, is among a small cohort of Afghan women who had been allowed to keep their jobs after the Taliban seized control in August. These women—teachers, government employees, and aid workers—were kept on because their jobs required them to have contact with women and girls, so could not be done by a man. Yet even they now find their ability to work squeezed by the growing restrictions, placed on everything from what they wear to how they travel. "We cannot accept this," says Masuma, 34, speaking by phone from Balkh's provincial capital, Mazar-i-Sharif.
Many Afghan women don't just want to work; they need to as the sole breadwinners in their families. Unemployment is high and decades of war have left Afghanistan with hundreds of thousands of widows.
Now, the space for Afghan women to work is disappearing fast. In addition to effectively mandating the burqa in public, the latest decree advised that the "first and best sign of observing hijab is not to leave the house." If a woman does need to leave, she should obey the dress code and in some parts of the country, be accompanied by male relatives. Already, many female government workers have been barred from their offices and told to come in only to collect their paychecks. Now, women say they are being told they will be fired if they do not comply with the latest recommendations.
"We have to fight back. I'm not covering my face and I have no intention of doing so. I just hope I won't get fired," Masuma says. "We'll try to fight this even though we are tired, we're exhausted. I've worked outside my home for 16 years… But [the Taliban] are treating us as though we don't know anything."
In a cruel twist, the decree makes women's male relatives responsible for ensuring they comply—or face fines or jail time if they don't. Women's rights activists have warned that placing the onus on Mahram, or male "guardians," could exacerbate domestic violence in a country where it's already widespread. Nine out of 10 women in Afghanistan experience at least one form of domestic violence, according to the United Nations.
Heather Barr, associate women's rights director at HRW, called the Taliban's decree an "alarming escalation" and said the threat to punish male relatives removed what little power women had left to make decisions for themselves.
We have to fight back. I'm not covering my face and I have no intention of doing so. I just hope I won't get fired.

— Masuma, teacher in Afghanistan
"A lot of the media coverage has focused on the restrictions on clothing and women have to cover their faces… What is actually more serious is that the Taliban has said that women shouldn't be leaving their house unless they really need to and have a specific reason to," she said in a WhatsApp voice message.
Many of the working women interviewed for this story see the Taliban's latest decree as part of a wider campaign to pressure them to stop work. In March, the regime made a last-minute U-turn on secondary education for girls, announcing on the day schools were due to reopen that they would remain shut indefinitely. Months before that, the Taliban ruled that women traveling long distances must be accompanied by a male guardian. Working women said local Taliban officials were enforcing this rule even for shorter distances, making it virtually impossible for them to travel to work.
The Taliban did not respond to repeated requests for comment on this story. Akif Muhajir, spokesman for the Ministry for the Propagation of Virtue and the Prevention of Vice, has previously defended such restrictions—saying they aimed to protect women's honor.
Samar, an elementary school teacher in northern Afghanistan, recalls being stopped at three separate Taliban checkpoints during one journey and asked why she had no Mahram with her. She had been traveling with three other women, one of whom had her father with her, but they were told they each needed their own male chaperone. (Out of safety concerns, Samar is a pseudonym.)
"They stopped the car and questioned each of us individually," says Samar, 25, who is the sole breadwinner in her family of 11. Her father has been unable to travel with her as he is trying to find a job.
The United Nations warned on May 9 that restrictions on women were preventing them from working and exacerbating Afghanistan's dire economic problems, which have left more than half the country in need of humanitarian assistance.
Hundreds of thousands of jobs have been lost since the Taliban takeover last August, with women particularly hard hit, the U.N.'s International Labor Organization estimates. Women's participation in the workforce reached a high of about 22% just before the COVID-19 pandemic hit, after a decade of steady gains. Since then, it has been falling steadily—first as a result of the pandemic, then the Taliban takeover. While the Taliban's labor ministry declined to provide any data on the current situation, the ILO estimated on Jan. 19 that women's participation had decreased by 16% in the third quarter of 2021.
The effects are far-reaching. More than half the people in Afghanistan who are struggling to get enough to eat are women and girls, according to the World Food Programme, with 85% of female-headed households resorting to drastic measures to feed their families, compared to 62% for male-headed households.
When Afghan aid worker Bahar (who also asked to use a pseudonym) started her current job in the central province of Ghor in January, the 25-year-old was told she should wear her burqa at all times—even when at her desk in a gender-segregated office. When she asked why, Bahar was told it was because men might pass by their office window. "The Taliban don't like women working in the offices, and that is why they are always rude and disrespectful to female employees," she says. "They don't even look at us; they only look at our feet."
During the two decades since the last Taliban regime fell in 2001, thousands of women trained as police officers. Only a handful remain in the force. One 33-year-old female officer who works at Kabul airport, where she does security checks on female passengers, says she now fears losing her job. "Everybody knows that the Taliban are against women working," says the woman, who asked to remain anonymous. "We go to work with fear, and we come back home with fear."
With reporting by Kreshma Fakhri
---
Related coverage:
Queer Afghan lives are at risk under the Taliban
The Taliban are harming Afghan women's health
Ending America's forever war: What is next for Afghan women?
After Anna tucks her five children into bed each weeknight, she walks out the door to a grass patch behind her home. The former seamstress searches for a flat, heavy stone under which she's buried her uniform for tonight: a camouflage mini skirt.
For five years, the 30-year-old mother stitched Levi's jeans at a garment factory in Lesotho, a small landlocked country within South Africa. The salary wasn't much; she occasionally had sex with a male colleague for an extra $20 a month to support her family. But as the garment industry, one of the country's largest employers, crumbled during the coronavirus pandemic, she found herself on the end of mass layoffs. In April of this year, management announced that the factory would be closing, due to reduced orders from U.S. brands and other pandemic-related issues. She was let go in August.
A week later, she turned to sex work full time.
"I don't want my husband to know, so I leave home dressed normally, and then I change into a short skirt that shows my thighs," she said. "My children don't have clothes, I don't have food. I have to do this."
Anna, who asked to be identified by her middle name only for safety reasons, is one of over 6,000 garment workers who recently lost a job with the Nien Hsing group. The Taiwanese company—Lesotho's largest garment sector employer—owns five major factories, three of which have closed in the past 16 months. It was a major supplier to Levi's, Kontoor Brands (owners of Wrangler) and The Children's Place, but has reduced production amid COVID-19 pandemic headwinds.
In a country whose faltering economy relies heavily on the garment sector, the U.S. is the largest recipient of Lesotho's clothing exports. A mostly female workforce—roughly 90%—once stitched denim for some of America's most famous brands. Many are single parents and their families' main breadwinners.
Globally, garment workers like Anna face continued pandemic-era fallouts from disrupted financial markets, upended supply chains and clogged ports. As the virus kept consumers at home and shuttered shops, people bought less, and Western fashion brands canceled or delayed billions of dollars worth of orders. At garment factories around the world, staffers, the majority of whom are female, were laid off or sent home without pay. Some 1.6 million garment workers have lost their jobs in seven Asian countries since the start of the pandemic, including Bangladesh, India and Myanmar, according to the Clean Clothes Campaign.
After plunging to historic lows last year, U.S. clothing sales have since hit record highs. Apparel stores took the biggest hit, with a 78% drop in April 2020, according to the U.S. Commerce Department. Eighteen months later, October sales at clothing and accessory stores were up 25.8% from the same point in 2020.
Related coverage: Pandemic crushes global supply chains, workers at both ends
Retail markets may have begun to bounce back, but for already low-paid and vulnerable workers in factories in Lesotho and larger garment-producing countries, such as India and Cambodia, those gains can take time to trickle down. Ongoing disruptions continue to cause havoc in a period when retailers remain uncertain about the future. With few alternatives, women already working in an already unstable industry face abject poverty, spiraling debt and scant job prospects, industry experts say.
"The clothing supply chain is run on a knife edge," said Neil Saunders, managing director at research firm GlobalData Retail. "Margins are so thin because of this continual pattern of deflation and consumers wanting to pay less in Western markets. There's just no room for error. You can't say, 'We'll take a hit, it'll be fine.'"
In India, there is still a "great deal" of uncertainty about orders in Chennai, an industrial hub on the southeastern coast, said Sujata Mody, president of the Garment and Fashion Workers Union. She estimates that 10% of the multi-billion-dollar industry's approximately 200,000 workforce in Chennai are still unemployed. Many factories remain closed, she adds, while those still working face longer hours, higher targets and increased incidents of violence.
India makes up about 16% of textile imports to the U.S. and about 5% of apparel and accessories, according to an analysis of U.S. International Trade Commission data by the Peterson Institute for International Economics.
"The women who work in these industries are very marginalized. They are dependent on their incomes and really vulnerable. And so nobody really bothers about them," said Mody. "These women are not just invisible, it's like they don't exist."
Female garment workers over 40 have been hit particularly hard, she adds. Viewed as less productive, they were targeted when factory owners downsized during the pandemic, said Mody, who has spoken to hundreds of women who reached out to the union. Some have been able to find temporary, low-paid cleaning work, while others are struggling to find anything at all, she said.

For Sam Phary, a 40-year-old garment worker in Cambodia, her soaring debts are keeping her awake at night. A single parent to three children, she owes $10,000 to a microfinance lender. As COVID-19 infections rose in mid-April of this year, Cambodia once again shut clothing factories, leaving thousands of workers without income. While she was unemployed, Phary borrowed money from relatives to make her monthly $350 payments. She is back sewing at a factory in Phnom Penh, the capital, but earns less due to reduced orders, she said, and is concerned she'll lose her home if she continues to default on her repayments.
Last year, Cambodia's $7 billion garment sector, the country's largest employer with roughly one million—mostly female—workers, was dealt a double blow by the pandemic and by European Union tariffs imposed over human rights abuses. By mid-May of this year, an estimated 102 garment factories in Cambodia had permanently closed, said Heng Sok, Secretary of State of Industry, Science and Innovation, in an interview with local media. Nearly three-quarters went bankrupt because of a lack of orders or suspensions, he added.
Lesotho's garment industry has also long been ravaged with problems. In May, TIME and The Fuller Project reported on vast sexual abuse and harassment taking place at Hippo Knitting, another Taiwanese company in Lesotho's capital, Maseru. The factory supplied predominantly one brand, Fabletics, a popular U.S. athletic apparel line co-founded by actor Kate Hudson. After a three-month pause, the brand resumed production in August while taking steps to improve workers' rights.

But roughly 600 workers are reportedly expected to be permanently laid off early next year, according to Sam Mokhele, general secretary of the National Clothing and Textile Workers Union in Lesotho. When asked about a reduction in orders at Hippo Knitting, Fabletics said in an emailed statement that orders over the last few months have been greater than or equal to those placed last year. The factory owners declined to comment on looming job cuts.
"The workers are free of harassment," said one seamstress who asked to remain anonymous due to job security concerns. "But we've already gone on Christmas break, and we don't know what's going to happen when we come back. Our jobs are hanging in the balance."
Less than four miles away, thousands of women from the Nien Hsing factories already face this stark reality. In a matter of months, the company's estimated 10,000-strong workforce dropped by more than half and lost over $50 million this past year, according to Louis Rouillon, Nien Hsing's former social responsibility director.
He said in addition to Wrangler and The Children's Place cutting orders by roughly 30% this year, rising transport costs, recent wage protests in Lesotho and fluctuating Covid infection rates all played roles in the company's decline.
In an emailed statement, a spokesperson for The Children's Place said Nien Hsing informed the retailer earlier this year that it was "scaling back operations" and the terms of their relationship "did not fit" the Taiwanese company's new business model.
Levi's said the brand had maintained—and at times increased—its order volume with the Nien Hsing group over the past year. Wrangler did not respond to multiple requests for comment.
Each month at the factory, Anna was paid less than the price of two pairs of Levi's—about $133—but it wasn't enough to cover her family's basic costs, she said. No one at the factory knew about her arrangement with her male colleague, she adds. When he was let go, her monthly income dropped. Now, sex work nets Anna roughly $6 to $19 per night. Her family thinks she has found a cleaning job. She's vague on the details but worries that her husband has suspicions.
"My husband is quite thin," she explains. "Maybe he's not gaining weight because he's harboring all these emotions. When he confronts me about his suspicions, I sometimes leave the house, go to the outside toilet and cry. It's really painful for me, seeing my husband like that."Given the company's three-decade history in Lesotho, Ricky Chang, Nien Hsing's administration manager, said he remains hopeful some factories will reopen next year. "But it's hard to tell," he said. "Look at what just happened in South Africa [with the Omicron variant] — people are in panic again. … If the environment does not allow you to stay, you have to seek something else. Right now, ​I am concerned about the entire future of Lesotho's garment industry."
Anna, meanwhile, has spent five months looking for customers in the dark. Five months of feeling in constant danger, she said. Asked what he would like to say to women in her position, Rouillon doesn't know quite what to say. "It breaks my heart," he said.
At 4 a.m., she jumps into a taxi to return home. The work she does now takes a toll, she said. She gave birth earlier this year. Several months ago, her cesarean wound became so painful she needed to rest for two weeks to recover.
"I couldn't believe it was me doing that," Anna recalls of her first night of sex work, her voice soft. "I have dreams."
Once home, she slips back into her jeans. She carefully replaces the mini skirt under the flat, heavy stone, ready for tomorrow night.
With additional reporting by Sineat Yon in Cambodia.
This piece is published in partnership between TIME and The FullerProject.
Editor's note: This story is the second in The Fuller Project's ongoing series, "Ending America's Forever War: What is next for Afghan women?", documenting what the end of America's longest war on foreign soil means for the women who have lived through it.
When Taliban fighters encroached on the Afghan capital Sunday, Zainab, a reporter in her mid-20s, made a decision to leave the country. She had never been abroad, but it did not deter her. If anything, it propelled her forward.
She threw some clothes into a bag, along with her passport, two mobile phones and a wad of cash before climbing into a taxi with her brother and father. They set off for the airport. Cars full of people gridlocked Kabul's streets as thousands attempted to flee an Afghanistan soon to be under Taliban control. Afghans had watched in disbelief as major provincial capitals fell swiftly to the Taliban over a matter of days, and Kabul soon swelled with people seeking shelter.
Only the capital — and a small patch in neighboring Panjshir province — was left.
Zainab, who does not want her last name published for security reasons and her family's safety, has reported for American, British and German media – and was working on a months-long assignment for The Fuller Project and TIME when the Taliban seized control that day. She worried her work with foreign media would make her an easy target for the insurgents and she feared for her life.
On the way to the airport, several men on motorcycles snaked their way through the traffic before stopping at their car. They pointed their automatic rifles at the occupants, ordering everyone out. The men then robbed Zainab of the bag, the one she had packed hours before with a few essentials to leave the country. "They took everything. I was so scared, but I thought, 'Now what if the Taliban comes for me?'" she said.
So she kept going.
They made it to the airport. Zainab said goodbye to her family and stepped inside, where she waited, without any identification or proof of who she was, for hours. As dusk arrived, the Taliban did, too, and soon shot at the large crowds that had gathered.
"People were running in all directions. I got on a plane, not even knowing where it was going." It was cavernous and crammed with Afghan families, standing up and jostling for room. Zainab had boarded the now-famous U.S. Air Force plane that has become symbolic of the desperate end of the American war. Photos from the flight show a mass exodus as the Taliban took the capital, sealing their victory after twenty years of battling NATO and Afghan troops.
Two decades of progress, brought to a halt
With the Taliban back in power, women across Afghanistan brace for an uncertain future, awaiting, as the days creep by, to discover what they stand to lose. Over the past 20 years, bookended by Taliban control of the country, women have filled university hallways, lined offices, traveled freely across the country and further afield and joined nearly every aspect of public life. They have joined the military, judiciary systems and government. The list of their achievements is anything but exhaustive: Afghan women and girls have formed a national cricket team, competed in the Olympics and won international science competitions.
All would have been unthinkable under the group's previous rule, from 1996 to 2001, when women were subjected to draconian treatment, forced to wear a head-to-toe burqa if stepping outside, required to travel with a mahram, a male relative escort, and denied rights to education and work.
Since the Taliban's takeover, the international community, from the British and New Zealand prime ministers to the U.S. Ambassador to the United Nations, has implored the group to uphold human rights, especially those of women. Improving the plight of Afghan women and girls was a central message of the 20 year American-led war. Washington has spent at least $787 million on attempting to better their lives since 2002.
The extremist group has positioned itself as a transformed force, and said it will not pursue reprisals against the Afghan government and its supporters. "Everyone is forgiven," said the Taliban spokesman Zabihullah Mujahid two days after the group took control. But millions of Afghans fear the group will return to its brutal and oppressive past.
The spokesperson also said the Taliban will respect women's rights "within Islam", though this leaves much to interpretation, and evidence is mounting of diminished freedoms. As the Taliban swept back to power in recent weeks, its fighters have turned women away from their workplaces and barred them from entering universities.
Related coverage: As the Taliban Resurges in Afghanistan, Girls Are Already Losing Schools
Many women fear reprisals. In Kabul, several Afghan female journalists said Talibs were in their neighborhoods, going door to door, making lists of women who worked in the media and government. One sent a video she captured from her balcony, showing armed Taliban members atop of her neighbors' house, where they took selfies against the Kabul skyline. "I feel like I will die a gradual death here," she wrote in a message.
On Friday, German state-owned broadcaster Deutsche Welle said the Taliban had targeted and killed a relative of one of its reporters. Salima Mazari, a female district governor who took up arms against the Taliban in recent months, was reportedly captured by the insurgents shortly after they took power, and her current whereabouts are unknown. Many previously outspoken and prominent Afghan women, including former politicians, rights advocates and famous authors, both in and outside of the country, declined to speak even anonymously in recent days.
'We feel we have lost everything.'
The women in Afghanistan who did agree to speak described feeling abandoned and betrayed by the world, and especially by the U.S. Sportswomen are burning their kits, journalists are scrubbing away their social media presence and Kabul's streets are increasingly devoid of women.
"The U.S. is taking back what it gave us," said Hosni, 30, who has worked for a Western-funded NGO for the past five years in Kabul and asked to be identified only by her first name. "What happens to women? We feel we have lost everything," she said.
Before Kabul fell, a usual day for Hosni would include a visit to the gym after a day at the office, or meeting friends for a coffee inside one of Kabul's trendy cafes, pockets of calm and sanctuary where young women could freely socialize.
Today, her office is shut and she sits at home, directionless and without a routine to shape her week. "I cannot even watch a movie, I've hidden my books, I can't dance or listen to music. I haven't done any of this in the past days," she said.
Practically overnight, Lida, 32, has gone from being part of a small cadre of women at the Afghan Attorney General's Office to mourning her career. "With the Taliban back in power, everything will die for women," said Lida, who asked to be identified by a pseudonym due to security concerns.
The anti-corruption prosecutor completed her Master's degree last year, with a specialism in criminology. She has long been a dedicated high achiever: when she was studying for her undergraduate degree, she attended classes while pregnant with the first of her two sons, who is now nine years old. "All that I have worked for, all of my dreams, have become zero, multiplied by more zeroes."
As the Taliban inched closer towards Kabul last weekend, Lida headed to the market in search of "clothes that will keep me safe from the Taliban's lashes." When they ruled in the 1990s, Taliban police would whip women for not being properly covered up. In recent days, Afghan social media has swirled with photos of men and women, showing fresh welts from being beaten by Taliban mobs for not dressing according to Islamic custom.
The women preparing to resist
The Taliban is now seeking legitimacy on a global scale, and there are signs they are getting closer. After Kabul fell, Russia and China, two of the five permanent members of the United Nations Security Council, hinted they are open to the idea of recognition. The United States and its Western allies have said such recognition would be condition-based, dependent on the group's treatment of human rights.
But it is still unclear just how much political leverage and heft the rest of the world will have. "The most important question is whether women are going to be fighting this alone, or whether the international community has their back. That is the very least they deserve," said Heather Barr, interim co-director of the Women's Rights Division at Human Rights Watch.
There is a green shoot of hope in today's dreary landscape, offering a challenge to the Taliban's leadership : Afghan youth. The country has one of the youngest populations on earth, with 63% of its people under the age of 25, meaning most Afghans don't remember what life under the Taliban was like. "This younger generation is saying, 'I'm not going to go back'. They're very determined, a force to be reckoned with," Barr said.
Some of that translates into fierce defiance. In the days following the Taliban takeover, Afghan female journalists interviewed members of the Taliban on live television and in the open air. Women also led protests in Kabul, draping themselves in the black, red and green colors of the Afghan national flag, which the Taliban wants to replace with its own, a white banner with a black Islamic inscription. They have confronted armed members of the Taliban and demanded their hard-won gains be preserved, holding up hand-written messages scrawled on sheets of paper and chanting, "Work, education and political participation is our right!"
Many young Afghan women, especially those who are educated, grew up listening with horror as their mothers and grandmothers relayed stories from the times of the Taliban. The daughters' lives were testament to change, and progress. "My family was a role model in our village," says 22-year-old economics student Mozhgan, also a pseudonym. "People look and say, 'their daughter studied and she can now help her family," she said from her home in Samangan in central Afghanistan.
But that life is quickly unravelling. Since the Taliban seized control of her province earlier this month, Mozhgan has attended a wedding with no music and stopped her numeracy lessons for adult women. She now doesn't know if she will be able to graduate, let alone work.
The hollow freedom of the exiled
Many Afghans felt they had no option but to try to leave, rather than wait to see if the Taliban's promises would spare their lives, and those of their families.
When Zainab's massive cargo plane landed and slid along the tarmac, the doors opened and a gush of hot air rushed over the evacuees. Some thought they were in Egypt but soon learned it was Qatar. They erupted into jubilation. "People started laughing and crying. Some were singing. They couldn't believe it," Zainab said days later from the sprawling U.S. military base where she is staying. "I didn't, though. I had no one to cry or laugh with."
Zainab now waits, alone, eating U.S. military-issued cookies and sleeping in the clothes in which she fled – a pewter blouse, dark pants and a yellow scarf. She hopes to claim asylum in a western European country. "I now have freedom. Freedom is the only thing that matters," she says between muffled sobs, as she moves between elation to fear for her brothers, but especially her sisters, whom she left behind in Kabul.
"They say more refugees are coming here," she says from her cot bed on the base. "I hope they manage, because the Taliban will never change."
This story was published in partnership with Rukhshana Media, TIME and The Fuller Project.
Editor's note: This story is the first in The Fuller Project's ongoing series, "Ending America's Forever War: What is next for Afghan women?", documenting what the end of America's longest war on foreign soil means for the women who have lived through it.
Before the Taliban started to dominate her district in western Afghanistan two years ago, Nadia was busy. When she was not teaching grown women how to read and write, traversing a patchwork of seventeen villages armed with little more than a few books, she was holding workshops for their husbands on women's rights.
But once the Taliban killed the local governor in 2019 and got wind of Nadia's program, they began sending death threats via religious officials and members of the local government. Once, insurgents shot at her car, narrowly missing her and injuring her husband. Another time, she and her children ran for their lives when armed men opened fire on them not far from her home. She moved her literacy courses underground, and started teaching a handful of women in her home.
But not long after President Joe Biden's mid-April promise this year to withdraw all U.S. troops by Sept. 11, a senior local official reached out and told her to be extra careful, forcing Nadia to make a choice. She decided the risks to her life, and to her family, were no longer worth taking.
Now the 42-year-old woman teaches no one.
"We are threatened, we are banned from our activities, we are not authorized to work," says the teacher by telephone, asking that her real name not be used out of fear that the Taliban would kill her. In late April, Nadia fled her native Zendeh Jan district in western Afghanistan near the border with Iran, banking on anonymity in the bustling provincial capital city of Herat, where she now rents a house.
As the United States and its NATO allies withdraw their final troops and contractors, ending America's longest-ever war, fears are growing about what happens to the country after. Many Afghans say they expect that the Taliban will return to power, either via a power-sharing deal with the Afghan government or through sheer force. The group already controls around half the country, ruling by its own definition of Islamic law. And there is widespread fear that if they do, the Taliban will reintroduce its notorious system of gender segregation from when the group ruled in the late 1990s, which barred girls and women from almost all work, the right to vote and access to education.
Messages of reassurance from Washington have been in short supply. The U.S. last week quietly vacated its Bagram air base, once the epicenter of the American war, without notifying the Afghan soldiers on guard, Afghan military officials said. Speaking to reporters ahead of the Fourth of July weekend, Biden said: "The Afghans are gonna have to do it themselves."
The plight of Afghan women and girls occupied much of the Western rhetoric around the 2001 invasion of Afghanistan, accompanying the stated aim of eradicating al-Qaeda for its role in staging the 9/11 attacks. Educating Afghan girls, a rallying cry of former first lady Laura Bush, in particular, became a U.S. focal point in Afghanistan. Soon after the U.S. invasion, tens of thousands of schoolgirls garbed in black uniforms and flowing white headscarves began attending schools across the country, symbols of tangible progress that are still touted by the international community today.
Almost twenty years on, teachers like Nadia, and their students, are grappling with what could be the end of education for generations of women and girls in Afghanistan. In interviews with TIME, The Fuller Project and Rukhshana Media, female teachers, students and local officials in Taliban-controlled parts of western Afghanistan say that the powerful insurgent group has over the last year already cut access to school for thousands of girls, especially teenagers.
If the scant gains won by women and girls in education disappear, it could have wide-reaching ramifications, from the role women play in shaping their country's future to donor support that keeps Kabul's hospitals open and government workers paid.
Experts see the treatment of women and girls by the Taliban as a barometer of the group's future actions as they take over large swaths of the country. The restrictions on education could only be the beginning of a large-scale rollback of women's rights in Afghanistan.
"After the foreign forces leave, I think schools and universities will close their doors to women," Nadia says, describing how her classes reached impoverished adult women for whom education had been unobtainable, and women who lived too far from the nearest school. "[The extremists] spread the propaganda that if your daughters go to school, you will become infidels."
The warnings pile up
Girls' education was once a pinnacle of success of foreign intervention, a signature achievement heralded by Washington as key to winning ordinary Afghans over. When U.S.-backed forces ousted the Taliban from power, in 2001, there were almost no girls in school across the country. Today, there are millions, and tens of thousands of women attending university, studying everything from medicine to miniature painting.
According to World Bank data, the number of Afghan girls attending first grade peaked in 2011 — the second year of former President Barack Obama's troop surge — at 65%. While statistics on the number of Afghan children in school are difficult to obtain and often contested, all indicators show girls' education is in decline. By 2015, female first graders had fallen to 57%, the most recent data available. Current literacy rates reflect the disparity between the genders: only 37% of teenage girls can read and write, compared to 66% of adolescent boys, according to Human Rights Watch. Today, UNICEF says of the 3.7 million Afghan children out of school, 60% of them are girls.
Melina, a recent high school graduate in Herat's Obe district, a far-flung, mountainous area captured by the Taliban from the Afghan government in June, says she barely managed to complete her own education this past year. As Taliban forces gained control of her area over the last two years, the warnings piled up.
"One day, we found burial shrouds that the Taliban had sent to our school, saying 'any girl continuing school will wear these,'" said Melina, who asked that only her first name be published. She still plans to go to university in Herat.
In the middle of May, after the Muslim Eid-al-Fitr holiday, her 13-year-old sister's school shut down after receiving written threats from the Taliban. They ordered all classes for girls her age to cease. An official at Afghanistan's Ministry of Education, who spoke on condition of anonymity, confirmed that a local Taliban commander had ordered schools teaching girls above grade seven in the district to close, the age a girl tends to enter puberty.
Another 18-year-old schoolgirl, who did not wish to be named, fearing for her life, says her high school in Injil district bordering Herat city received "pamphlets and letters" at night in April, ordering them to stop teaching girls. They carried the seals, signatures and stamps of the "Islamic Emirate," the name the Taliban uses for itself.
In the central Pashtun Zarghun district, a teacher who only gave her last name, Karimi, says insurgents have shut down girls' schools with male teachers — a common occurrence across the country.
"No man has the right to enter female educational centers," she says.
The Taliban have made quick territorial gains throughout the country since U.S. troops began leaving Afghanistan, including seizing at least 80 districts of the country's approximately 400 since May 1, according to a tally by the Foundation for Defense and Democracies' Long War Journal. More than one thousand Afghan security forces fled north into Tajikistan since last week.
Soon, beleaguered Afghan security forces will be left to fend off the Taliban and other extremist groups without any NATO firepower. In recent months, nonstate actors from the Taliban and groups aligned with Islamic State have targeted and killed a slew of women in the public eye, from journalists to health workers.
In early May, insurgents targeted students leaving school in Kabul, killing at least 90 people, most of them schoolgirls from the Shi'ite Hazara minority, an ethnic group long persecuted by the Taliban. Bloodstained backpacks and charred notebooks lay strewn among their dead bodies. The Taliban denied responsibility for the attack and condemned it, but stopped short of heeding calls by the Afghan government and Washington for a permanent cease-fire. The Afghan president, Ashraf Ghani, blamed the Taliban, which pointed the finger at Islamic State.
In almost all places where the Taliban rule, school is, at most, restricted to girls before seventh grade, when they are around 12 years of age. Official school uniforms are out. For girls, they are replaced with full-body burqas and niqabs, a veil that covers the face except for the eye area; for boys, the shalwar kameez, a long tunic and baggy pants. More hours are dedicated to the teaching of the Quran than before.
For now, the Taliban use state-provided textbooks, but shadow education officials call the shots with supplemented religious materials and separate committees for schools. "Local people and elders talked [in March] with Taliban members, trying to convince them to let girls continue their education higher than seventh grade," said Tor Mohammad Zarifi, a former member of Herat's provincial council. "But, unfortunately, they were rejected."
For the teacher Nadia, the repression has been gradual as her region's security situation deteriorated over the last two years. As more Afghans sided with or surrendered to the Taliban — many out of a need to survive — her activities have come under sharper scrutiny.
Where they are not threatened, girls are dissuaded from attending school, the buildings heavily damaged or used as bastions in fighting between Taliban insurgents and Afghan government forces.
The number of girls registered to take the kankor, the annual university entrance exam in May, dropped in parts of Herat compared to the past, warn local officials from the province. At Herat University, there are several hundred fewer teenage girls compared to last year, according to its vice chancellor for student affairs, Mohammad Dawood Munir. "The more a district is insecure and in conflict, the more deprived the girls are," he said.
In recent months at Taliban-controlled checkpoints across the country, human rights groups have observed insurgents blocking women, including supervisors of education facilities, from traveling without a mahram, largely understood to be a male relative over the age of 16.
"Just a few months ago, many of our female colleagues were able to travel with their mother as a mahram," said Terje Watterdal, country director of the Norwegian Afghanistan Committee, a nonprofit focusing on health and education that has worked in Afghanistan since the 1980s. "That is no longer possible."
This week, local journalists in Firoz Koh, the capital of the central Ghor province, circulated a photograph of a leaflet reading "Dear sisters, observe the hijab and do not walk around the city without a mahram." Beneath the text are two headshots of a woman. One depicts a burqa, and has a green tick beneath it. The other shows a woman's face framed by a black headscarf, and is covered by a large red cross. The top of the leaflet bears the insignia of the Taliban.
Taliban spokesman Zabihullah Mujahid, in a phone call, denied the Taliban was behind it. "Women in areas we control are already observing the hijab, so there is no need for this," he said.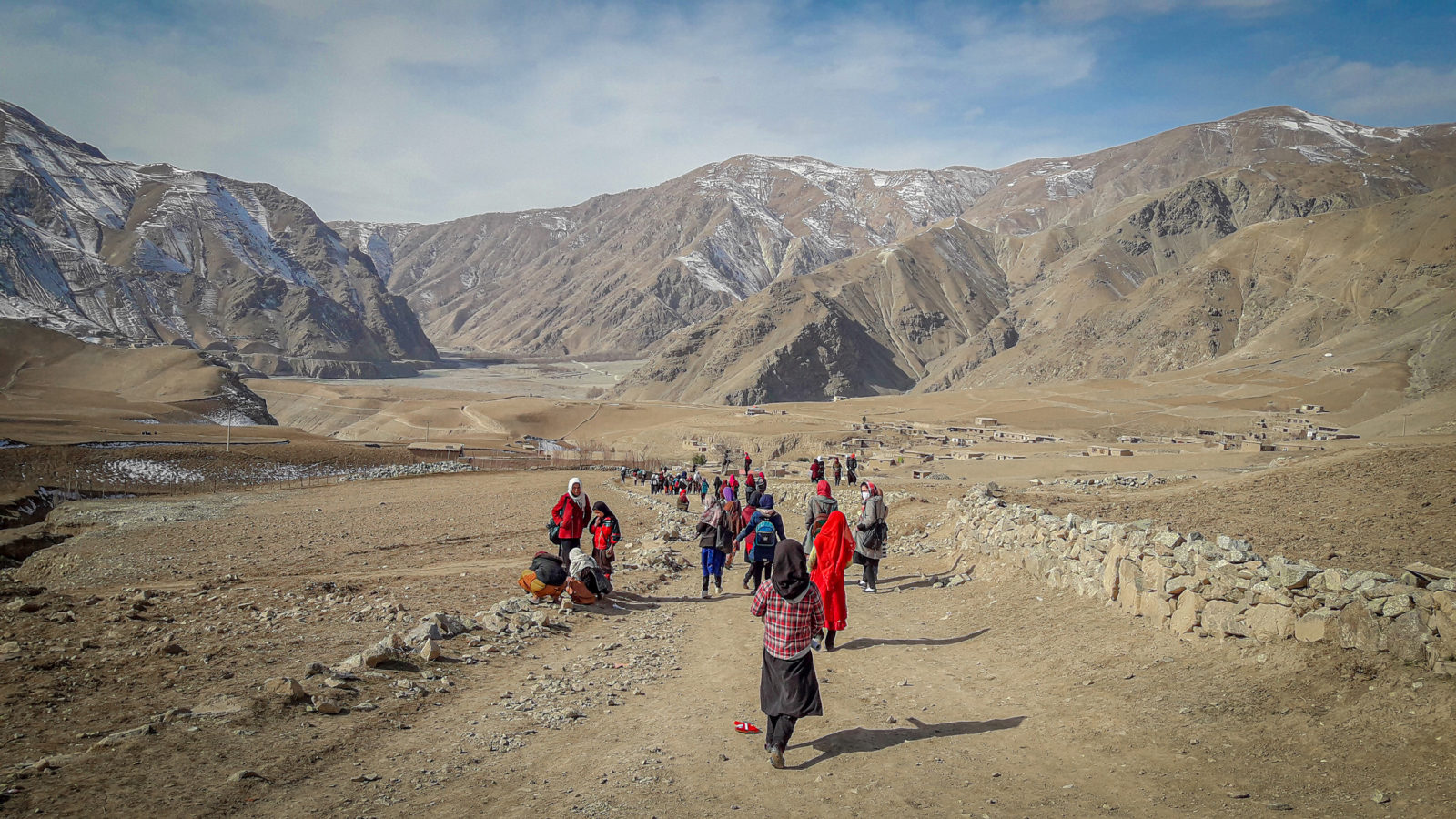 Education 'is the first thing to be sacrificed' by the Taliban
The United States has warned that any future international recognition or U.S. aid, on which the Taliban will be partially dependent, is conditional on their treatment of women and girls. "We will use our full diplomatic, economic, and humanitarian toolkit to support the future the Afghan people want, including the gains made by Afghan women and girls," a State Department spokesperson said in emailed comments.
In November, the European Union along with the United States and most other major donors, co-authored an advisory paper containing 10 conditions for aid, including women's rights and access to education, designed for both the Afghan government and the Taliban.
Yet donor support, which currently makes up 75% of the Afghan government's budget, is rapidly declining. Commitments from the United States, the European Union, Germany and the United Kingdom are, at best, in flux, and at worst, dropping steadily. The coronavirus pandemic is further squeezing budgets. At a conference in Geneva last year, donor pledges for Afghanistan for 2021-2024 were between $12-13 billion, at least $2 billion less, or a drop of around 20%, than the four-year period before. The U.S. has earmarked $600 million in humanitarian aid for the country this year.
The hundreds of billions of dollars spent fighting the war in Afghanistan has resulted in huge advancements for Afghans, and allowed women especially to thrive in media, government, education and civil society. But many gains have been incremental, and insufficient. Most Afghans live in poverty, the country has one of the highest maternal mortality rates in the world and there are millions of girls who never went to school, even for a day. "There is no political will to make sure we don't stop basic services from ending," said Ashley Jackson, Co-Director for the Centre of Armed Groups at the Overseas Development Institute (ODI), a global affairs think tank. "I think a lot of donors have checked out. First you had the pandemic, and a lot of embassies evacuated and never returned."
In April, the United States said it was withdrawing "nonessential" personnel from its Kabul embassy. A month later, Australia abruptly announced it was closing its embassy over fears of violence, and others in the heavily fortified diplomatic area are scaling back.
"The U.S. has emboldened [the Taliban] to tighten the noose," Jackson continued. "And there are some areas where the Taliban doesn't care less, and that's women's rights and girls' education. It is the first thing to be sacrificed."

When Taliban leaders were negotiating a peace treaty with the U.S.-backed Afghan government last year in Qatar, they sought to reassure key international players that they had reformed their brutal ways of the past. Gone were the elusive figures of twenty years ago. Now the Taliban was internationally savvy with a sophisticated press and public relations team. In recent years senior Taliban members have been feted by government officials for peace talks in Doha and Moscow, driven in chauffeured cars with blackened windows and visited high-end hotels — much that befits a regular diplomat.
But despite the outward transformation, the Taliban has, perhaps intentionally, offered scant details on how they would actually rule the country of some 40 million people if and once they regain control. They have said girls are allowed to attend school, women can work and be in public life, but this must all abide by "Islamic injunctions", murky phrasing which gives leeway to individual interpretation by local commanders. "Unfortunately I'm not very optimistic that the Taliban will change," said Sima Samar, the former chair of Afghanistan's independent human rights commission. "The areas under their control do not reflect the claims of a change in the Taliban's mindset on women's rights."
A major report by the ODI's Centre of Armed Groups in February examined the Taliban's policy — as it stands — on education and found very little guidance for female education. Of the 101 articles in the extremist group's education manual, only two are dedicated to women and girls.
In short, the articles say education for prepubescent girls is important and must be mandated; for teenagers the situation is less clear, with several vaguely-described, "favorable" conditions needing to be first met in the areas of security and Islamic education.
Mujahid, the Taliban spokesman, declined to comment on the insurgents' education policies. In an interview with Foreign Policy in June, Mujahid said the Taliban wanted "separation between girls and boys, women and men, in universities, schools or madrassas."
But as the Taliban grows in clout and territory, the group is also realizing that it must curry favor with the local population in order to succeed at statesmanship, its desired goal. Millions of Afghans have grown used to being educated, alongwith their daughters and sisters, and evidence is emerging of a Taliban willing to adjust.
At the end of last year, the Taliban and UNICEF came to an agreement in which the insurgent group would open thousands of informal schools in parts of the country it controls, namely elementary schooling for boys and girls. The deal opened a new chapter for the Taliban in its quest for international recognition and legitimacy.
Watterdal holds weekly WhatsApp calls with Taliban officials, who, he says, have understood that in order for their communities to have midwives, women must be educated through twelfth grade. Most of the young women studying in his group's education programs for health care workers come from Taliban-controlled communities, and have received the blessing of their community elders to attend. Two-thirds of all Afghan births take place at home.
"They are seeing the practical impact of some of their restrictive policies, that it actually hurts the health of their wives, their daughters, their sisters. So there is a realization that this has to change. And this is new," Watterdal said.
Even still, Nadia, the teacher, says she has yet to see a changed Taliban.
"I have not left the house in almost 10 days," she says. Gone is the time when she would hop about her province educating women, she says. Instead, she's a teacher with no pupils, piecing together a life in hiding.
Atefa Alizada is a reporter with Rukhshana Media, an independent Afghan news agency reporting on women. Another reporter with Rukhshana Media, who cannot disclose her name due to security reasons, contributed reporting from Kabul.
Editor's Note: This story was updated June 10, 2021 to reflect changes that occurred at Hippo Knitting factory as the result our reporting. This story was first published online on May 5, 2021.
Employees at a garment factory in Lesotho, a tiny country in southern Africa, say they have lived in fear for years. Each day at 7 a.m., as their sewing machines whirred, a familiar panic rose in many of them: It's not safe here.
At least 38 current workers say abuse and harassment took place within the walls of Hippo Knitting, a Taiwanese company located in Lesotho's capital, Maseru, an investigation by TIME and the Fuller Project found. All employees interviewed asked to remain anonymous out of safety concerns and fear of losing their jobs.
The factory, which employs 1,000 garment workers, about 90% of whom are women, predominantly supplies one brand: Fabletics, a popular U.S. athletic apparel line co-founded by actor Kate Hudson.
Thirteen women interviewed say their underwear and vulvas were often exposed during routine daily searches by super-visors. Another woman says a male supervisor tried to pressure her into a sexual relationship, while three women allege male supervisors sexually assaulted them. Several of those workers added that they were often humiliated and verbally abused by management. Workers say they were forced to crawl on the floor by one supervisor as a punishment. In one instance, a woman says she urinated on herself because the same supervisor prevented her from accessing the bathroom.
After TIME and the Fuller Project reached out to Fabletics on April 29 for comment on the alleged abuse at Hippo Knitting, the brand vowed to do "everything in [their] power to further remedy the situation," according to a spokesperson. The brand immediately suspended operations with Hippo Knitting and sent a "senior leader" to Lesotho to investigate.
"The top priority for Fabletics is the workers who are impacted, and we are committed to providing their full pay during the course of the investigation," the spokesperson wrote in an email sent May 2. Workers and unions in Lesotho confirmed that production at Hippo Knitting stopped on May 3. The investigation is ongoing, according to Fabletics.
A representative for Kate Hudson said she had no knowledge of the reports before TIME and the Fuller Project reached out and that "Fabletics management attested to Kate that they maintain the highest ethical and social standards in their factories and workplaces and have commenced a full and comprehensive investigation."
Many workers say they've been working under these conditions for years. In recent weeks, Hippo Knitting and factories across Lesotho closed because of massive worker strikes, part of a growing movement for better pay and improved working conditions. Last month, garment workers barricaded the roads with rocks, logs and broken streetlamps, blocking traffic for hours. Police deployed water cannons and rubber bullets to disperse protesters, while at least two workers died during the clashes, according to media reports. Spearheaded by various trade unions in Lesotho, the strikes coincided with the investigation of alleged abuse at Hippo Knitting. Many of the factory's employees took part in the protests to continue demanding change.
"We are tired, we need help, we work with bleeding hearts," says a woman who has worked at Hippo Knitting for a decade.
In the '80s, Taiwanese and South African companies set up some of the first garment factories in Lesotho, a landlocked country encircled by South Africa. They were drawn by its low labor costs, tax benefits, and access to both the southern African and international markets. When then-President Bill Clinton signed a trade deal called the African Growth and Opportunity Act in 2000, allowing duty-free exports to the U.S., the industry boomed. In the four years after, the number of people employed in the sector jumped to 54,000 workers—a 260% increase—according to the United States Agency for International Development (USAID) TradeHub.
Today, the thriving garment industry is Lesotho's second-largest employer, and its workers, an estimated 90% of whom are women, craft clothes for some of America's most prominent brands: Levi Strauss, Wrangler, JCPenney and Walmart. The U.S. is the largest recipient of Lesotho's garment exports, worth $303 million in 2019, according to USAID TradeHub. While the country is known for specializing in denim, the largest part of its apparel industry is dedicated to knit garments: T-shirts, tracksuits and sportswear, such as Fabletics' fast-fashion leggings that sell for $50 a pop.
In a country with persistently high unemployment rates, a steady decline in opportunities for men in the South African mining sector coincided with increased employment for women in Lesotho's garment industry, and women are now often the breadwinners of their households. Most of the Hippo Knitting employees interviewed were paid roughly $150 per month.
"I hate my job, but I cannot leave because there is nowhere else," says one female employee at Hippo Knitting.
Two years ago, a report by Workers Rights Consortium, a U.S.-based NGO, revealed widespread rape, sexual harassment and assault at three factories in Lesotho. The Taiwanese company that owns the factories, Nien Hsing, and the three U.S. brands that produce there—Levi's, the Children's Place and Kontoor Brands (owners of Wrangler and Lee)—then signed what's referred to as the Lesotho Agreement in a bid to protect workers from gender-based violence. As a result, employees must now attend training led by the unions and women's-rights groups. An independent body, with authority to dismiss perpetrators, was also set up to investigate complaints of harassment by supervisors and managers at the factories.
At the time, the three U.S. brands said they believed the program could "create lasting change" and that they were committed to making female workers feel "valued and empowered." Female employees have since said the Nien Hsing factories feel safer. But there are roughly 50 more factories across the country, including Hippo Knitting, where rights groups fear abuse goes unchecked. Meanwhile, the government in Lesotho has only offered a tepid response to the issue.
Over the course of 40 interviews, seamstresses, cutters and cleaners at Hippo Knitting factory allege that verbal abuse and harassment have been rife for years. But several say the unwanted touching during daily searches has worsened during the pandemic because different supervisors are now in charge.
At least 11 of the incidents detailed by employees have been independently verified with unions in Lesotho, family members or friends, and fellow workers in the factory. TIME and the Fuller Project have not been able to independently verify all of the workers' claims, but several Lesotho-based unions say their stories are common—and reveal a wider pattern of abuse across the garment industry.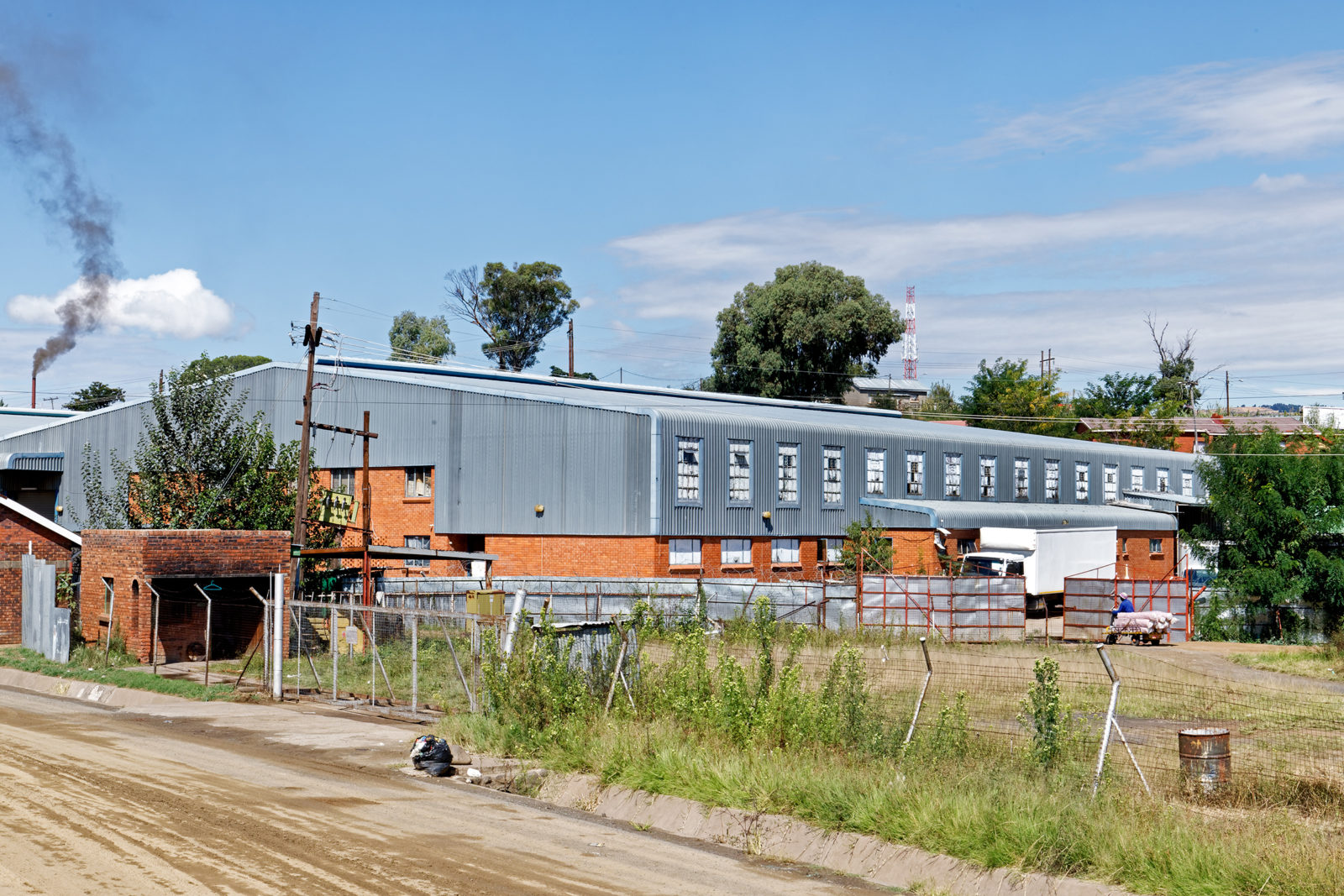 Each weekday, many of Hippo Knitting's workers set off on foot before dawn from nearby villages to arrive at the factory gate on time.
Workers have long worn masks to protect against fabric dust. Since the pandemic, management has introduced safety measures, including disinfecting the factory every couple of weeks and setting up hand-sanitizing stations, though workers point out that social distancing is nonexistent and windows are frequently closed, causing concern about poor air circulation. While Lesotho has only recorded a total of 318 COVID-19 deaths, it saw rising cases earlier this year.
Sewage from a septic tank spews onto the factory yard floor, where employees eat their lunch every day, workers say. "The stench is horrible," says one seamstress, "we breathe it [in] all day." At lunch and shortly after workers clock out at 5 p.m., supervisors conduct routine body searches as staff exit the building, checking for stolen items with little privacy.
"A supervisor pulled my jeans down, pulled my tights elastic toward her and let go … it slapped my [fibroids] operation wound. I was in so much pain," says one female employee. "She has done this to numerous women … and told several that they don't shave their private parts." At least three workers in the factory independently mentioned that they witnessed the operation wound incidentduring their interviews with TIME and The Fuller Project.
Another female employee says she experienced almost daily harassment from a male supervisor for six months. Halfway through 2020, she says her male supervisor started remarking on the way she looked.
"He made comments about my weight, that I have a beautiful body … the things he would do to me if he got the chance," she says over the phone, her voice matter-of-fact. When she refused to engage in a sexual relationship, he "started trying to make my work hell," assigning her increasingly difficult sewing styles, she says.
After she reported his behavior to the factory's HR department, he was moved to another production line. She says she feels safer now but is concerned the issue has not been dealt with properly. "Many women have gone through this; it is not just me," she says. When asked about the male supervisor's behavior toward women, another female employee who has worked at the factory for over a decade said it was common knowledge. "Everyone knows [about him]," she says.
TIME and The Fuller Project spoke with three women who say they have been sexually assaulted by male supervisors, including incidents where supervisors grabbed the workers' genitals and repeatedly smacked their buttocks.
"Most of the factories [across Lesotho] have sexual harassment," says Tsepang Makakole, deputy general secretary of Lesotho's National Clothing Textile and Allied Workers Union (NACTWU), which represents more than 4,000 workers. "But people are afraid to lose their jobs."
Makakole noted the landmark Lesotho Agreement gave workers at the Nien Hsing factories the confidence to report harassment issues to NACTWU. But without this system in place at other factories or among other employers, he fears workers are staying silent.
"If the factory doesn't have [the Lesotho Agreement in place] … that's the problem," he says. "People know if they speak up it won't be easy for them."
Co-founded by Hudson in 2013, Fabletics began as an online brand selling what they describe as accessibly priced workout wear. Hudson and her partners, Adam Goldenberg and Don Ressler, saw a gap in the market for high-quality clothes that "you could perform in" but that were "cute, fashionable and affordable," Hudson told the Daily Front Row, a fashion industry publication, in 2019.
With the help of Hudson's star power, Fabletics took off. More than 1 million orders were shipped in the first six months, making it one of the "fastest-growing fashion brands in history," according to Fabletics' parent company, TechStyle Fashion Group (formerly JustFab Inc.).
Four years ago, Hudson said onstage at the Fast Company Innovation Festival that she believes Fabletics' subscription model was the key to its success. Shoppers can opt to pay a monthly $49.95 fee in exchange for access to "VIP Member" prices (such as 50% off) to receive new gym wear through the mail.
All brands under the TechStyle umbrella—including ShoeDazzle, co-founded by Kim Kardashian, and singer Rihanna's Savage x Fenty—rely heavily on subscription memberships. Over the years, customers have accused both Fabletics and TechStyle of scamming shoppers into unknowingly signing up for recurring monthly fees that are difficult to cancel. Amid criticism, in 2016, Fabletics vowed to make membership fees clearer though customers still regularly take to social media to decry the brand's hidden costs.
Meanwhile, Fabletics has been hailed a retail success story, expanding quickly across Europe, Australia and Canada, and into more than 50 U.S. brick-and-mortar stores. In 2019, it raked in more than $400 million in sales. Celebrities such as singer Kelly Rowland are regularly enlisted to collaborate on limited collections. Last year, comedian Kevin Hart became an investor and the face of Fabletics Men, an extension of the women's line, and has since curated a dual-gender collection with his wife Eniko for the brand.
Neither Rowland nor the Harts responded to multiple requests for comment.
On social media, the message from both Fabletics and Hudson is one of inclusivity, empowerment and sunny Californian confidence mixed with social justice. "When women rise, we all rise," reads one Instagram caption on March 8, International Women's Day, this year. After the police killing of George Floyd in Minneapolis last May, the brand committed to eradicating "racism, racial inequality and racial injustice." On her own Instagram page, Hudson wrote: "[We] invite you to stand with us, in solidarity with the Black community. Let's make a real difference—together."
In an emailed statement, the Fabletics spokesperson described the allegations as "incredibly disturbing" and that they "go against everything that we stand for." The brand has opened an investigation into the claims, and moved up a previously scheduled third-party audit of the factory.
Three workers confirmed production at Hippo Knitting stopped on May 3, after TIME and The Fuller Project raised the allegations, and the factory owner is also investigating.
The fast-fashion industry has long relied on the exploitation of garment workers, who are predominantly women of color, to quickly produce low-cost clothing, and as Fabletics expands, women working thousands of miles away in unsafe environments have been bearing the burden. Rights groups say some brands maximize their own profits while often turning a blind eye to unpaid overtime and subpar human-rights standards.
"Global brands have long outsourced their responsibility," says Mirjam van Heugten of the Clean Clothes Campaign, an Amsterdam-based alliance of labor unions and nongovernmental organizations. "The demand for fast fashion falls backward down the supply chain to these women, who are put under immense pressure with little protection."
At Hippo Knitting, supervisors shout and pile on the pressure to hit their targets, say workers. One employee says they are given "loads" that are "not humanly possible." Women are arranged in sewing lines of roughly 30 and are pushed to complete up to 1,400 garments each day.
If they miss the target, workers say management often forces them to stay beyond 5 p.m. without pay, violating Lesotho's labor laws, which stipulate a 45-hour workweek limit. Across the industry, government enforcement of laws to protect workers from gender-based violence is also notoriously weak, say rights groups.
In the 1990s, retail giants like Nike were plagued by reports of workers paid less than $2 a day, and subsequently pledged to end child labor. Following the international outcry, fashion brands began to carry out voluntary social audits. Now, across the industry, brand representatives or independent third-party auditors will visit factories to ensure their suppliers are adhering to various labor, environmental and social standards, such as fire safety and workplace discrimination.
Factories that supply products for TechStyle and its affiliated brands, such as Fabletics, are contractually obliged to honor their "Ethical Sourcing Code," which includes compliance with working hours, and prohibits discrimination and harsh and inhumane treatment of workers. To evaluate this, TechStyle says it "subjects its suppliers" to "random unannounced" audits.
In an emailed response to the allegations, Grace Lin, the owner of Hippo Knitting, confirmed that annual audits are conducted at the factory, the most recent taking place in April this year. But workers say management pressures them not to tell auditors the truth and threatens that they will lose their job if they do.
That comports with the warnings by advocates, who have long called voluntary inspections merely a box-ticking exercise designed to give brands deniability if problems later emerge. When asked about audits in Lesotho, Solong Senohe, general secretary of United Textile Employees (UNITE), another large union, said they are mostly ineffective and sometimes misused.
"The employees are hesitant to report the sexual and physical abuse, as it often amounts to no action against the managers," says Marorisang Letseka, senior organizer at the Independent Democratic Union of Lesotho (IDUL), "and results in the worker being attacked to a point of wanting out of the job."
The gray walls inside the men's bathroom at Hippo Knitting are chipped and cracked, the floor punched with pockets of black dirt. Early one afternoon last year, a male employee was patiently waiting his turn to use the urinal, he says, when the female HR manager, Ellis Tseka, entered. She "pressed" him against the toilet door and "reached" for his zipper to try and touch his genitals, he says.
"I was angry," he says over the phone. "I was so embarrassed by that lady. Why did she do that to me?"
In interviews with workers, many issues revolved around Tseka. She was both verbally and sexually abusive, says Letseka from IDUL. She was often present when harassment occurred and took no action, according to IDUL. Many workers say they reported incidents of abuse from other staff members to her, but very little changed.
The male employee reported the toilet incident to his union later that day, which advised him to take the matter to the labor court. "It's like I'm in jail," he says, referring to his workplace. "I have no right to say anything to anybody here."
A female employee says Tseka forced her to crawl along the factory floor as punishment for being late. "I had an injury on my knees, and they were inflamed," the employee says. "I cried the whole time, as I was in pain."
She told her daughter about the incident, who confirmed to TIME and The Fuller Project that her mother's knees were swollen when she arrived home from work that day last year.
Unions and employees say practices inside the factory were also substandard. One female employee says she was made to operate heavy machinery late into her pregnancy, and that Tseka demanded to see a marriage certificate before giving her maternity pay. As the worker was unmarried, her child's surname was different to hers. In order to obtain the right documentation, she married her partner.
TIME and The Fuller Project spoke to the worker's husband, who confirmed his wife told him a marriage certificate was needed, and have viewed the paperwork she produced for Tseka.
Of all the sexual and verbal harassment inside the factory, many workers say Tseka's behavior was the most damaging. The one person who should provide a safety net failed them, they say. "She is supposed to protect us," says one female employee, "but if you go to her, you will come back even in more pain."
In an emailed statement, Lin, the owner of Hippo Knitting, said she is "committed to addressing [the allegations] with the seriousness they deserve" and has "initiated a process of engaging an independent international auditor
to establish the credibility and basis of these allegations."
Tseka is no longer employed at Hippo Knitting, according to Lin, who added that she is working with the unions "on a plan of action with clear time lines and deliverables to ensure that all these issues are addressed adequately." Tseka did not respond to multiple email and phone call requests for comment.
Police in Lesotho are now investigating at least three cases of sexual offense and public indecency at Hippo Knitting, according to the national police spokesperson Mpiti Mopeli. "There are more allegations, though the victims are skeptical about reporting in fear of losing their jobs," Mopeli said.
The perpetrators must be "brought to justice and expelled from the factory," says one female employee. "As long as they are still present, then harassment won't go away."
For many on the ground, one viable option to help curb gender-based violence at garment factories could be to extend the new Lesotho Agreement across the entire industry. "I've been asked, even by [members of] the public, Why is the project only at Nien Hsing?" says Senohe from UNITE. "It should cover the whole industry, not only certain companies. Women at Hippo Knitting also want protection."
Since this story first ran online on May 5, three Hippo Knitting employees have confirmed that they received their May salary, despite a reduction in work due to Fabletics' investigations. While the brand has promised not to pull production, according to Letseka from IDUL and several Hippo Knitting employees, there are still concerns about layoffs and short time, whereby staff are sent home unpaid until there is more work.
At least one worker confirmed that management told him on May 28 not to return to work. He was on a temporary contract and said he was not provided with "any assurance" that he would return. Lin, the owner of Hippo Knitting, did not respond to multiple requests for comment on job cuts.
"They say we are causing instability in the factory," says one female Hippo Knitting employee who spoke up about the abuses. "To Chan [the factory owner] says there is no work [and] the buyers are pulling their orders. [But] the investigators are always assuring us they are here to protect us, our jobs are secure and we should speak freely."
Meanwhile, in the U.S, as a pandemic-pummeled retail industry lies in tatters, Fabletics has announced it's expanding into 24 more stores across the country and launching a new fitness app. The brand's success has yet to translate into any permanent improvement in working conditions in Lesotho. Nor has it quelled any sense of unease for workers.
"We need to be treated like human beings and not animals," says one female Hippo Knitting employee. "We need to feel free."
—With reporting by Madeline Roache and Maher Sattar
The three young women agreed they would escape by nightfall. They didn't have any money or documents, but Jessica, 19, and her friends knew it was time to go. The brothel was not as crowded as usual: since the start of the coronavirus outbreak, the client base had fallen. Together, they waited for night to settle and for the madam to retire to her room. Then, they sprinted for the highway that runs through Papara, a town in the far north of the Ivory Coast, close to the border with Mali.
Jessica and her friend, Favor, had been trafficked into prostitution about a month earlier. (Both women, as well as the other survivors of trafficking in this story, asked TIME to use only their first names out of safety concerns.) Back in February, a female friend to both girls' families in Nigeria had promised them jobs in a clothing factory in the Ivory Coast. Udochi, 20, had been trafficked in a similar manner earlier in the year. Upon arrival in Papara, all three women found themselves in a brothel, where the madam forced them to have sex with multiple men for a daily salary of $1.29.
The women fled the brothel in March, but almost four months later they are still in the Ivory Coast: three out of hundreds of trafficked Nigerian women who anti-trafficking advocacy groups believe are stuck abroad during the COVID-19 pandemic, as border closures hamper repatriation efforts across the region. When the Nigerian government imposed a state of emergency lockdown in March, they paused international flights in an attempt to curb the infection's spread and unwittingly left trafficking survivors stranded in dangerous locations far from home. Now these women are anxiously awaiting evacuation from across Africa and the Gulf, as authorities contend with towering logistical hurdles involved in organising safe flights and the virus continues to rage around the world.
Jessica, Favor and Udochi are safe in a women's shelter in Daloa, a city in the west of the Ivory Coast, but they don't know when they'll be able to get back home. "I'm happy I escaped that place," Jessica said, speaking by phone on a Saturday evening in June. "But we want to go back to Nigeria."
For two weeks I have not slept, I don't understand what's happening to my body. I feel sick. Please help me.
That the pandemic is having a disproportionate impact on trafficking survivors is agreed by experts worldwide. A forthcoming OSCE Office for Democratic Institutions and Human Rights and U.N. Women survey reveals that almost 70% of trafficking survivors from 35 countries say COVID-19 has negatively affected their financial well being, while more than two thirds say that their mental health is suffering as government-imposed lockdowns trigger memories of the last time their freedoms were taken away.
More than half of the survey participants worried that the outbreak would increase rates of human trafficking in the future, while 43% believed women and girls would be the most at risk in coming months.
Trafficking from Nigeria to other African countries is not a new phenomenon, though the nature of the crime means it's impossible to accurately track. The International Organization for Migration believes that hundreds if not thousands of Nigerians—the majority of whom are women—are trafficked out of the country every year, often across the continent. Of the 20,500 Nigerian survivors of exploitation helped by the IOM since 2017, some 90% needed to be brought home from Libya. Nigeria's National Agency for the Prohibition of Trafficking in Persons (NAPTIP) identified 20,000 trafficked Nigerian women in Mali in 2019 alone. The Nigerian embassy in Ivory Coast repatriates 20 women monthly, Mohammed Abdulkadir Maccido, the Charge d'Affaires told Nigeria's Punch newspaper last year.
According to the IOM, most of the trafficking survivors who they work with in Nigeria are women of around 21 years old. They're often lured with promises of jobs in other African countries, or in Europe or Asia: countries often seen as a welcome escape from rising unemployment in Nigeria. Once the women reach their destination, traffickers hand them off to "madams": female ring leaders who are often victims of trafficking themselves. The madams force the women into prostitution and domestic work in order to pay back the "debts" they've incurred for food, transport and accommodation since leaving their homes—typically thousands of dollars that can take years of forced labor to repay.
During COVID-19, the number of women who are trafficked from Nigeria continues to grow—even as local governments curtail legal movement. When awareness of the coronavirus began to spread in March, authorities in Nigeria and the Ivory Coast swung into action early, fearing an outbreak could decimate their health care systems. By the end of the month, both countries had closed their land and air borders. But despite the restrictions, international law enforcement agents and anti-trafficking organizations say trafficking networks remain active in the region, as traffickers bribe their way across borders in order to move freely.
The Nigerian government began lifting domestic travel restrictions earlier this month, but there is no confirmation yet of when external borders may open again. Nigeria, one of the worst hit countries on the continent, had reported over 34,000 cases and more than 700 deaths by July 16.
We are crying daily. We're working daily. Please have mercy upon us.
Meanwhile, lockdowns are limiting repatriation efforts and leaving trafficking survivors stranded. According to the OSCE ODIHR and U.N. Women survey, at least a third of anti-trafficking organizations worldwide are struggling to repatriate survivors during the crisis. In 2018 and 2019, the International Organization for Migration (IOM) worked with the Nigerian government to repatriate upwards of 7,000 survivors of exploitation each year—men and women who had experienced forced labor and prostitution. Since the start of this year, they've only succeeded in repatriating 620 individuals. "It's a drastic drop," says Franz Celestin, IOM chief of mission for Nigeria. "The longer we wait, the more they'll be exploited and the longer the pain and suffering will last."
Motilola Adekunle, co-founder of Project Ferry, a Nigerian NGO working with trafficked survivors and helping Jessica and Favor, agrees that the coronavirus is hampering efforts to support exploited women. "This pandemic has literally put a halt to our work because people cannot move around and that's an issue," Adekunle says. Work that previously took days, she adds, now takes months, as systems put in place by nonprofits and governments to repatriate and support trafficking survivors have been turned upside down.
"The Nigerian government has organized so many flights that now they don't have any space," says Celestin, of IOM. "It's very difficult." He said IOM is currently working to find the funding to shelter 180 survivors of exploitation who are awaiting repatriation from Niger. Until IOM can work out where to house them, they must remain in Niamey and Agadez, far from their families and unsure of when they'll be able to get home. Celestin hopes to have them back in Nigeria by the end of July.
Since March, repatriation flights have been allowed into Nigeria's Abuja and Lagos airports, but a 14-day quarantine is imposed upon arrival and problems have arisen regarding where survivors should stay in the days following their return.
Even in ordinary times, the process of recovery following repatriation can be complicated. Nonprofit staff will wait at airports across Nigeria to bring trafficking survivors to previously-identified "safe spaces"—a women's shelter, or a hotel. Counselling and psycho-social support follows in the form of daily or weekly sessions, while local nonprofit organizations often team up to ensure the women can find employment nearby, and that they won't fall victim to "re-trafficking" back over the border.
But during the pandemic, the risk of spreading COVID-19 means staying in shelters is no longer an option. In an attempt to help the women reintegrate, organizations have begun rolling out counselling sessions and skills training online, but not everyone has access to the Internet.
"We've tried to help some women with getting online during the pandemic," says R. Evon Benson-Idahosa, founder of Pathfinders Justice Initiative, a local anti-trafficking initiative that's helping trafficking survivors set up their own businesses. "But many of them just do not have the capacity to switch."
There was nothing I could do. I resigned to fate.
Outside of the African continent, hundreds of Nigerian women also say they're stranded after experiencing trafficking and exploitation. An estimated 5,000 to 10,000 Nigerian women are trapped in forced domestic servitude in the Middle East. Nigeria's National Agency for the Prohibition of Trafficking in Persons (NAPTIP) has received over 650 reports of trafficked Nigerian women in Lebanon and Oman in 2020 alone.
Toluwalase, 30, has been trying to get back to her home in Nigeria since June. When the single mother-of-three boarded a plane from Abuja, Nigeria's capital, nearly two years ago, she was aware she would be a domestic helper in Oman with a $200 monthly salary. What she didn't know was that her employers would force her to work from dawn to midnight with little sleep, that they would confiscate her passport and delay her salary, and that her boss would sexually assault her.
"I was not told it's this terrible," Toluwalase told TIME over WhatsApp. She would not have agreed to work in Oman if she had known about the abuse of migrant workers like her, she says.
Part of the problem is the kafala system—which transfers control of immigration and employment status of migrant workers to individual employers—in countries including Lebanon and Oman. That means reporting abuses to local authorities is rarely an option: legally, a migrant worker cannot leave the country without his or her employer's permission, even if they're experiencing abuse. Many migrant workers from Nigeria do not speak Arabic, which also limits their ability to seek help.
Pre-COVID-19, women who were exploited by their employers overseas could contact local human rights advocacy groups, who would then notify Nigerian officials to arrange their journey home. But lockdowns have put a pause to activists' work, and the migrant workers have found themselves stuck.
Julie Okah-Donli, NAPTIP's director, said that the agency is working with Nigerian embassies across the Gulf and Middle East to evacuate exploited migrant workers and sex trafficking survivors. But because of movement restrictions, the agency can no longer reach stranded women in Europe and Asia. Without intervention, violence and abuse go unchecked. "I can imagine the numbers that have died, unreported during this pandemic," she says.
There is no official timeline for bringing trafficked persons back home to Nigeria, confirms a spokesperson for the Nigerian ministry of foreign affairs. There are signs to suggest progress is being made, albeit only in certain regions. In May, the IOM and the Nigerian Government were able to repatriate 99 Nigerians who were being exploited in Lebanon—49 of whom were survivors of labor and sex trafficking. Bringing back so many Nigerians from the region in one go is unprecedented: usually the IOM would receive word of two or three trafficking cases in Lebanon every month.
"We're seeing a much more organized approach from the government in dealing with this," said Celestin. "Usually with victims of trafficking, it's all under the radar. Maybe it's because of the spotlight that's on this, but we are seeing a concerted effort." The repatriations from Lebanon were possible because the Lebanese government supported Nigeria logistically and financially, said Geoffrey Onyeama, Nigeria's minister of foreign affairs.
Similar efforts have yet to be seen elsewhere. For Jessica and her friends in the Ivory Coast, the longer repatriation takes, the longer they're at risk of re-trafficking and violence. Although in a "safe house," the threat remains that their traffickers will track them down and force them back into prostitution. All the women can do, they say, is hope that the Nigerian government will step in soon.
Those far away in the Gulf share the same wish. Although Toluwalase says that government officials have not responded to her requests for help, she remains optimistic about leaving Oman. The risk of contracting COVID-19 is low on her list of concerns: She is still sexually harassed by her employer and two years of abuse have taken a physical toll—swollen feet, backaches, insomnia. Getting home is the priority.
"If the evacuation flight is ready for us, if our government would evacuate us back home, I will be excited," she says.
When Fawzia Rawof heard gunfire and screams, she knew there were only three options: run, hide—or die.
The doctor and midwife supervisor at a 55-bed maternity ward in Dasht-e-Barchi, a neighborhood in southwest Kabul, was no stranger to the militant attacks that routinely rocked the area and the rest of Afghanistan.
Just after 10 a.m. on Tuesday, May 12, unidentified gunmen stormed her government-run hospital. They moved methodically past the emergency ward and the operating room toward their target: a bustling pink-walled maternity ward supported by Doctors Without Borders filled with midwives, women, and newborn babies.
There was no time to think, to hesitate. Colleagues and patients rushed around Rawof, clambering over each other in desperation. She ran to another room to hide, but the door was locked. So was the next door. The third door opened, but the room full of people, also in hiding, wasn't safe. Bullets can tear through walls, through doors, with frightening ease. Around her, people jumped from first-floor windows.
Finally, Rawof found an open room where other colleagues were hiding that seemed safe. It wasn't a heavily-fortified room that could withstand gunfire or bombs, but the door was thicker than most. Someone locked the door behind her. She hid. The gunmen pounded on the door.
"They were screaming and telling us to open the door: 'If you don't open, we are going to shoot,'" Rawof recalls.
She said a prayer as the militants sprayed gunfire into the maternity ward, where women huddled their newborn babies close. "This is our death now," she remembers saying.
Rawof survived. But on the other side of the door, gunmen killed at least 15 mothers, two children, and one MSF midwife, according to MSF. Afghan officials have said the attack left 24 people dead in total.
No group has claimed responsibility. The Afghan government has blamed the Taliban for the violence. Zalmay Khalilzad, chief U.S. negotiator for the U.S.-Taliban peace talks, has said that the U.S. government believes the Islamic State is responsible. Regardless of who carried out the attack, MSF Afghanistan program director Frederic Bonnot has said that the gunmen's intent was clear: "They came to kill the mothers."
Since 2014, the maternity ward, run by Doctors Without Borders, known in French as Médecins Sans Frontières (MSF) has been a lifeline for pregnant women in Dasht-e-Barchi who can't afford or access life-saving medical care. Women knew they could trust the highly trained midwives and medical professionals who had delivered over 5,000 babies since January alone.
But on that bloody morning in May, the very things that made the maternity ward successful—its dedication to women, support and staffing from an international organization, affiliation with the Afghan government, and location in the predominantly Shi'ite neighborhood of Dasht-e-Barchi—made it a target.
Devastating blow to efforts to support women's health
The May 12 attack has dealt a devastating blow to Afghanistan's years-long internationally-backed efforts to support women's health across the war-torn country, and further instilled fear in the medical community and the women it serves.
The attack comes at a time when the future of women's health efforts in Afghanistan is already complicated: the coronavirus pandemic has further limited access to already strained health services, months of political infighting led the U.S. to cut a billion dollars in aid that props up the Afghan economy and security forces, and controversial U.S.-brokered peace negotiations with the Taliban have proven, so far, deadly and unsuccessful.
On Friday, Rawof said her colleagues received the call they had all feared: MSF was suspending its medical services at the hospital following the attack. It was a "necessary but difficult decision," MSF country director Filipe Ribeiro said in an interview with the Associated Press. "Women and children in Kabul are now deprived of a fundamental health care service they need, in a context where access to essential care is already limited," he said.
Health advocates in Kabul and across Afghanistan, one of the most dangerous countries in the world for women, are now left trying to figure out how to best support women when health efforts are under threat by both militants and a deadly, invisible virus.
The recent violence targeting women and women's health advocates could deter women from seeking help, says Maryam Bahram Azimi, a gynecologist at the maternity ward in Kabul's Isteqlal Hospital.
"Naturally, women are afraid," she said. "And they don't want to go to the maternity wards [for] their pregnancy. But this is very dangerous for the mother and the child and the mortality rate of the mothers and the children will [increase]."
The added hurdle of coronavirus, which has infected a large number of Afghan health workers, has made accessing safe medical care that much more difficult, and frightening. Some clinics have shut down entirely, with women being told to seek at-home midwife support instead of coming to clinics. Afghanistan will likely face a "health disaster" due to coronavirus, the Special Inspector General for Afghanistan Reconstruction said in a recent report.
Afghanistan has seen notable advancements for women across the country since 2001, when U.S. forces invaded Afghanistan partially under the premise of liberating women, though tens of thousands of Afghan women still lack access to basic health care and many must travel long distances to seek routine care. One of the most obvious advancements is the drastic increase in midwife support to women during childbirth, largely made possible due to millions of dollars in foreign funding.
Drop in maternal mortality
In 2002, Afghanistan's maternal mortality rate was one of the worst in the world. A survey commissioned by the Afghan Ministry of Public Health, the U.S. Centers for Disease Control and Prevention, and UNICEF found that 1,600 women died due to childbirth complications — many of them avoidable — out of every 100,000 live births.
Since then, the maternal mortality rate has plummeted to around 638 maternal deaths (compared to 19 in the United States, and 2 in Sweden) per 100,000 live births as of 2017, though collecting accurate data proves challenging when large swaths of the country are controlled by militants. (Whether or not Afghanistan's maternal mortality rate is accurate has been called into question in recent years.)
The drop in maternal mortality can be partly attributed to the fact that Afghanistan and the international community have invested heavily in a coordinated campaign to train, deploy, and support thousands of midwives across Afghanistan in the last two decades. Some of these midwives work in government hospitals and maternity wards like the one attacked on March 12. Others, supported by international organizations and the Afghan government, cross into militant-controlled areas of the country to help support women during childbirth who might otherwise give birth alone.
Even still, violence has hindered advancements in maternal health access.
"When planning and implementing health-related programmes," MSF noted in a March report, "international donors and local stakeholders must acknowledge that the humanitarian situation in Afghanistan has not improved, and in some areas has worsened in recent years."
Without the MSF-run maternity ward in Dasht-e-Barchi, women will have to seek out other public or private medical facilities that offer varying levels of care and availability.
The maternity ward, for now, is not accepting patients. In a country where there are an estimated four doctors for every 10,000 people, reports Reuters, the closure of one maternity ward is no small thing.
"Women are coming for registration day and night," says Rawof, only to be turned away. "They really need MSF's help."
Health workers under attack
Health workers have routinely come under attack in Afghanistan, though the March 12 attack has been met with particular horror, due to the target killings of pregnant women, mothers, and babies. In July 2018, militants attacked a midwife training center in eastern Afghanistan, killing at least three. In January 2018, gunmen disguised as medical workers armed an ambulance and killed over a hundred people in front of Kabul's Jamhuriat Hospital. On Tuesday, Afghan forces attacked a clinic in the embattled city of Kunduz, reportedly destroying the clinic's emergency ward.
Nor is it the first time MSF, specifically, has suspended its medical activities. The international medical charity pulled out of Afghanistan from 2004 to 2009 following the brutal targeted killing of five MSF staff members in the northwestern province of Badghis.
In 2015, a U.S. gunship fired 211 shells at an MSF hospital in Kunduz, Afghanistan, killing 42 people, including 14 MSF staff members. The U.S. military claimed it had received intelligence that the hospital housed Taliban fighters. MSF pulled out of Kunduz following the attack, only partially returning in 2017.
The security situation has long dictated access to medical care in Afghanistan, and whether or not international organizations are willing to take on the risk to help save women's lives.
"Health workers need international partners," says Azimi, the gynecologist, who says she and her colleagues continue their work out of "love for their country."
Rawof, too, says they have no choice but to go on, even if clinics close and medical efforts are restricted.
"We've [received an education] to serve our people," she said. "To help mothers and their children."
When Rawof exited the hospital in her uniform in the afternoon of May 12, after security forces rescued staff and patients hiding inside, she saw women from the neighborhood standing on their balconies.
Their hands were raised in the air. They were praying for her.
"May Allah save you all," she recalls them saying.
Khwaga Ghani contributed reporting from Kabul.
At 10:30 p.m. on Tuesday, I got a text message saying my children's school in D.C. would close the next day for a deep cleaning. I'm a single mom and am lucky to have caregiving and extended family support in moments like this, but I'm also viscerally aware of what other single mothers go through. The note made me realize just how hard the COVID-19 pandemic is going to hit women.
Since the first schools shuttered in Washington State last Monday, widespread school closure seems inevitable. Women are as much as ten times more likely than men to stay home from work with sick children, and there are five times as many single mothers as single fathers in the United States. With over 40 million children in pre-K through grade 8 in U.S. public schools, and more in charters, private schools and day cares, a great deal of parents—mostly mothers—are facing missed work days.
Women also disproportionately hold jobs in industries with poor protections, such as paid family leave and paid sick leave, without which they can't afford to miss days of work to care for children or elderly relatives—let alone themselves. Two-thirds of tipped restaurant workers in the United States are women, who already face low-wages, unreliable hours, and few benefits, as reported in TIME Magazine in partnership with The Fuller Project in September. Fifty-five percent of workers in the restaurant industry and accommodations sector do not have paid leave, according to the Bureau of Labor Statistics. The inability of women to stay home when sick clearly creates additional risk for everyone.
And women are disproportionately represented in fields that will expose them to contagion, including professional care-giving roles for the elderly. Only 30% of surveyed nurses said that their employer has sufficient Personal Protective Equipment stock on hand to protect staff if there is a rapid surge in patients with possible coronavirus infections, according to a statement by National Nurses United. Women comprise 92 percent of nurses.
When staying home is not an option
Staying home is not an option for Amparo Ramirez, a 38-year old single mother who works preparing food in Los Angeles International Airport. She has no sick leave left and no health insurance, reports California Health Report. Meanwhile, jobs in the restaurant industry are likely to get cut as customers increasingly eat at home to avoid contagion.
For women with no social support system, the economic hardship of this pandemic could be even more immeasurable. "Our clients are already at a heightened state of alert, trauma and anxiety," Mercedes Lemp, Executive Director of My Sister's Place shelter for battered women, told me yesterday. "We have clients who can't be isolated and are living in a communal space." In a given day, about 40,000 adults and children are in shelters or in housing with support from local domestic violence programs, according to the National Network to End Domestic Violence.
I've volunteered at the shelter (my sister is their board chair), playing with the kids while the women hurriedly eat after a long work day. Many of the women are entry-level service workers. If children are out of school, they will have to stay in the shelter and watch them. For those women who recently graduated to living with their kids in an apartment with rent support from the shelter, losing their jobs would mean they don't have income for food and utilities.
Further, domestic violence is known to increase in times of economic hardship—a possibility that most shelters are not resourced to address. The number of domestic violence cases reported to local police in Hubei province, in China, has nearly tripled in February after many people were quarantined in January due to the virus, as reported by Axios.
Senate Democrats attempted to quickly pass legislation this week to require employers to pay sick leave, including 14 days during a public health emergency like this one. Senator Lamar Alexander (R-TN) blocked the initiative, saying Washington should cover those costs, not employers. California is taking a different tact, with their Employment Development Department: Residents can file a paid family leave or a disability claim if they need to miss work due to infection or quarantine or to care for a family member with the COVID-19 virus.
We've seen time and time again that amid political, economic, and health crises, issues that impact vulnerable populations get shoved to the side. During the 2015 Ebola outbreak in Sierra Leone, as schools shut, girls carried a heavy caretaking burden, but were also at heightened risk of sexual abuse and teen pregnancy. Despite the danger of Zika for pregnant women, Brazilian women still struggled to access contraception and reproductive care. Our leaders must remember that the coronavirus pandemic is a gender issue and an equity issue—one that requires dedicated attention and response for the most vulnerable women, in order to protect us all.
After an eight-hour shift on her feet, shuffling between a stuffy kitchen and the red vinyl booths of Broad Street Diner, Christina Munce is at a standstill in traffic. Still wearing the red polo shirt and black pants required for work at the diner in South Philadelphia, she's arguing with her colleague Donna Klum. They carpool most days to spare Klum a two-hour commute on public transportation that involves three transfers.
"It's not O.K. for people not to tip," Munce says from the driver's seat, the Philly skyline passing by. Klum believes that bad karma will catch up with non-tippers, but Munce, a single mother who relies on tips to live, doesn't care much about their fate. "I have to make sure that my daughter has a roof over her head," she says. The desire for cash over karma is understandable: Munce's base pay is $2.83 an hour.
The decade-long economic expansion has been a boon to those at the top of the economic ladder. But it left millions of workers behind, particularly the 4.4 million workers who rely on tips to earn a living, fully two-thirds of them women. Even as wages have crept up–if slowly–in other sectors of the economy, the minimum wage for waitresses and other tipped workers hasn't budged since 1991. Indeed, there is an entirely separate federal minimum wage for those who live on tips. It varies by state from as low as $2.13 (the federal tipped minimum wage) in 17 states including Texas, Nebraska and Virginia, up to $9.35 in Hawaii. In 36 states, the tipped minimum wage is under $5 an hour. Legally, employers are supposed to make up the difference when tips don't get servers to the minimum wage, but some restaurants don't track this closely and the law is rarely enforced.
Waitresses are emblematic of the type of job expected to grow most in the American economy in the next decade–low-wage service work with no guaranteed hours or income. Though high-paying service jobs have been growing quickly in recent months, middle-wage jobs are growing more slowly and could decline sharply in the event of a recession, says Mark Zandi, chief economist with Moody's Analytics. Those who lose their jobs in a recession usually move down, not up, the pay scale. Jobs like personal-care aide (median annual wage $24,020), food-prep worker ($21,250) and waitstaff ($21,780) are among the fastest-growing occupations in America, according to the Bureau of Labor Statistics (BLS). They have much in common with the burgeoning gig economy, in which people turn to apps in the hope of getting shifts delivering food, driving passengers and cleaning houses.
This "sometimes" work has put the stress of earning a weekly wage, paying for health insurance and saving for retirement squarely on the shoulders of workers. Munce is on food stamps and Medicaid, and many days doesn't make it to the federal minimum wage of $7.25 an hour. One of her recent paychecks read $58.67 for 49 hours worked. Add in the $245 she took home in tips, and she made about $6.20 an hour. She wants to work 40-hour weeks, but some days the diner is slow and she gets sent home early. "I don't drink, I don't smoke, all I do is save money," Munce says.
But these employers are hiring, and these jobs are becoming a fallback for people whose former jobs placed them solidly in the middle class. Food-service jobs have grown nearly 50% over the past two decades, to 12.2 million, according to the BLS. They are on track to surpass America's manufacturing workforce, which, at 12.8 million, has fallen 25% over the same period.
Markets have swung wildly in recent weeks on fears of a possible recession, which could speed up the nation's continuing shift from one that makes things to one that serves things. The last recession, from 2007 to 2009, took a sharp toll on industries that make things in America, with construction and manufacturing each losing 1.9 million jobs in the five years after the recession began. In contrast, industries like health care and food service added hundreds of thousands of jobs in the same period.
If another recession starts, "the primary hit is going to generally be in sectors that don't involve providing basic services to other people," says Jacob Vigdor, an economist at the University of Washington. On Aug. 20, President Trump, while declaring the economy still strong, said the Administration is examining various options to bolster the economy. Still, whenever the next recession comes, more workers will have to turn to the booming service industry, where low wages and unstable hours are the norm.
Christina Munce didn't plan to be a waitress. She was in school studying massage therapy when, at 21, she got pregnant, and started waiting tables to put away the cash she would need as a young mother. She doesn't regret a thing–her daughter, now 11, is her whole world, her name tattooed in cursive on Munce's forearm. Pictures of the two posing together dominate the otherwise blank walls of their government-subsidized two-bedroom apartment. But being a single parent has limited Munce's job options, since she needs the flexibility to take care of her daughter.
Tipped workers have always been an underclass in America. The concept was popularized in 1865, when some formerly enslaved people found employment as waiters, barbers and porters; still seen as a servant class, they were hired to serve. Many employers refused to pay them, instead suggesting that patrons tip for their service. A 1966 law tried to bring some measure of security to these jobs, requiring employers to pay a small base wage that would bring tipped workers up to the federal minimum wage when combined with their tips. In 1991, the tipped minimum wage was equal to 50% of the value of the overall minimum wage, but it's stayed at $2.13 since then, as the minimum wage has nearly doubled. In 1996, President Bill Clinton signed legislation that froze the wage for tipped workers at that amount. It hasn't changed since.
The regular minimum wage has doubled in that time. If the tipped minimum wage had even risen with inflation since 1991, it would be $6 an hour, according to research from Sylvia Allegretto, co-chair of the Center on Wage and Employment Dynamics at the University of California, Berkeley. Only 12 states currently pay waitstaff above that.
The serving workforce remains a microcosm of pay disparities in the broader economy. According to 2011–2013 data from the Economic Policy Institute, people of color make up nearly 40% of the workforce that falls under federal tipped-minimum-wage rules, which includes nail-salon workers and car-wash attendants. The flexibility of restaurant work is in part why more than a million single mothers are on the job. After eight years working at the 24-hour diner, Munce, 32, mostly gets the shifts that she wants–working breakfast and lunch and leaving by 3 p.m. when her daughter gets out of school–so for that, she's grateful. When her daughter got bullied at school and Munce had to pick her up, Munce was able to get other waitresses to cover for her without getting in trouble for calling off work–though of course this also meant she didn't get paid. When her daughter was younger and Munce couldn't find anyone to watch her, she'd bring her daughter to the diner and have her sit quietly in a booth with crayons.
Half a century ago, people like Munce without a college education could expect to make a middle-class wage. But in recent years, as male-dominated manufacturing jobs have been outsourced or automated, women are contributing more to their families' paychecks, and more of the 40% of Americans with no more than a high school education are being pushed into the service sector–as waitresses, domestic workers, hairdressers and Uber drivers.
Consumer spending on restaurants surpassed spending in grocery stores for the first time in 2015, and to support that, the BLS projects more than 500,000 food-serving job vacancies between 2016 and 2026, a higher number of openings than in all but three occupations it tracks.
"We're not a sliver of the economy," says Saru Jayaraman, co-founder of the Restaurant Opportunities Center, an advocacy organization pushing to eliminate the tipped minimum wage. "We're increasingly the jobs that are available to every new entrant into the economy, including people being laid off from other sectors."
Karen Baker, 52, one of Munce's managers at Broad Street Diner, says she once made $90,000 a year as an assistant production manager in a plant that made plastic soda bottles. When the plant moved to Iowa, she didn't want to uproot her family so she returned to the service industry. "That's one good thing–if you can't find a job anywhere else, you can always find a job waitressing," she says.
This is true of many service jobs, says David Autor, an economist at MIT who studies the future of work. But as job seekers are flooding into those fields, they're being met with low pay, few benefits and no raises as they age and gain more expertise. In 1980, 43% of workers without a college education were in middle-skill jobs; by 2016, that number had dropped to 29%, Autor says.
A raise for tipped workers, then, could mean a raise for middle-class families across the country, says Heidi Shierholz, an economist at the left-leaning Economic Policy Institute who worked in the Department of Labor under President Obama. In the seven states where servers are paid the regular minimum wage for those states before tips, including Minnesota and Oregon, the poverty rate for waitstaff and bartenders is 11.1%, according to the Economic Policy Institute. Where there's a separate tipped wage, the poverty rate among waitstaff is 18.5%.
Under Pennsylvania's $2.83-an-hour tipped minimum wage, Baker's colleague Debbie Aladean, 74, says she can't retire because she has so little Social Security. Olivia Austin, a 30-year-old waitress in rural Pennsylvania, started driving across the border to a restaurant in New York, where there was a higher minimum wage, because she couldn't save any money as a waitress in Pennsylvania. "Most of the people I worked with could barely pay their rent," she says.
Of course, some do quite well in the restaurant industry–especially white men, who are more frequently employed by fine-dining establishments. According to the National Restaurant Association (NRA), a lobbying group that represents more than 500,000 restaurant businesses, the median hourly earnings of servers, including tips, actually ranges from $19 to $25 an hour. Asking owners to do away with tipping and pay workers a $15-an-hour set wage puts too much burden on business owners and could sink one of the economy's strongest-growing sectors, they say.
"We need a commonsense approach to the minimum wage that reflects the economic realities of each region, because $15 in New York is not $15 in Alabama," says Sean Kennedy, the executive vice president of public affairs for the NRA.
The owner of Broad Street Diner, Michael Petrogiannis, is supportive of raising wages. "If [the minimum wage] goes to $15 an hour, then we'll go to $15 an hour, no problem. I support that," he says. He leaves reporting tips up to the waitstaff, and his employees have not complained about being shorted. "We want them to make whatever they have to make."
The strength of the service sector offers a sort of tenuous job security for waitresses, but it comes with few protections. Sexual harassment is rampant. The Equal Employment Opportunity Commission receives more complaints of sexual harassment from the restaurant industry–more than 10,000 from 1995 to 2016–than from any other industry. Many waitresses have come to expect it. On a shift in July, Munce chirped back at offhanded sexual comments as readily as she dished out nicknames to regulars. When a man called her "thick and delicious" on his way out the door, she replied, "I think you mean tiny and tasty," without skipping a beat.
After 12 years of waitressing, Munce's somewhat hardened to the disrespect, but for her, the fickleness of the work is a bigger problem when it affects her family's well-being. Her daily income depends on whether people decide to brave the heat or snow to dine out the day she's working. It depends on whether customers order the $5.29 breakfast special or the $16.99 New York sirloin strip with two eggs, and whether they leave 20% of their bill. It depends on how many other waitresses are working that day, all hungry for tables.
This lack of certainty is stressful for waitresses, but as more workers face this reality, it has implications for the broader American economy, which relies on consumer spending to drive growth. Munce has saved about $1,000 by putting aside every $5 bill she earns in tips, but she can't seem to ever get ahead. During a recent shift, she was staring down a weekend where she'd need cash for a cake for her daughter's 11th-birthday party, $650 for a new evaporator for her car and quarters for the laundry. She feels the weight of taking a day without tips, wondering whether she'll have enough to pay for back-to-school season, or the money that finally allowed her to get an air conditioner for her apartment. "My mind is always calculating," she says of each tip, good or bad. Though the women at the diner will chip in and pay for one another's expenses in case of emergency–a car accident, a babysitter or even funeral costs–slow shifts mean they'll have to lean more on the one free meal they get at work, or make another trip to the food bank, or dip into whatever cash they have stored away from a better week.
Because their pay is so unpredictable, the women at Broad Street Diner sometimes have to pull double or triple shifts when they're short on cash. The day before Munce drove Klum home, Klum had worked her regular day shift, taken her 5-year-old daughter to a public splash park, and then gotten a call from her manager at 11 p.m. to come in for a night shift three hours later. Klum paid for a Lyft to the diner, since public transportation doesn't run to her apartment after midnight, then worked a double shift, from 2 a.m. to 3 p.m. "The diner's been slow, so I really needed it," Klum says. But as bad as the money can be, it's helpful to be able to go home with cash in hand. She still holds out for the chance of one big payday, obsessing over YouTube videos where women are left a $12,000 tip. But when Munce suggests that they would be better off getting a fair hourly wage rather than depending on tips, Klum balks. "I would never do this without tips," she says.
Restaurant owners say that the problem isn't low wages, or even low tips–it's that the federal government should enforce its requirement that waitresses make at least the minimum wage after tips. But the sheer number of restaurants in America–an estimated 650,000 and growing–makes that difficult.
"We could have spent all of our time on tipped-minimum-wage enforcement because the violations are so pervasive," says David Weil, who was the head of the Wage and Hour Division in the Department of Labor under President Obama. Weil's division did 5,000 investigations into the restaurant sector in his time in the department, but "we were just scratching the surface," he says.
The Trump Administration last year revoked an Obama-era rule that would have increased enforcement on restaurants that make tipped employees spend more than 20% of their time on non-tipped work.
The federal government does help low-wage workers like waitresses in other ways–with food stamps, subsidized housing and health care. Some cities have raised their own tipped minimum wages; others have opened wage-and-hour enforcement offices, but investigations on behalf of tipped workers often remain a low priority. In Philadelphia, a branch of the Mayor's Office of Labor looks into complaints of wage theft. But the city's messaging suggests it devotes more staff and resources to its long-standing offices guaranteeing fair pay for construction and government workers; its department that enforces wage-theft complaints was formed in 2015 and has only four employees. The chief of staff of the Mayor's Office of Labor, Manny Citron, who is responsible for enforcement, says that although he was "not a pro on what our labor law says," he believed that people who didn't earn $7.25 an hour with tips "could just be a bad waiter," and he falsely asserted that state law guarantees only $2.83 an hour. Without any documentation showing that cash tips didn't bring waitresses to the minimum wage, he says, it's hard for his office to take any action.
In July, the House passed the Raise the Wage Act, which would phase out the tipped minimum wage nationwide by 2027, eventually bringing all low-wage workers to $15 an hour. "Every member of this institution should be fighting to put more money in the pockets of workers in their communities," Speaker Nancy Pelosi said on the House floor when the bill was passed. In 2019 alone, at least 12 states as politically varied as Pennsylvania, North Carolina and Indiana introduced legislation to end the tipped minimum wage.
But the Raise the Wage Act has little chance of advancing in the GOP-controlled Senate. It has vocal opponents in the NRA and the Restaurant Workers of America (RWA), a group of servers who want to keep tipping. "It's a system that works," says Joshua Chaisson, a Maine waiter who is a co-founder of the RWA.
Restaurant owners say they aren't the ones who should pay the price of America's shift to a service economy. "Today, the middle class has been gutted, but [lawmakers] are trying to legislate entry-level low-skilled jobs into living-wage jobs where you can raise a family in New York, one of the most expensive places in the world," says Andrew Riggie, executive director of the New York City Hospitality Alliance, which represents hotels and restaurants. "We can't address all societal ills on the shoulders of small-business owners."
In the long, final days of summer, business at Broad Street Diner has been slow. Munce tries to stay positive. The customers and staff of Broad Street Diner are her family, more or less, and not just because her sister, Jeanne, is also a waitress there. Munce speaks fondly of one of her regulars, Bill, an elderly man who likes his toast dark as a hockey puck. "They've got the best girls in here, and I'll tell ya, not one grouch," Bill says to no audience in particular one day this summer.
For Munce, it all adds up: the freebies, the walkouts, the cops receiving a 50% discount, the mess-ups from the kitchen–each one a knock to her take-home pay. "I am a people person. But at the end of the day, your compliments and smiles are not enough," she says during one of her shifts, a sheen of sweat on her forehead.
She hopes she can give her daughter a better life than she had growing up. Her dad served in Vietnam and her mom always scraped by on odd jobs, she says, but it's harder to string together a living these days. She lives a couple of miles from where she grew up. Is she really doing better than they did? She tells her daughter that education is the most important thing, that she needs to get good grades, no matter what. "I say, 'I just want you to be better than me,'" she says. Not that she'd steer her daughter away from waitressing, necessarily. If you're a people person, Munce says, it can be fun to talk to strangers all day. Depending on them for tips, though, is something else.
Hours before dawn at Soko ya Nadhif market in Garissa, Kenya, middle-aged women in neon hijabs shout orders at men. They glide smoothly, like ghosts, through the darkness, groaning under the weight of heavy bags of fresh, long-stemmed leaves, each emblazoned with a woman's name. They work quickly: just one day earlier, on July 4, 2019, a rumored threat from al-Shabaab, the Somali terrorist group just across the border, had sent everyone at the market scurrying to safety and cost them a day of work. Now the pressure to make up time is palpable – and so is the sense of looming violence.
"The safety of this place is not something we can take for granted anymore," a woman yells, urging the men who work for her to get the leaves off the trucks as quickly as possible. The other women match her urgency, and by the time the sun rises, the leaves have been re-packaged into neat parcels, tied with banana leaves. The sales take place quickly, and before long the leaves and twigs have transformed into piles of cash.
"We are big time," Khadija Dabar, 52, says with a wry grin as she counts her profits. "This is a good business because it's always there. Whether it is drought or it is raining, miraa never lets us down."
Khat, also known as miraa, is an amphetamine-like plant native to the Horn of Africa and Arabian Peninsula. Banned in the United States and most of Europe, khat is one of the most popular — and lucrative — drugs in the region, bringing in an estimated $400,000 a day in Kenya alone. The industry is so central to the regional economy that when Somalia briefly banned khat imports for a single week in 2016, Kenyan farmers lost millions of dollars. Khat is most popular with men: in Somalia, an estimated 75 percent of men chew the leaf for its mild stimulant effect.
In Kenya, they say khat makes men stoned, docile, and impotent. But it makes women rich.
In Garissa, a group of seven women, known as the Al-Amin Women's Group, run the show. Dabar, who has been chairwoman since 2009, says it has become one of the most successful khat distributors in Garissa. After only a few years in the business, the Al-Amin Women's Group — mostly made up of single mothers — has already made enough money to invest in its own fleet of six land cruisers to transport the drug between farms in Meru, in Kenya's picturesque central highlands, and buyers around the region. Today, Dabar is her husband's boss: he works for the women's group as a driver.
But Dabar is an exception. Most of the women who run the khat business are unmarried: widows, divorcees, and single mothers. One vendor joked that selling khat is "like speed dating," since all of her customers are men. The association between khat and single women is so strong that one driver, upon seeing a foreigner in the market, shouts: "Is the white lady making a list of women without husbands?" The question provokes a laugh, and a comeback: "Miraa is my husband," one woman replies. "It provides for my children."
The economic reliability of khat in this semi-arid region rests on a critical foundation: it is a drought-resistant crop. In Garissa, the ability to resist climate change means survival. The women of Kenya's khat industry have the chance to thrive even as climate change puts other farm industries at risk.
Khadija Dabar understands the threat first-hand. According to various USAID and World Bank reports, African women do the majority of agricultural work in rural areas. For decades, Dabar was one of them. She grew tomatoes, bananas, and papayas on her 70-acre farm alongside the River Tana, and for a while, times were good. But the climate started to change, and the river that had once sustained Dabar's farm started to drown it. By 2008, Garissa County was one of the regions of Kenya hardest-hit by severe flooding, according to the International Federation of Red Cross and Red Crescent Societies. One morning, Dabar woke up to discover that a flood had washed away 2,000 banana trees in a single morning. It had taken her nine months of work to grow them.
"I nearly died," Dabar recalls. "I didn't know what to do."
Desperate to support her family, Dabar traveled to Nairobi to sell honey. In the big city, another businesswoman gave Dabar advice that would change everything: "Take that money to Meru," the woman said, gesturing to the meager income Dabar had made from her honey. "In Meru, you can triple it."
Curious to see how much she could increase the profits from her honey sales, Dabar traveled to Meru in 2008. The cool, green highlands of Meru County are the cradle of Kenya's khat industry, and feel like a different planet than the golden sands of Garissa County. But the two regions are intimately linked in the country's khat trade: Meru women farm the crop, and Garissa women distribute it.
The trip to Meru was the decision that transformed Dabar, a devout Muslim and middle-aged mother of ten, from farmer to reluctant drug lord.
Women have a long history of dominance in the East African khat trade. According to David Anderson, author of The Khat Controversy, a businesswoman named Yasmin who moved from Somalia to Kenya in the 1970s was one of the first people to export khat to the United Kingdom. Her wealth and success in the industry inspired others: in Somaliland, a disputed breakaway state in the Horn of Africa, an estimated 72 percent of khat vendors are female. In Ethiopia, one of the country's richest women, Suhura Ismail, made so many millions from her successful khat export business that she eventually launched her own charter airline to transport the drug. (She even named the airline after herself.) In Kenya, women are present in every stage of the industry, from cultivation to distribution to sales.
It's a good opportunity for Kenyan women, who have been hit by the twin crises of unemployment and climate change. According to a 2018 report from the Kenya National Bureau of Statistics, women are grossly underrepresented in all sectors of the workforce. Agricultural work is an exception — more than 60 percent of employed women in sub-Saharan Africa work in some capacity of the agriculture industry, according to a report from the United Nations Food and Agriculture Organization. But that work is most likely to be affected by the changing weather patterns made more likely by climate change. Research on the socio-economic impact of climate change in Garissa County published in 2016 by the University of Nairobi concluded: "The county's agricultural sector is already suffering from the changing rainfall patterns, temperature increases, and more extreme weather events, like the floods and droughts." Since nearly 73% of Garissa residents already live below the poverty line, the climate crisis is likely to fuel social instability as traditional agricultural jobs disappear.
The effects of climate change have taken a toll on crops throughout Kenya: coffee production, for example, has been so severely affected that some researchers say parts of central Kenya are no longer suitable for coffee cultivation. In some parts of the country, the demand for crop insurance to guard against the risk of climate change is so high that, in 2015, crop premiums from participating farmers hit $1.4 million USD.
Enter drugs. Khat has low cultivation costs, is drought-tolerant and therefore able to thrive even during times of drought after other crops have failed, and requires little more than the basic agricultural knowledge that many women already have. Drought-resistant drug cultivation is such a good opportunity for women that it is also happening elsewhere in the world. In Afghanistan, where the religious practice of "purdah" restricts most rural women from seeking work outside their family farms, "women play a significant role in opium cultivation," according to a study from the United Nations Office on Drugs and Crime. Like khat, opium tolerates drought, and can quadruple a farmer's annual income, according to the American Security Project.
"When everything else has dried up, drugs like miraa are the one last survivor," says Abdi Ismail, 49, a Garissa-based climate change researcher, standing inside a khat store where eager customers reach through metal bars to get their hands on the drug. "And there are always people who want to buy it."
In 2012, when Jeniffer Kathure, 47, inherited two acres of farmland near Laare in Meru County, she wasn't immediately sure how to use it. But khat quickly emerged as the obvious choice: Meru County farmers produce hundreds of tons of khat each day, which they export to distributors both nationally and internationally. Khat is of such central economic importance for the region that even churches and schools support themselves by growing the drug, Kathure said — Meru's version of a potluck, or bake sale. Kathure decided to use her newly-inherited land to join the industry.
"When you have your own miraa farm, you have freedom," says Kathure, who uses profits from her farm to fund popular "empowerment seminars," training an estimated 2,000 – 30,000 women who want to start their own khat farms. "Women who don't have property – they are not free. But I am free."
While the benefits of joining the khat industry are clear, the risks are growing. In Garissa, near the border with Somalia, distributors such as Khadija Dabar and the other mothers of the Al-Amin Women's Group have faced threats from al-Shabaab, the Somali terrorist group that regularly murders civilians and that has banned khat as "haram" (forbidden). In the farms around Meru, farmers like Kathure have to employ guards armed with poison arrows, machetes, and other weapons, to protect their plants. Khat farmers hire guards to deal with thieves so brutally that in Meru, Kathure says, if she sees a young man who is missing a hand, she knows she's looking at a khat thief.
"Miraa is a very risky business," says Rose Kajuju, 35, who farms half an acre of khat in Laare. "The ones who steal miraa are men, so farmers can be beaten or raped. We have to protect our miraa, but we have to protect ourselves also."
International drug criminalization campaigns also pose a threat. For decades, Britain imported an estimated 2,500 to 2,800 tons of khat each year, according to the Home Affairs committee. But when the U.K. declared khat a Class C drug and banned all imports in 2014, the Kenyan khat industry, and the people who rely on it, were devastated. And although khat exporters have shifted their focus to other markets, including Nordic countries and Israel, the threat of criminalization remains a daily fear.
There is also a social cost to working in the drug trade. Since men are the vast majority of khat consumers, some Kenyan women say they resent the lethargic effect the drug has on their husbands and sons. Halima Haji, a mother of six and anti-khat campaigner in Garissa, thinks women in the khat industry should be ashamed. "It's not a good job for these women," says the 53-year-old, who successfully campaigned to get a popular miraa chewing garden in Garissa shut down. "These women have money, so they can't be stopped. But nobody likes them."
Many women in the industry shrug off criticism of their work. "Miraa takes care of my children," Kathure says. "If you don't like miraa, don't chew it. Keep quiet, and let the rest of us survive."
Kathure believes it is hypocritical to condemn khat while shrugging at other drugs like cigarettes, alcohol, and coffee. In 2017, she ran for elected office to defend her industry. (Her first campaign was unsuccessful: "They say politics is for men," Kathure recalls, rolling her eyes.)
But for other women in the business, the criticism is harder to shrug off. Khadija Dabar says it weighs on her every day. "Miraa saved my family, but it's hurting other people's families," Dabar says, sitting under a tree on the farm that used to be her livelihood. It's an idyllic place: wild giraffes graze in the distance, and the Tana River flows nearby. Trees still boast the occasional banana or mango – reminders of what the farm used to be and perhaps, Dabar hopes, could be again.
"I need the money, but I feel guilt," Dabar said, fiddling with one of the gold rings on her fingers. "If there were no more floods, farming would be a better job. But the floods keep coming, and my children need school fees. So I sell this drug."
There's a certain irony that the Nobel Peace Prize—given Friday to those working to raise awareness of sexual violence in conflict—may well have been overshadowed by news of the confirmation of U.S. Supreme Court Justice Brett Kavanaugh, himself accused of sexual assault.
But among the tiny international community that has long toiled in obscurity and frustration in efforts to end rape and sexual assault in wartime, the prize was celebrated, and used as a chance to call for more work to be done.
The Nobel Prize went to Yazidi rape survivor and activist Nadia Murad, and Congolese gynecologist Denis Mukwege for their work in calling attention to rape as a tool of war.
"I'm so excited. It's great," says Zainab Salbi, a prominent Iraqi woman's rights activist, journalist and author of Freedom is an Inside Job. But her joy was tempered by news last week that yet another Iraqi female activist—the fifth since August—had been murdered. "The point the Nobel is making is that when you speak up, it's not easy or safe, and it makes a difference."
Others pointed out how long it had taken the Nobel committee to recognize sexual violence in conflict, and the fact that in most countries critical legislation, funding and political will is still lacking.
It wasn't until the Yugoslav wars of the late 1990s that rape and sexual assault were truly recognized by the United Nations as a crime against humanity. Until then, women were more commonly referred in literature as "spoils of war" and sexual violence was considered taboo.
Read the full article here.
In the 1990s, Ahlem Behladj learned to brave being hassled each day by the police officers that hung around outside the women's shelter in downtown Tunis. This was during the 23-year-long dictatorship of Zine el Abidine Ben Ali, and the dilapidated building was a rare protected space for battered women—and the place where a 19-year-old Behladj and her fellow activists gathered to fight for a law on violence against women.
It was a fight that would take decades. But on July 26, 2017, Behladj was moved to tears as she watched from the public gallery in parliament as lawmakers passed legislation aimed at eliminating violence against women. The law is far-reaching: Among its many stipulations it forbids physical, economic and psychological abuse against women and outlaws harassment in public. It also scrapped a loophole that allowed rapists to avoid jail by marrying their victims.
In a country where 53 percent of women have experienced violence of some kind—significantly higher than the estimated global rate of 35 percent—the law was a huge win for activists. "On paper, I think it's the best law in the region and probably one of the best in the world," says Amna Guellali, senior Tunisia and Algeria researcher at Human Rights Watch.
But one year on, while the law has had some positive effects, serious failings in implementation mean it's not delivering the drastic improvement in protection and prosecution that it promised. Activists are now pressing on to make sure the hard-won legislation makes a real difference to women's lives.
The Long Road to Justice
Activists at Association Tunisienne Des Femmes Démocrates (ATFD) are on the frontline of the fight. This was the organization that in its early days under the dictatorship set up the first shelter for women. Behladj, now 53, remains an active member, balancing her time there with her work as a child psychiatrist. As she sips coffee in a cafe in downtown Tunis, she recalls the earliest days of the struggle for women's rights. "I was young and passionate and I cared about injustice," she explains, "Women's rights were a crucial part of the fight for justice generally." Behladj is warm and calm with a gentle sense of humor. But judging by how she has chosen to spend her life so far, that calmness belies considerable strength.
Behladj's day job fueled her activism. She qualified as a child psychiatrist in 1995, and over the years came across many young girls and teenagers coerced into marrying their rapists. The law had long allowed a rapist of a girl or woman younger than 20 to avoid a jail sentence if he married her. He was free to divorce her after two years. There was always pressure, from the perpetrator and his family, but also from her own family, Behladj says, because marriage was seen as a way the perceived shame of rape could be avoided.
As a member of ATFD and as the organization's President between 2004 and 2006, and again between 2011 and 2013—a volunteer role she took on alongside her work as a child psychiatrist—she campaigned hard for the removal of the marry-your-rapist clause.
When a marriage starts with rape, that act of violence is rarely the last. Behladj looks down at her coffee and breathlessly lists some of the cases she had dealt with. "One girl I remember—she was forced to marry her rapist at 12. I worked with her until the age of 20. The violence she went through over those eight years was terrible."
But when the new law came into force in February, it marked a huge change, she says.
Read article here.
With the election of a new president Sunday, Colombia threw the future of its peace deal into uncertainty. Conservative candidate Ivan Duque has repeatedly pledged to roll back parts of the landmark 2016 peace agreement with rebels from the FARC group—a deal that formally ended more than 50 years of conflict in the South American nation. Some saw Sunday's vote as a referendum on the controversial peace deal, which allowed most of the more than 7,000 rebels to avoid prison.
"This is the opportunity that we have been waiting for—to turn the page on the politics of polarization, insults and venom," Duque told supporters Sunday night after winning by a 12 percent margin. Duque has said he wants to make it clear that "a Colombia at peace is a Colombia where peace meets justice."
The question of what justice means in a country where conflict killed at least 220,000 people is a complicated one. While critics of the deal, like Duque, tend to focus on the brutal actions of Revolutionary Armed Forces of Colombia(FARC), government groups and paramilitaries were also responsible for much of the violence. And throughout the war, it was women who suffered the brunt of it.
"Bodies have been turned into a battleground"
Conflict began in the 1960s and was fought between the government, far-right paramilitary groups, left-wing guerrillas and the drug cartels—all of whom used sexual violence against women during the conflict to achieve military objectives, marking their territory and intimidating communities. Guerrilla groups used rape and assault to recruit girls as combatants, and as "payment" to protect other family members. Women were also subjected to crimes by the state's security forces, leaving them with no authority to turn to for justice.
An Amnesty report from 2004 noted: "All the armed groups—the security forces, paramilitaries and the guerrilla—have sexually abused or exploited women, both civilians or their own combatants, in the course of Colombia's conflict, and sought to control the most intimate parts of their lives. By sowing terror and exploiting and manipulating women for military gain, bodies have been turned into a battleground."
Although many women signed up to guerrilla groups—they made up 40 percent of the communist group FARC—gender-based violence was still a powerful weapon of war, even against those fighting in it. Female fighters were banned from getting pregnant, and no matter how far along they were, women would be subjected to forced abortions.
As thousands of men were murdered during the conflict, women were left to raise children and bring in money. "We couldn't do anything but go out to the streets to demand the truth," says Jessica Hoyos, 30, who founded justice group Hijos y Hijas por la Memoria y contra la Impunidad [Sons and Daughters for Memory and against Impunity] after her father was murdered in 2001 by paramilitaries. "Mothers gave their children to the war. We suffered differently to men. We were the ones left behind."
The group unites young people who are fighting to expose the real reasons behind their parents' murders—which were often covered up and left unsolved, without the perpetrators being brought to justice. Like many female activists, Hoyos says she has been threatened with sexual violence by people who "do not want the truth to come out."